Yankee Fans Who Don't Think the Angels Can Win in 2012 Have a Short Memory
December 9, 2011
Rob Carr/Getty Images
Moments after both Albert Pujols and C.J. Wilson were both inked to massive multi-year deals by the Los Angeles Angels, the cries began. 
"How can anyone think that signing two free agents will make a difference?" 
"The Angels didn't even make the playoffs last year and now they're the favorites to win it all??" 
" The ________ (insert team that hasn't made any major moves here) won X amount of games last year and ranked X in total offense and now the Angels are better?" 
Yes, it's true. It's only December, and ample time remains for numerous American League teams to wheel-and-deal and improve their teams by Spring Training 2012. Nothing is set in stone. Big and little name free agents dot the baseball landscape. There are teams willing to deal talented players, and there are players from foreign nations eagerly awaiting their MLB destinations. 
As of now, though, you have to hand it to the Angels. Love them or hate, them they've made a bold move and strong commitment to their fans that they're aiming not for the playoffs, not for the World Series but to win the World Series, and yesterday's two big signings absolutely improve their chances of doing just that. 
Do other teams have a legitimate chance at the winning the American League and possibly the World Series next year? Yes—if you root for the Rays, Tigers, Yankees, Red Sox or Rangers, 2012 still holds promise. It's also going to be a lot tougher playing the Angels next year. No one who is at all honest with him or herself would deny that. 
For those that think just signing two free agents can't be the key to a World Series victory I'd urge you to expand your memory and look all the way back into the grainy black-and-white footage of baseball history. All the way back to 2009.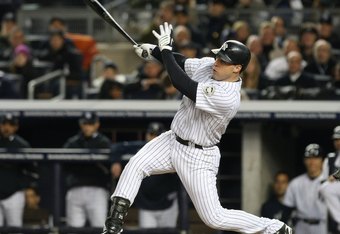 Nick Laham/Getty Images
I know that in this day and age, if it didn't happen yesterday or in the last five minutes, it's not worth remembering. So take a trip down memory lane to the 2008-2009 offseason with me. 
In that offseason a disorganized team with aging veterans ( or at least that's what people where saying at the time) had missed the 2008 playoffs all together. They were a third place team, they had a second year manager, they were moving to a new stadium. 2009 would be an adjustment period. 
The 2008 New York Yankees finished 89-73. Eight games behind the first place Rays and six games back from the wild card winning Red Sox. That offseason they actually made two huge free agent acquisitions. They signed the top pitcher on the market, C.C. Sabathia and they came out of nowhere ( sound familiar?) to sign the top hitter on the market as well. He was a first baseman named Mark Teixeira. 
With numerous Yankee fans chiming in yesterday about the absurdity of me or anyone else predicting that the Angles would or could represent the American League in the 2012 World Series it's worth noting that some of the basis for those prediction was based on the success of your 2009 New York Yankees. Remember them? They were pretty good weren't they? 
They started off slowly in 2009. On May 15th 2009 the Yankees were 18-17, 4.5 games out of first place and actually in third place in the division. On July 1st they were 45-32, they had gone 27-15 over a six week period but still sat 2.5 games out of first place behind the Red Sox. As the season went on the team started to click and by August 15th they were 74-43, solidly in first place with a 7.5 game lead over the second place Red Sox.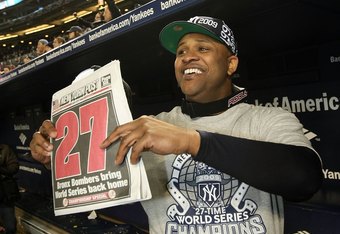 Nick Laham/Getty Images
The 2009 Yankees did it with offense. The pitching was solid but in 2008 the Yankee team that missed the playoffs had a team earned run average of 4.28 in 2009 it was 4.26. On offense they made the big improvements. In 2008 the Yankees hit .271 and scored 789 runs. In 2009 they hit .283 and scored 915 runs. 
The 2012 Angels could easily mirror the Yankees in the manner in which they potentially succeed. The 2012 Angles have less adjustments to make. MIke Scioscia is not a second year manager stepping into the Nation's toughest baseball media cauldron. He's an experienced manager who's already won one World Series ring and has navigated various forms of Angels teams to the playoffs over his 12 year career. The Angles aren't entering a new stadium and the Angels already have one of baseball's best pitching staffs even without the reinforcements that Wilson will provide. 
As for the much discussed offensive issues I hate to be the bearer of bad news but in spite of a miserable 2011 the Angles offense really wasn't going to be that bad in 2012 even if Pujols had never even spoken to them. 
Vernon Wells is not as bad a hitter as what we saw in 2011. Wells is overpaid- that's not debatable but that also doesn't mean he can't be a solid offensive player. Throw Pujols in the lineup and the odds of Wells seeing a few more decent pitches is fairly good. Wells is a career .274 hitter through 13 seasons. Last year he hit .218. Will he be that bad again? Unlikely. In spite of that awful average Wells still managed to hit 25 home runs. Wells' average will be much better than his 2011 season. Even a .250 season will result in higher power numbers and greater run production.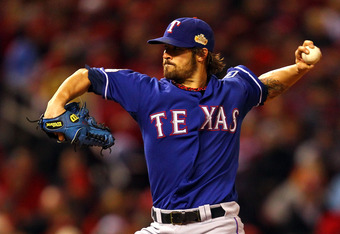 Dilip Vishwanat/Getty Images
Then there's the Angels considerable young talent. Three guys. Mark Trumbo, Peter Bourjos and Mike Trout. Trout might be the major's highest rated incoming talent after Bryce Harper. He's only 20 years old and is an exciting combination of power and speed. Bourjos hit only .271 and still managed to tie for the AL lead in triples with his considerable speed he also swiped 22 bases.
On top of that, there's Mark Trumbo. Trumbo who won the open first base position coming out of spring training ended up leading all AL rookies in home runs with 29. His batting average was only .254 and he suffered from a low on-base percentage. Trumbo isn't a future all star at first base or at DH or possibly third base where the Angels may in fact move him but he doesn't have to be anymore.
The Angels aren't going to lead the league in hitting. They're not going to lead the league in runs scored. Yankee, Ranger, and Red Sox fans can rest easy. Those stats will be dominated by those three teams. That doesn't mean that those are the best three teams though.
In 2009 when the Yankees acquired both Sabathia and Teixeira the two players who were expected to help ( and did help) lead a Yankee revival and guide them to another ring had combined for zero World Series appearances and zero rings. Albert Pujols and C.J. Wilson have already combined for five World Series appearances and two rings. Hey the Yankees didn't need World Series experience when those free agents joined the team, they already had it. That doesn't mean it won't help the Angels though. 
The Angels as rightly pointed out could fall short of expectations. They could be the Philadelphia Eagles, or the Miami Heat, they could be the 2011 Boston Red Sox or the 2011 Philadelphia Phillies. They could also be the 2009 Yankees though. That worked out pretty well if memory serves me correct.