Why Albert Pujols to Los Angeles Will Be 10-Year Disaster for Angels
December 8, 2011
Ed Szczepanski/Getty Images
After days of failed negotiations with other teams, Albert Pujols has decided to take his talents to the Los Angeles Angels for 10 years and between $250 million and $260 million, according to Tim Brown of Yahoo Sports.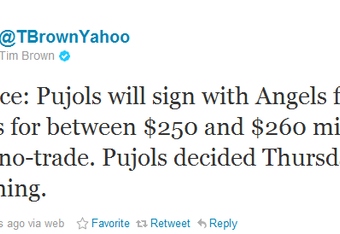 The no-trade clause was a big deal for Pujols, and apparently the Angels throwing that in the deal helped push them over the top. Well, that and the fact that he is going to be making the same average annual salary as Ryan Howard and a bit more than Adrian Gonzalez. 
It is a great deal for Pujols, but it is a terrible move for the Angels. I don't understand why teams felt the need to go 10 years for the three-time MVP. I know that is the kind of deal that he wanted, but he is 31 years old and has already started to show signs of decline. 
His numbers have gone down in each of the last three years. He is still posting terrific numbers and is one of the best players in the game, but he is no longer head and shoulders above everyone else like he was four or five years ago. 
The Angels have payroll flexibility, but a $25 million per year player on the books for a decade is going to become a huge problem. 
Pujols is going to perform at a level consistent with what we have seen for the last two years probably for the next three seasons, but then he is not going to be the same player. That's not an opinion, either. It's a fact that every player in their mid-30s declines. 
The Angels could have done any number of things to improve their offense without committing the years and dollars that they are giving to Pujols. They could have signed negotiated with Prince Fielder and possibly gotten him for fewer years and less total money. 
Plus, the Angels were not one hitter away from contending. They have all kinds of problems on offense. Their on-base percentage as a team was .313. Pujols will help that slightly, but unless the eight players surrounding him magically figure out how to work a count, it doesn't matter. 
I never understood the need to go to 10 years on a deal for Pujols. The Angels seem to think that they can catch lightning in a bottle. Good luck to them, because these kinds of contracts never work out for the team.