New York Mets: Winter Meetings Overview According to Total Player Rating
December 8, 2011
Christopher Pasatieri/Getty Images
It is hard to believe the Winter Meetings are one day from being over. For a lot of baseball fans it is the combination of Christmas, spring break and the family reunion.
Sandy Alderson had been on the other side of that reunion for a number of years, but he has shown that he hasn't missed a beat this offseason.
Omar Minaya got hired on in San Diego, but he left Alderson with an absolute mess. Still, when the dust settles this week, he may have done as much to help his team as any. Moreover, he didn't spend the GDP of most third-world countries to do it.
He also has bragging rights for robbing Brian Sabean blind. Then again, that isn't a difficult task.
Infield
There are rumors swirling around the Mets that they aren't done dealing. Some are wondering if Ike Davis could be on the move. Davis had a very promising rookie season in 2010, but Lucas Duda and Daniel Murphy filled in ably last season when he was on the shelf. Quite frankly, Alderson's biggest challenge is fixing a defense that finished 28th overall in UZR.
TPR was not nearly as kind, but when you are terrible across the board you are bound to finish in last. Justin Turner was horrible defensively and could have been replaced by Ruben Tejada. Unfortunately, Tejada has to switch to short to cover for the loss of Jose Reyes. To his credit, Tejada broke even defensively last season, which is more than we can say for Reyes.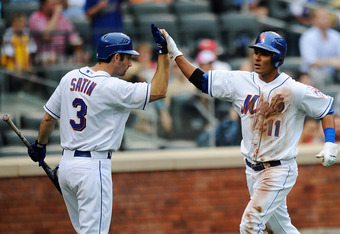 Patrick McDermott/Getty Images
David Wright should benefit a lot from having the fences moved in, but defensively he is a liability. It is hard to see the Mets move him now that Reyes is gone, but if Alderson decides to embark on a rebuilding effort, he will get more out of trading him than any other player. And Kevin Kernan and the New York Post makes a very intriguing and plausible case for the Yankees as a possible landing spot for Wright
Outfield
Alderson is laughing all the way back to New York. Sabean gave him a very good middle reliever and a good defensive center fielder for Angel Pagan. Sure, Pagan had a subpar year last season, but he also proved he could not handle center field defensively. Andres Torres (from the Giants) can handle it and then some. Torres was okay with the bat in 2010, so the Mets can hope for a rebound effort.
Even if he doesn't come back he will still be a break-even impact player overall; Pagan was leaking runs left and right last season. At least Torres is a plus-defender and base runner. He will be flanked by Jason Bay in left field and likely Lucas Duda in right. The combination won't make anyone forget great outfields in history, but they all should be positive impact performers.
Tony Medina/Getty Images
Starting Rotation
There are few players in baseball as important to their team's success as Johan Santana. He missed all of last season due to major arm surgery and is due to return in 2012. If he returns to 2009 form it will be a great year in New York. It's more likely we will see a repeat of 2010, however, when we saw some slippage. This time he will get better as the season goes along.
R.A. Dickey and Jonathan Niese come in behind the big right-hander in the rotation. Dickey had an unbelievable season considering his past, and Niese was solid. After that it gets pretty depressing. Mike Pelfrey once looked like a top-of-the-rotation starter in the making, but those days appear to be gone. Dillon Gee looked good for the first month or so, but then turned back into a pumpkin.
When your general manager openly talks about signing Chris Young to a minor league deal, you know you aren't the Mets of old. Gone are the days when the Wilpons can throw around cash like it's going out of style,so Alderson will do what the mid-market teams do and try to find lightning in a bottle again.
Bullpen
The most impressive job done by Alderson this week has been his work with the bullpen. In a span of 24 hours he acquired Frank Francisco, Jon Rauch and Ramon Ramirez. Francisco could end up being the closer while Rauch has some experience closing and has a lot of experience as a setup guy. Ramirez of course has been a huge part of the Giants bullpen in recent seasons.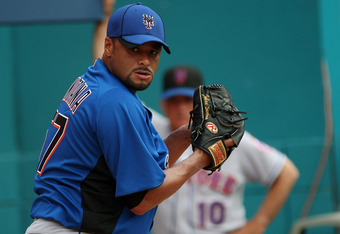 Sarah Glenn/Getty Images
They will accompany Manny Acosta, Tim Byrdak and Bobby Parnell. In particular, if Rauch can bounce back from a subpar season, the Mets will have six pitchers in the pen average or better—there aren't too many teams these days that can say that. While they may not have the single dominant reliever that  front-runners seem to have, they have more depth than some of those teams.
Undone Winter Meetings Business
We keep hearing about possible trades and it makes sense. The Mets still have holes in the rotation and they could upgrade some other positions like right field or second base. Realistically, the Mets aren't going to win anything, but a solid move or two could point them towards a .500 finish. That might be good enough to finish third in the NL East.