Tom Brady vs. Peyton Manning: 2011 Is a Testament to How Special the Rivalry Is
December 7, 2011
Jim Rogash/Getty Images
In Week 13 of the NFL season, the New England Patriots defeated the Indianapolis Colts by a 31-24 final tally. Instant classic, right?
That's what you would have thought in any other season since the millennium. It sounds like the perfect showdown—Tom Brady barely besting Peyton Manning, leading his team to victory by a mere seven points in the ongoing series between these two revered organizations.
As the Patriots labored to hold their 31-3 lead in the latter stages of this season's rendition, their fans could clearly feel the absence of a vibe that always electrifies those battles with Indianapolis.
You know it. I know it. Everyone knows it. This rivalry is nothing without Peyton Manning.
As much as New England fans love to hate Manning on the football field—he has heard his fair share of rude remarks and heckles over the years in Foxboro—it is a common understanding among them just how special the Colts' legend is. Moreover, it leads to a broader understanding of just how incredible this era is, an era that has allowed fans to witness countless classic matchups and four total Super Bowl rings between Brady and Manning.
When Manning visited Gillette Stadium as a spectator this time around, the Patriots fans in the bleachers displayed their classiness and their respect for one of the greatest quarterbacks to ever play—regardless of the fact that he may be their arch-nemesis with his jersey on.
Manning expressed his gratitude for the actions of the New England fans prior to the game during an autograph session.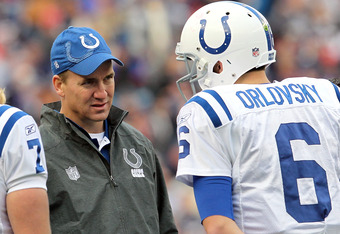 Jim Rogash/Getty Images
"Arguably being our biggest rival, the fans here couldn't have been nicer. Many of them told me, 'Hope you get back soon' and 'Sorry you're not out there playing today.' Certainly you enjoy hearing that from your own fans, and I know how sincere they are. Then from the biggest rival fans, some of the same fans when I'm playing I'm sure I've heard them through the years making it tough on the opposing quarterback, it's very classy. I was appreciative of it."
Yes, it's true—even up here in Massachusetts, the stereotypically savage, championship-spoiled Boston sports fans can recognize and respect true greatness.
Tom Brady and Peyton Manning make up the two sides of the highway which has metaphorically become the Patriots-Colts rivalry in the past ten seasons. Without one of them, things just don't seem right.
In 2008—when Matt Cassel played the entire season at quarterback for the injured Brady—the Colts won an 18-15 matchup over the Patriots that simply didn't measure up to previous classics.
And when the battle rolled around this week, the cards fell into their same old places. Patriots fans would have been holding their breath in agony if it was Manning on the field leading the Colts to 21 unanswered points and cutting a 31-3 deficit down to just 31-24 with under a minute remaining.
But it was Dan Orlovsky, and—no offense to the Connecticut grad—he's no Peyton Manning.
This season has exemplified just how special both of these quarterbacks are. It has exemplified just how amazing the rivalry between these two franchises is.
Have the days of Brady vs. Manning come to an end with Andrew Luck on the doorstep? Do we have a few more matchups, and if so, will they be Patriots-Colts matchups?
No one can know the answers for certain. What they can know for certain, however, is that they have witnessed a glorious age in the National Football League featuring a rivalry between two of the best quarterbacks to ever play.
Be sure to follow Derek Robinson on Twitter. @DRobMachine