NBA Trade Rumors: Nets Will Fail To Fulfill Deron Williams' Dwight Howard Wish
December 6, 2011
Warren Little/Getty Images
If the Nets were able to land Dwight Howard, Deron Williams says that would be enough for him to stay, according to Al Iannazzone of The Record.
That's not exactly an earth-shaking statement by Williams. If the Nets could somehow beat out teams with a ton of trade bait like the Lakers and bring in the most dominant big man in the league, Williams would stay put.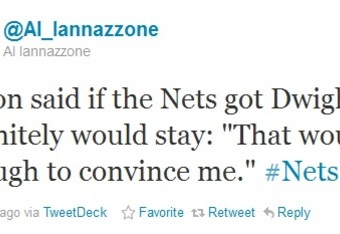 Unfortunately, the Nets aren't going to be able to deliver the league's best center. There are a lot of horses in the race for Howard and although the Nets would love to pair Howard with Williams, it's not in the cards for the Nets. They aren't going to be able to put together trade bait that trumps an Andrew Bynum and Lamar Odom package deal.
Ken Berger of CBS highlights exactly what teams around the league may be willing to offer up for Howard.
Hopefully for the Nets, this isn't a demand or an ultimatum. Some may take Williams' quote out of context and spin it into an "either or" situation.
Even though bringing in Howard may not be the only option, the Nets have to be proactive in surrounding Williams with talent.
There is no point in having a talented guard with his passing ability if they aren't going to give him weapons on the floor to pass the ball to.
Howard is the most coveted player involved in trade rumors and settling on a big man like Tyson Chandler in free agency is a huge step down, but the Nets have to make moves in order to retain Williams.
Williams wants to win a championship. D-Will is only 27 years old, but watching his fellow teammates from the Olympics join together to form super teams has undoubtedly sparked a little envy in him.
The Nets need the sort of big move that can drag the Nets out of squalor. Clearly Williams sets the bar absurdly high here, but the message has been sent.