Norv Turner Will Be Unfairly Fired for San Diego Chargers' Poor Season
December 3, 2011
Donald Miralle/Getty Images
San Diego Chargers head coach Norv Turner will unfairly be fired at the end of the year for his team's disappointing season, according to ESPN's Adam Schefter's twitter account.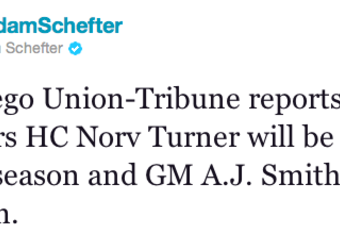 I can see general manager A.J. Smith being fired by the team, but Turner has not been the reason for the Chargers' poor season.
Philip Rivers, who arguably became a top five NFL quarterback last year, has had a massively disappointing season thus far.
Through 11 games, Rivers has thrown 17 interceptions after throwing just 13 of them all of last season. He has been unable to win games in the fourth quarter for San Diego and has not been a consistent performer.
Rivers isn't the only problem on offense. Running back Ryan Mathews has battled injuries, as have many of the team's receivers, such as Vincent Jackson, Malcolm Floyd, and tight end Antonio Gates.
You cannot blame Turner for his best offensive players struggling with injuries. He cannot control that. He also cannot control Rivers' poor decision making on offense and all the interceptions he's thrown.
A.J. Smith has not done enough to give Turner a winning team and the depth he needs to overcome injuries to several of the Chargers' best offensive playmakers.
Smith also hasn't been able to find a real replacement for former star Shawne Merriman on defense, and the linebacking corps is certainly an area the team needs to improve in the offseason.
San Diego ranks 28th in the NFL with just 19 sacks, and are 18th in football with just 10 interceptions.
One thing you can blame Turner for is the team's inconsistency throughout his tenure. They typically get off to slow starts then find their stride toward the end of the season, despite playing in a very weak AFC West division.
They teased their fans this season with a solid 4-1 start, then their season began to fall apart with a loss to the New England Patriots.
Turner deserves to finish out the season regardless of the outcomes of the final games, and to fire him for doing the best he can with a team battling injuries and that lacks enough defensive talent would be quite unfair.