St. Louis Rams vs. San Francisco 49ers: Spread Info, Line and Predictions
December 3, 2011
Jed Jacobsohn/Getty Images
The St. Louis Rams and the San Francisco 49ers are set to renew their age-old NFL rivalry in the Bay Area on Sunday.
Both teams have been among the biggest surprises in the league this season—the Rams for their ineptitude with Sam Bradford under center, the Niners for their excellence under first-year head coach Jim Harbaugh.
San Fran has all but locked up the NFC West title, but don't expect that to take away from the fire that burns between these two foes.
Where: Candlestick Park, San Francisco
When: Sunday, December 4th, at 4:15 p.m. EST
Watch: FOX
Spread: 49ers -13.5 (according to sportsbook.com)
Take the spread here. Only three of San Fran's nine wins have come by double digits this season. The Rams have a good enough running game to keep this one within striking distance.
Over/Under: 38 points (according to sportsbook.com)
Go with the under. These two teams combine to score fewer than 37 points per game and neither has the sort of firepower needed to light up the scoreboard on Sunday.
Key Injuries: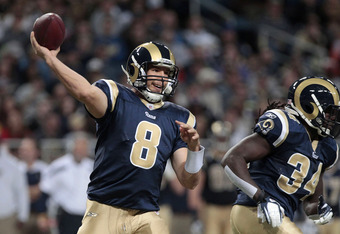 Whitney Curtis/Getty Images
The Rams may be without star quarterback Sam Bradford and defensive end Chris Long, both of whom have missed practice time this week and are listed as questionable for Week 13 on account of ankle injuries.
The Niners receiving corps could be missing one of its key components if Braylon Edwards, who did not participate in practice on Friday, has to sit out to nurse his injured knee.
Fantasy Big Plays:
START: Frank Gore, RB, San Francisco 49ers
The Rams defense ranks last in the NFL in rushing yards per game allowed—a measure of mediocrity bolstered and confirmed by Beanie Wells' 228-yard day last weekend. Gore is a better back with a better offensive line playing in a much more ground-oriented offense.
In other words, expect Gore to approach, if not fly right past, the 20-point plateau on Sunday.
SIT: Steven Jackson, RB, St. Louis Rams
Don't be fooled by Bradford's bum ankle into thinking Steven Jackson will have a big day against the Niners. Sure, Jackson will have every opportunity to run.
It's just not a friendly defense to run against. San Fran ranks first in the league in rushing yards allowed and hasn't given up a touchdown on the ground all season. Don't think that will change just because St. Louis is in town.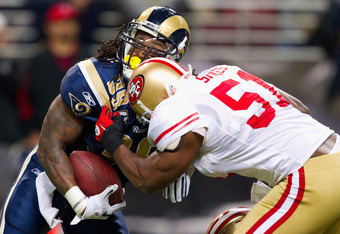 Dilip Vishwanat/Getty Images
Keys to Rams Win:
St. Louis needs to do everything it can to keep the ball away from Frank Gore, lest the Rams subject their defense to humiliation on down after agonizing down. The best way to do that, of course, is to pound the rock with Steven Jackson.
That won't be easy, seeing as how the Niners are tops in the NFL against the run, but unless Bradford proves healthy enough to be effective, it's the only chance the Rams have have.
Key to 49ers Win:
The Niners need only do what they've been doing all season—run the ball on offense, stop the run on defense and limit their mistakes—to come out on top in this one. Frank Gore should have plenty of room to roam against the Rams' defense—more than enough to make the game a runaway for San Fran.
Prediction: 49ers 20, Rams 10
The 49ers have the defense to shut the Rams down, but lack the explosion on offense to turn this one into an absolute laugher. Still, this one won't feel close whatsoever, even if the scoreboard suggests otherwise.