Tim Tebow: Harvard Brainiacs Prove Tebowmania Makes No Sense
December 2, 2011
Garrett Ellwood/Getty Images
I knew it. 
I was busy banging my unprotected head against a stuccoed wall while watching Tim Tebow coverage today. That is when I happened upon an interesting article about some Harvard students who have proved without a doubt that miracles do exist. 
Rather, they have concluded that the success of the Denver Broncos during the reign of Tebow doesn't make any sense. Say it together now, it doesn't make any sense. 
The Denver Post reports on this charming little tale of Harvard students who couldn't make heads or tales of the Tebow situation, so they simply chalked the damn thing up to miraculous efforts. I'm game. 
The Harvard Sports Analysis Collective released their findings in "A Statistical Analysis of the Miracles of Tim Tebow."
The Denver Post cuts through the muck to deliver the meat. The report finds that the Broncos got worse when Tebow took over, but instead got better. If that hurts like a brain freeze, I'll explain.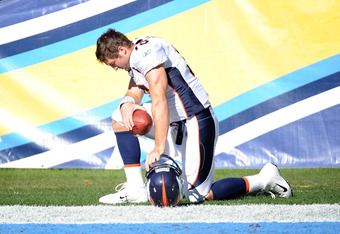 Harry How/Getty Images
They first looked at the Broncos under Kyle Orton and used a formula that showed the Broncos would win about 36 percent of their games this year. That is all based on the five games that Orton played in this season. 
They then compared that to Tebow Time. Wouldn't you know it, Denver's offensive numbers actually dipped during that time. They do make careful to say the defense did improve statistically, if only slightly. Despite all that, the Broncos are winning, to the tune of a 4-1 record under Tebow. 
So what gives?
Well, if you have reached this far, it means your brain has not begun to eat itself, so we continue. Apparently, the key is that the Broncos, Tebow included, may not be succeeding as much as with Orton, but they are doing it at the right times. 
The Broncos fans who have been crying that Tebow is clutch just exploded into bits of confetti. Here is the dire part though. 
The report concludes that there is no way the Tebow keeps this up, with the current formula of succeeding merely a few times a game that is. 
The likelihood of Tim Tebow sustaining his current winning percentage looks rather dire...Now before you Broncos fans get too angry, these numbers only argue that Tebow's wins are more likely to become more in line with his play – if his play improves he's likely to keep winning at a good rate. Or on the other hand, if you believe that Tebow is truly a clutch player that performs better in high impact situations, then he will sustain a higher winning rate with poorer play. But given that Tom Brady and Aaron Rodgers haven't been able to do that over the long term, I wouldn't bet the farm on it.
So there you go. The reason for Tebow and the Broncos succeeding is reasoned out to be a miracle. Wait, what?
If it's fine with you, I will continue banging my head until it's numb. Tebow and the Broncos have flabbergasted some of the best young minds in the nation. 
Now if that's not winning, I don't know what is.