Vince Young's Boulevard of Broken NFL Dreams
December 2, 2011
Jonathan Ferrey/Getty Images
On the night of Jan. 4, 2006, Texas QB Vince Young stood atop the sports world. He played one of the greatest college football games of all time, leading the undefeated Longhorns to a thrilling 41-38 national championship victory over the undefeated USC Trojans, who were coached by Pete Carroll. 
In that national championship game, Young was utterly unstoppable against the Trojans' vaunted defense. He completed 30 of 40 passes for 267 yards and rushed 19 times for 200 more yards and three touchdowns, including his memorable 8-yard clinching touchdown run on fourth-and 5 with just seconds left in the game.
Young then ran in a 2-point conversion for the final margin of victory, 41-38.
Not quite six years later, on the night of Dec. 1, 2011, Philadelphia Eagles backup QB Vince Young buried his head in his hands on the sidelines of Qwest Field in Seattle after throwing four interceptions, including a game-changing pick-six in the fourth quarter.
Young's miscues led to 21 points for the Seattle Seahawks—coached by the same Pete Carroll--in the Eagles' crushing 31-14 loss, which all but eliminated them from the NFL postseason. 
This after Young had famously proclaimed in the NFL preseason that the Eagles were a "dream team." 
Philly's would-be dream season is now a nightmare, and Young's checkered NFL career continues to fall short of his seemingly unlimited quarterbacking potential. 
To be sure, Young was disadvantaged against the Seahawks and their infamous 12th Man home-field advantage, as the Eagles were again without star wideout Jeremy Maclin. One of Young's INTs glanced right off the hands of Maclin's replacement, Riley Cooper.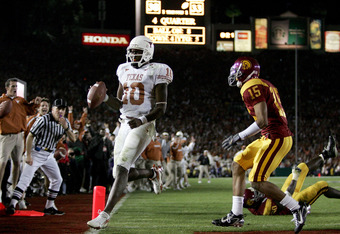 Harry How/Getty Images
The other three interceptions were, however, all on VY, who just five days earlier had piled up 400 passing yards and rushed for 40 more in a losing effort against the New England Patriots.
Young's last two NFL games are a microcosm of his up-and-down NFL career. He has alternately been brilliant and awful, confounding experts and fans mesmerized by his heroics at Texas, particularly in the 2006 title game. 
After being drafted third overall by the Tennessee Titans, Young had a sparkling 2006 rookie season, with 13 starts, nearly 2,200 passing yards and 12 touchdowns.
He also was second to Michael Vick among NFL QBs with 552 rushing yards and seven touchdowns. Young played in the 2007 Pro Bowl and was NFL Offensive Rookie of the Year. 
In 2007, Young made 15 starts, threw for over 2,500 yards and ran for nearly 400 more, but was plagued by injuries and interceptions, throwing for only nine touchdowns while being picked off 17 times.
The Titans did go 10-6 notwithstanding his struggles, and lost in the wild card round of the playoffs. 
In 2008, Young injured his knee in the season opener and ended up holding a clipboard behind Kerry Collins for the rest of the Titans' 13-3 season. 
Young began the 2009 campaign as the back-up. After the Titans lost their first six games, Young replaced Collins and played lights-out in November and December, leading Tennessee to an 8-2 record down the stretch. He finished third in the voting for NFL Comeback Player of the Year.
Last year, Young QB'ed the Titans to a 5-5 start before an injured thumb and vocal disagreements with Tennessee head coach Jeff Fisher sent him on the bench yet again. He was released by the Titans last summer, joined the Eagles and assumed the backup role to Michael Vick.
After Young's four-pick performance at Seattle, Eagles fans can only hope for Vick's return if the team is to have any shot at winning a game or two during the remainder of the 2011 season.
As for Young, his on-again, off-again NFL career is at another crossroads. He may yet become a top starting QB in the NFL. But not if he keeps playing like he did at Seattle.