Notre Dame Football: Why Florida State Is the Perfect Bowl Matchup for the Irish
December 2, 2011
Ezra Shaw/Getty Images
The Notre Dame Fighting Irish are destined for the Champs Sports Bowl. A matchup with the Florida State Seminoles would be a perfect test for a team trying to iron out its own imperfections.
There's a chance that the Clemson Tigers' late-season collapse could end up slotting them opposite Notre Dame in the Champs Sports Bowl but many reputable projections have the Irish clashing with the Seminoles in Orlando.
Like Notre Dame, Florida State entered the season with (perhaps unreasonably) high expectations. The 'Noles showed up in just about every preseason Top 10 and were a chic pick to play for the national title. Much like its (possible) future opponent, Florida State proved early on that those expectations were unwarranted, losing to each of the first three FBS teams it faced.
Since then, the Seminoles have found some semblance of form, going 6-1 in their remaining games and closing out the regular season with a convincing road win over the rival Florida Gators. Florida State is on just enough of a roll to be dangerous but, without a win over a ranked team, it's clear that the 'Noles are absolutely beatable.
That makes them a perfect opponent for a Notre Dame team in dire need of a positive ending to a lukewarm season. Florida State is exactly the type of speedy, athlete-laden team that Notre Dame has struggled with in recent years.
The Seminoles' biggest strengths can counter some of the Irish's most glaring weak spots. On offense, they spread the field with play-makers in space. On defense, they attack with one of the best pass rushes in the country.
With that being said, the Seminoles are 8-4 for a reason. FSU won't be the best team that Notre Dame faces this season in either of those specific areas, yet those two factors have been a common thread linking many of the Irish's losses this season.
Facing Florida State will give Notre Dame both the opportunity and the motivation to work on its weaknesses in practices leading up to December 29th.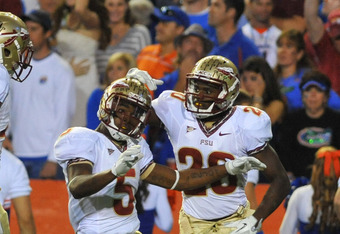 Al Messerschmidt/Getty Images
The Fighting Irish rank a respectable 35th in the nation in pass defense. However, that ranking is inflated by a schedule that featured Navy and Air Force, two offenses that would prefer not to put the ball in the air.
When Notre Dame has faced top-level passing offenses, it's struggled mightily.USC (15th) and Stanford (26th) are the two best passing offenses that the Irish have faced, and both Matt Barkley and Andrew Luck carved up Notre Dame's defensive backfield with relative ease.
Florida State's pass offense is very good, ranking 35th in the nation, but E.J. Manuel isn't in the same league as Barkley and Luck. If the Irish are able to get some pressure from their front four, this game could be a great confidence booster for the Notre Dame secondary.
Defensively, the Seminoles field one of the best units that Notre Dame will face all season. FSU's fast, attacking defense ranks sixth in the nation and will present a great challenge for the Irish.
On the outside, Greg Reid gives the 'Noles a corner that actually has a fighting chance to stick with Michael Floyd in man coverage. While it makes the task at hand a bit more difficult, that matchup will force Brian Kelly and his offensive staff to give T.J. Jones, Theo Riddick and some of the younger Irish receivers a primary position in the offensive game plan.
Up front, Florida State brings a fearsome pass rush, led by German import Bjoern Werner. This unit will pose a challenge for a rebuilt offensive line, as well as for the Irish quarterback, whomever it may be.
If Tommy Rees gets the start, he'll need to work quickly through his reads and release the ball before the rush can reach him. Andrew Hendrix will need to work on those same principles but he'll also get an opportunity to test his running talents against a defense with plenty of speed. In either case, Notre Dame's quarterback will be tested.
That said, the Irish are more than capable of taking this defense apart. Michigan State outpaces Florida State in total defense and sacks, and Notre Dame's offense was able to move the ball fairly well against the Spartans.
All in all, the Irish and Seminoles are a perfect match. While neither team ranks in the BCS Top 25, the squads are separated by just one spot in the Sagarin computer rankings. Notre Dame has a slight advantage in those rankings, mirroring its slight advantage on the field.
The Irish should be narrow favorites against the 'Noles, but even with those expectations, a win in the Champs Sports Bowl would go a long way toward mitigating the disappointment of a season littered with missed opportunities, while also improving Notre Dame's weak spots for the long term.
Surely, Florida State will be a challenge, but the degree of difficulty is nothing that Brian Kelly and the Irish can't handle.