New York Islanders Looking Ahead: 2-Game Road Trip Against Chicago, Dallas
December 1, 2011
Christopher Pasatieri/Getty Images
 After Tuesday night's solid effort, the New York Islanders are now looking ahead two a two-game road trip facing two of the the league's hottest teams right now, the Chicago Blackhawks and Dallas Stars. Can the Islanders keep up the attitude and, most importantly, the hard work that earned them the wins in the last two games?
 In a win against the Buffalo Sabres, the Islanders accomplished something they haven't had since March of last season: back-to-back road wins. Strong forechecking as well as good neutral zone pressure prevented the Sabres from ever striking a real rhythm last night, resulting in a goal-less second period. On top of that, Al Montoya was an absolute machine Tuesday night, stopping 30 of 31 shots posting a .968 shots against. 
Perhaps the biggest point to come out of this game was that Montoya deserves to be the starting net minder. He has given the Islanders the stability, confidence and numbers needed to have a chance at winning every time he's been in net this season.
The Islanders also kept their defensive woes to a minimum Tuesday; for the most, part they played the puck smart, avoided defensive zone turnovers and, perhaps the most important part of the night, fought off a long 5-3 Sabres power play in the third period. Travis Hamonic blocked two hard point shots that sent him reeling to the bench for a short period of time to recover. David Ullstrom notched his first NHL point on an assist that gave Brian Rolston the ever-important game-winning goal as well.
Keys to beating Chicago
The Isles will meet the Blackhawks on Friday, who are coming off a loss to the Phoenix Coyotes. Undoubtedly, the Hawks will come out strong, looking to force defensive mistakes and turnovers on the Islanders in an attempt to regain first place (now tied between Chicago and Minnesota). A win over Chicago would be a huge, further boosting team attitude and confidence in its ability to play, compete with the best and—the key to all of this—win games.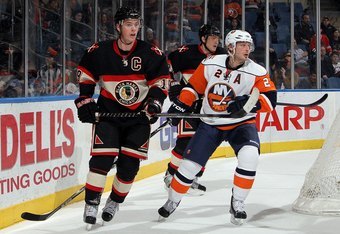 Jim McIsaac/Getty Images
Chicago's goaltenders have had a tough time this season, both posting sub-.900 SA, and Corey Crawford has a goals against average of nearly three. In short, the Islanders must shoot—a lot. Pucks will find the back of the net if they don't hesitate to shoot and pressure Chicago with as many shots as possible. Avoid defensive lapses and play smart as they did against Buffalo; also, the team needs to win to keep a solid attitude going into Dallas—good attitudes and confidence give players new legs.
Montoya should start this game.
Keys to beating Dallas
The Islanders will then face Dallas at home the very next day, which will be a true test for the team and will show how deep the team is willing to work for a win, as it will be playing mere hours after flying into Dallas against a very well-rounded team. Kari Lehtonen has been terrific, only posting four losses in what will be his 20th start of the season.
 This will be a defensive test for the Isles—they will be tired and sore from the previous night's game. If Rick DiPietro is going to play in a game, it should be this one, but don't be surprised if Montoya gets the start, especially if he has a good game in Chicago. The Stars have an overall good team effort and they all try to get in on scoring, meaning every player is dangerous. Playing smart is the most important key to this game. The Islanders can't have poor give-aways and defensive failures, which will result in goals on the tired defense that sometimes struggles on its best of nights.