2011 NBA Free Agents: Top 5 Shooting Guard Options for the Chicago Bulls
November 28, 2011
Doug Pensinger/Getty Images
With Billy Hunter and David Stern set to kiss and make up, it's time we talk player movement, specifically that surrounding the Chicago Bulls.
The Bulls are a young, energetic, experienced team that finished last season with the best record in the NBA. Unfortunately, they bowed out at the hands of Dwyane Wade, LeBron James and the Miami Heat.
Through that playoff series, it became painfully obvious the Bulls were lacking in one key area—the shooting guard spot. So follow me as I break down Chicago's top five free agent options to fill that all-important 2-guard spot. Hopefully, one of them takes Chicago back to the NBA Finals. 
1. JR Smith
Widely regarded as somewhat of a loose cannon, JR's name has sat atop the list of Bulls fans this offseason as a target. Yes, he's a little bit Allen Iverson with the tattoos and chip on his shoulder, but if anyone can break that attitude and get him playing great team ball, it's coach Thibodeau.
He's an athletic and wildly entertaining 2-guard, who would reduce the need for Derrick Rose to put his body on the line so often driving to the cup. With Smith going to the basket, it will open up the floor for Rose to nail his elbow jumpers, or allow Deng to spot up at the three-point line.
I rate JR Smith's potential impact for the Bulls at a solid B. 
2. Jamal Crawford
As a former Bull, it would seem unlikely that Chicago would be interested in bringing him back. Despite his numbers of 14.2 points and 3.2 assists per game last season, the way he vanished during the playoff series against the Bulls is a good enough reason to not bring him back to the Windy City.
While he would bring some good experience and speed to the 2-spot, he is also 31 years old and about to embark on his 12th NBA season.
Which only means he's more likely to get injured.
In addition to this, because of his good numbers, he'll want big money and we all know it's time for Rose to get paid.
I rate Jamal Crawford's potential impact for the Bulls at a B-.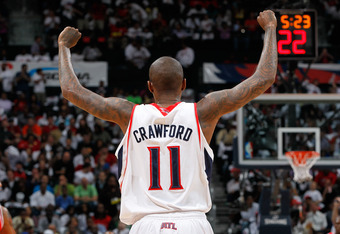 Kevin C. Cox/Getty Images
Jason Richardson is a name that has begun to surface as finding a new home in Chicago. With all the guards/swingmen Orlando have, it's no great surprise.
Richardson reinvented himself in Phoenix and turned a lot of heads, which is why he's going to come at a cost for the Bulls unless they can work out a sign-and-trade for him with the Magic.
His numbers are exactly what the Bulls need and given his size, it will be the first time the Bulls have had a big athletic guard that can shoot from almost anywhere on the floor since that guy who wore 23.
In addition to his offense, Richardson also averaged 1.2 steals per game, so having someone put pressure on other shooting guards is a bonus.
I rate Jason Richardson's potential impact for the Bulls at a dependable B+. 
4. Shannon Brown
Having spent a little more than two seasons backing up Kobe Bryant, there's a lot Shannon Brown could bring to the Bulls. His numbers in scoring, steals and assists have increased over the last three years, and the fact he's been learning from who some consider to be the second best shooting guard of all time is a big plus.
Brown has a great combination of speed, hops and a solid jumper. Plus, he plays both ends of the court. I think he's probably a little undersized for the Bulls at 6'4", given that Brewer and Bogans are taller than him already.
But his athleticism is undeniable.
Taking on Brown would be a risk for the Bulls, although somewhat calculated, because he has yet to prove himself after five years riding the pine.
I rate Shannon Brown's potential impact for the Bulls at a C+. 
5. Michael Redd
With multiple knee surgeries under his belt, taking a shot at Redd would be the riskiest of all moves. Couple his injury woes with his age at 32, and you're signing a time bomb.
With the Bulls already suffering injury-plagued seasons with Noah, Boozer and Gibson, it would make little or no sense to sign Redd unless he is an absolute bargain.
While his career numbers are quite good, the fact he averaged fewer minutes per game last season than Keith Bogans indicates he's not the man for this job. If, however, the Bulls were able to pull off a deal that saw them pick up another guard like JR Smith and they could get Redd under the cap, I think it'd be a good move.
I rate Michael Redd's potential impact for the Bulls at a risky C-. 
There it is, folks—my top five potential free agents to fill the Chicago Bulls' needs at the shooting guard spot.
If the Bulls want someone that has size, athleticism and could be molded, I'd pick JR Smith. If the Bulls are looking for a more experienced player that is a proven shooter and can do some slashing, I'd take Jason Richardson.
Personally, I think Smith is worth the risk under a coach like Thibodeau, but I'm not signing the cheques. 
You can follow me on Twitter @CommissionerOTP.