Seattle Seahawks to Follow an Old Pattern to Land Their New Quarterback?
November 22, 2011
Stephen Brashear/Getty Images
It is virtually a foregone conclusion that the Seattle Seahawks will snag their quarterback of the future in the 2012 NFL draft. Many NFL analysts expect they will trade up to take Matt Barkley or Robert Griffin III. Others expect them to grab the best option available in the second round.
Seahawks fans should prepare for a different approach.
Seattle has drafted 13 quarterbacks in its 35 years as a franchise. To date, exactly zero of them became a solid quarterback.
The talent brain trust of Pete Carroll and GM John Schneider isn't deterred by the Seahawks' history of draft futility. Their decision to ignore the quarterback position during the 2011 NFL draft had more to do with needs in other areas and their big-picture approach.
"We had a plan going in (to the draft), and we still have that plan," Schneider said last April. "We just can't execute that plan right now."
This comment sent fans whirling about what big-name acquisition was going to be announced. Could it be that a trade for Carson Palmer was in the works? Some were hoping for a deal to get Kevin Kolb, while others grimaced at that possibility.
Then came the announcement that the team would sign Tarvaris Jackson to a two-year contract.
The news fell a bit flat following the tease offered by Schneider. When no other signings happened at the position, fans scratched their heads, astonished that Jackson was the goal all along.
What needs to be considered is that the plan actually extends to the 2012 offseason.
Speculation has been that Seattle plans to draft a talented rookie in April and will allow him to sit behind Jackson for a season. But there is one nagging issue with that assertion.
Jackson is not the kind of quarterback a team would use to mentor a young player. For that role, the Seahawks would have kept Matt Hasselbeck.
Speaking of Hasselbeck, his arrival in Seattle may have some relevance for the current administration. 
Mike Holmgren came to Seattle from the Green Bay Packers. He was named head coach and general manager, taking over a team in dire need of a quarterback to replace Jon Kitna. 
Seattle was sitting on the ninth pick of the 2001 NFL draft, but the only first-round prospects were Michael Vick and possibly Drew Brees. Instead of taking a chance on Brees, Holmgren opted to trade for Hasselbeck and sign Koren Robinson to be his No. 1 wide receiver.
Seahawks fans should avoid the temptation and torture that would go along with imagining what might have been had Seattle gone the other direction.
Fast-forward 10 seasons, and the Seahawks face a similar decision. Do they bring in a known quantity to be their quarterback or take a gamble on a rookie?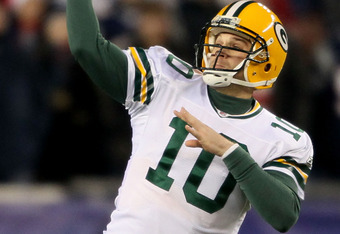 Elsa/Getty Images
Signs point to the Seahawks bringing in a quarterback that is ready to start, not a player that needs to hang behind Jackson for a season or two. Similar to Holmgren bringing in his backup quarterback named Matt, Seahawks fans can expect Schneider to do the same.
Matt Flynn will be a free agent in the coming offseason, and there is little hope the Packers will be able to offer him a contract that will keep him on their roster. Seattle, on the other hand, has ample cap space and very little of it is being spent on the quarterback position. 
Flynn has spent the last four seasons learning behind Aaron Rodgers. He has shown proficiency in limited duty, including a three-touchdown performance against the New England Patriots last season.
Flynn has the physical attributes one would want in an NFL quarterback. He's 6'2" and 225 pounds. He has decent speed, running a 4.71 in the 40 (4.79 at the NFL combine). He also led LSU to a national title in 2007.
Schneider is as familiar with Flynn as anyone in the NFL that is not currently working for the Packers. The changes in free agency status under the new collective bargaining agreement will make Flynn an unrestricted free agent, leaving him open to sign with whichever team makes him feel most welcome.
Expect Schneider, who scouted Flynn for the Packers, to roll out the greenback carpet. Assurances that the Seahawks are taking many paths that are similar to the Packers shouldn't hurt.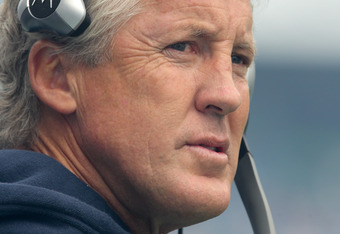 Otto Greule Jr/Getty Images
Flynn may not be the next Aaron Rodgers, but he looks to be the type of quarterback Seattle wants. In his lone start, Flynn completed passes to 10 different receivers. 
Carroll has espoused an approach of a game manager at quarterback that can distribute the ball, not a superstar that has to carry the offense. 
We don't want this position to be one where he has to carry us all the time. It's such a hard position to play, and it's a team game, and we need everybody to fit in. I would much rather position our guy in an offense where he has to move the ball around to the right guy and not have to drop back and throw the ball all day long. That's not our style of playing.
Seattle has certainly gone about acquiring the type of players to go with this philosophy. That is, except at quarterback and possibly at running back.
Look for the Seahawks to correct the need at quarterback in the 2012 free agency period. This leaves them open to look at options at running back and defensive line in the first two rounds.
The Seahawks will likely draft a quarterback in 2012 as well. They need a player to take over the backup duties when Jackson's contract is up, if not before. Carroll and Schneider have found quality starters in the later rounds of the draft and will undoubtedly look to find a late-round gem at the quarterback position.
Matt Flynn's career stats:
| | | | | | | | | | |
| --- | --- | --- | --- | --- | --- | --- | --- | --- | --- |
| Year | Games | Comp | Att | CMP% | Yards | AVG | TD | INT | Rate |
| 2008 | 7 | 2 | 5 | 40.0 | 6 | 1.20 | 0 | 0 | 47.9 |
| 2009 | 15 | 7 | 12 | 58.3 | 58 | 4.83 | 0 | 1 | 36.1 |
| 2010 | 7 | 40 | 66 | 60.6 | 433 | 6.56 | 3 | 2 | 82.5 |
| 2011 | 2 | 2 | 3 | 66.7 | 38 | 12.67 | 0 | 1 | 70.1 |
| Total | 31 | 51 | 86 | 59.3 | 535 | 6.22 | 3 | 4 | 69.7 |