Washington Redskins: Who Will Start at Running Back on Sunday?
November 15, 2011
Patrick Smith/Getty Images
In and around the Washington D.C. metropolitan area much of the talk concerning the Washington Redskins loss to the Miami Dolphins has rightly centered on the team's quarterback situation.
To recap, the Saturday before the game coach Mike Shanahan decided to reinsert Rex Grossman, who was benched in favor of John Beck following a four interception performance against the Philadelphia Eagles, into the starting lineup.
Grossman failed to win the game, but Shanahan has announced he will retain the starting job for next Sunday's game against the Dallas Cowboys.
What has pretty much gone unmentioned is Shanahan's other perplexing, yet no less significant, personnel move: his decision to start Ryan Torain at running back against the Dolphins.
In the Redskins previous game against the San Francisco 49ers, rookie running back Roy Helu started for the first time all season and had a breakout performance. He caught 14 passes, a single-game franchise record, for 105 yards and rushed for 41 yards on 10 carries.
It seemed the Redskins had finally found a running back to replace the injured Tim Hightower.
But Shanahan decided not to start Helu for the second straight game, opting instead to go with Torain.
Unlike Helu, Torain seems to be on a downward spiral. Ever since his first game of the season, in which he bowled over defenders and exploded through holes en route to 135 yards on only 19 carries, he has significantly regressed. Over the past few games, Torain has been timid behind the line of scrimmage, failed to hit holes with any aggression and tended to go down immediately after contact. 
Given Torain's diminished level of play and Helu's emergence, it seemed only logical that Helu would start against the Dolphins. That turned out not to be the case.
For some inexplicable reason, Shanahan started Torain and gave him the bulk of the carries. Torain responded with an abysmal performance, arguably his worst of the season. He averaged a measly 1.8 yards per carry on 11 carries.
Helu played as a back-up and once again looked stellar. He gained 41 yards on only six carries, raising his yards per carry season average to five. He also caught three passes, while Torain only caught one.
So why did Shanahan start Torain, and why did he stick with him throughout the game? Wasn't it evident that Helu is the more dangerous player and that the Redskins offense would be better served with him in the backfield?
As a reader astutely pointed out in the comments section of my last column, Shanahan often refers to Helu as a  "change of pace back," which is football speak for a runner deemed unworthy of shouldering a full load of carries.
The idea that Helu cannot start and thrive in Shanahan's offense is utterly ridiculous.
Helu's physical talents actually make him a perfect fit for Shanahan's running game, which is based off a zone blocking scheme and utilizes a significant number of stretch plays. To thrive in this sort of rushing attack, a runner needs speed to get outside the tackles and the ability to change direction and hit the cut back holes that often open as a result of zone blocking.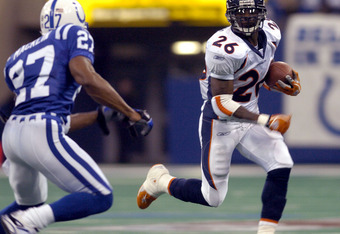 A. Messerschmidt/Getty Images
Helu has both of these assets; Torain has neither. So why is Shanahan sticking with Torain?
One of the most effective running backs to ever play for Shanahan was Clinton Portis. Redskins fans remember Portis from his days in Washington, when he gained weight and became known as a between the tackles runner, who was also a devastating pass blocker and confirmed goofball.
But during his time in Denver, Portis was a much different type of running back. He was lithe, extremely fast and possessed incredible agility. He averaged 5.5 yards per carry as a Bronco, a number that significantly decreased when he joined the Redskins.
Helu is not as talented as Portis but possesses a similar skill set. He has the ability to become a poor man's Clinton Portis, which would make him a step up from Torain.
The Redskins offense needs a credible rushing attack to take some pressure off the passing game. Neither Grossman nor Beck is talented enough to put points on the board without some help from the running back.
So I again ask, why did Shanahan start Torain against Miami, and does he plan to start him again against Dallas?
It seems quite evident that Helu deserves to be the starter for now—Torain looked so bad last weekend that I began to wonder if he was hiding an injury. Regardless of his situation, Shanahan needs to wise up and start Helu or Tashard Choice, who has not seen any game action since joining the Redskins two weeks ago.
Helu has the chops to handle a full load, and the Redskins will need him, and possibly Choice, to play well if they want to defeat the Cowboys. If Shanahan continues to start Torain, he will further undermine his already diminishing credibility with sports fans, many of whom are beginning to question his ability to right the sinking ship that is the Washington Redskins.