Jerry Kramer Belongs in the Pro Football Hall of Fame
November 12, 2011

The NFL journey for Jerry Kramer started on December 2, 1957, when he was drafted by the Green Bay Packers in the 1958 NFL draft.  The draft was much different then, as the NFL staggered the draft on two different dates, with the first part of the draft (rounds 1-4) being in early December and the last part of the draft (rounds 5-30) being in late January.  Yes…you read that right.  There were 30 rounds back then.  But on December 2, 1957, Kramer became a Packer, as did three other very talented football players.  In the first round, the Packers selected Dan Currie.  In the second round, the Packers selected Jim Taylor.  In the third round, the Packers selected Ray Nitschke.  In the fourth round, the Packers selected Kramer.
All four of those players had excellent careers in the NFL, with two of them (Taylor and Nitschke) getting inducted into the Pro Football Hall of Fame.  There are many, including myself, that believe Kramer should also be in the Hall. 
In 1967, when Jerry Kramer was 31 years old, in his 10th year with the team, he decided to keep a diary of the season.  Kramer would recite his thoughts into a tape recorder, and then submit those words to Dick Schaap, who edited the words into the final version of Instant Replay.  Little did Kramer know that the 1967 season would be one of the most remarkable in the history of the NFL, culminating with the championship game against the Dallas Cowboys now known as the "Ice Bowl," in which Kramer would play a key role.
From training camp, through the Ice Bowl, then Super Bowl II, Kramer provides a fascinating perspective on pro football when the game was one of blood, sweat and tears.  Kramer offers an insightful view of the team's legendary leader, head coach Vince Lombardi. 1967 was Lombardi's last year as coach of the Packers as well.
But in 1958, when Kramer was a rookie, things were not so great in Green Bay.  In fact, the team finished 1-10-1 under head coach Ray "Scooter" McLean.  That led to the hiring of Vince Lombardi in 1959.  Lombardi led the Packers to a 7-5 record that first year.  It was the first winning record for the Packers in 11 years.  Then Lombardi led the Packers to the Western Conference title and a berth in the NFL Championship game vs. the Philadelphia Eagles.  The Packers lost 17-13 that game, but that would be the only playoff game Lombardi and his Packers would ever lose.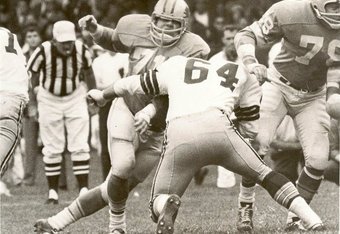 After that, the Packers won five NFL titles, including the first two Super Bowls.  The Lombardi-era Packers were that good.  In fact, in the nine years Lombardi coached the Packers, you could make an argument that the Packers could have won eight titles.
The Packers won it all in 1961, 1962, 1965, 1966 and 1967.
In 1960, they should have beaten the Eagles in the NFL Championship game, a game they lost 17-13.  The Packers out-gained the Eagles by a wide margin, but settled for field goals early in the game despite having outstanding field position.  The game ended with Taylor being tackled inside the Eagle 10-yard line.
In 1963, the Packers finished 11-2-1.  The Chicago Bears finished 11-1-2.  The Bears gave the Packers their only two losses as Chicago won the NFL title.
In 1964, had the Packers swept the Baltimore Colts, they would have won the Western Conference.  However, the Packers lost both games to the Colts that year, by one and three points, respectively, because Hornung struggled kicking that year (12-38 in field goal attempts).
The excellence of those Packer teams has been cemented in Canton, Ohio at the Pro Football Hall of Fame.  Lombardi of course, was inducted a year after his death.  Ten of his players were also inducted, including Taylor, Nitschke, Forrest Gregg, Bart Starr, Herb Adderley, Willie Davis, Jim Ringo, Paul Hornung, Willie Wood and Henry Jordan.  One name is missing—Kramer.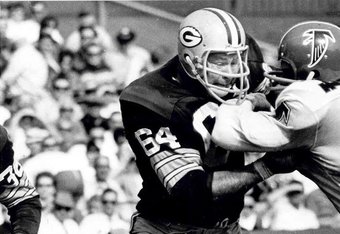 Kramer was All-Pro six times.  He would have been named to even more All-Pro teams if not for injuries and illness.  Kramer was named to the NFL's 1960's All-Decade team.  He was also named to the NFL's 50th Anniversary team.  He is the ONLY member of that squad not in Canton.  He was also named to the All-Super Bowl team.  That makes sense. The bigger the game, the better Kramer played.
The 1962 NFL Championship game was played at Yankee Stadium in frigid and blustery conditions.  Some Packers have said it was worse than the conditions of the "Ice Bowl" because of the high winds that were gusting up to 40 mph.  The Packers won that hard fought battle 16-7.  The difference was three field goals.  The three field goals were kicked by Jerry Kramer, who doubled as a right guard and a kicker that frigid day.
The 1965 NFL Championship featured the Packer one-two punch of Taylor and Hornung vs. the great Jimmy Brown.  Brown gained just 50 yards in his last ever game, while Hornung ran for 105 yards and Taylor 96.  The game started with snow, which turned to rain, which turned Lambeau Field into a mud bath.  The Packer sweep dominated the Browns' defense, as Kramer and left guard Fuzzy Thurston kept blowing up linebackers and defensive backs leading the way for the Packer backs.  One play in particular stands out—Hornung's last championship touchdown.  Kramer pulled left on a left power sweep and blocked one man, and then another, as the "Golden Boy" scored.
Then there was the Ice Bowl in 1967.  The Packers had to drive 68 yards with only 4:50 remaining, trailing 17-14.  The playing surface that day truly was a frozen tundra, as the game time temperature was 13 below zero.  It came down to this…13 seconds to go…no timeouts…at the 1-yard line of the Dallas Cowboys.  If the Packers run the ball and are stopped short, it is over.  Starr, of course, scored on a QB sneak.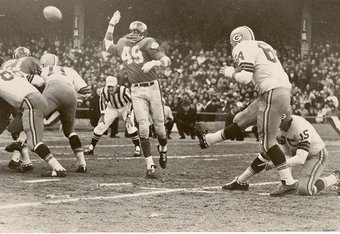 He ran behind a perfect double team block on Jethro Pugh by C Ken Bowman and Jerry Kramer.  Kramer was the one who had to fire out first on that block and get leverage on Pugh, and he did.  The ironic part of that play was that Starr called a 31 wedge play in the huddle, which calls for the fullback to get the ball.  Starr, however, felt it was safer that he keep the ball because he could get better footing.  Kramer definitely got great footing and Starr happily followed his right guard into NFL immortality.
"I understood my responsibility," said Kramer.  "If I don't get a great block, we don't do it.  I understood perfectly.  On a block, you can get cute, duck your head and aim for the shoulder.  Or, if you can't afford to gamble, you go into the guy with your head up and your eyes open and hit him with your face."
But even after all of his accomplishments on the field, and all of the success of his team, Kramer is still not in Canton.  Why?
Not long ago, the NFL Network had another one of their Top 10 specials, this time listing the top 10 list of players not in the Pro Football Hall of Fame.  Kramer ended up being No. 1 on that list.  That certainly does not surprise me.
I recently spoke with Kramer about this and many other subjects.
What's your take on the Super Bowl Champion Packers?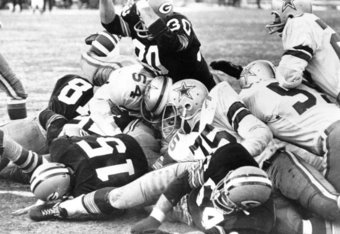 Kramer: It's very exciting.  I'm probably as optimistic as I've ever been, yet I'm very uncomfortable too.  I see a great opportunity for them, but I'm not sure that they see it.  I see the opportunity to win another title…or two more…or Lord knows how many because they are so young and so talented.  If their brain or their arrogance or their ego doesn't get in the way, then we have a real good chance to go down the road and enjoy this ride for some time.  But it's all going to be upstairs.  You look at last year and the number of injuries and the age of the team and you go "Wow."  So we have a wonderful opportunity here, but they may not know it or understand it to take advantage of this.  That's what makes me nervous.
What about Brett Favre and Aaron Rodgers?
Kramer: When we got rid of Brett, I was pretty upset.  I let everybody know that I was upset and that Ted Thompson was a village idiot.  I mean we were one pass from the championship.  I just went ballistic on him and probably overdid it a bit, but I was frustrated as I saw us get so close.  And I knew we didn't get that close very often and I was very frustrated.
 
I watched Aaron pretty closely after that, as I just couldn't imagine that another great quarterback would be able to follow another great quarterback.  I just didn't think it was possible.  So I busted Mr. Thompson's ass quite thoroughly at a number of different times and places.  But then I saw what Aaron could do, especially in his breakout year in 2009.  I remember being out in Phoenix last year as the Packers were getting ready for a playoff game that we eventually lost.  Anyway, somebody called and asked if I wanted to hang out with the Packers for a little bit, and I said "Hell yeah."
 
Mark Murphy was there, and he was very aware of my mouth flapping pretty wildly (speaking of Thompson and the Favre departure), and I told Mark that I had been watching Aaron closely and I had something to tell Ted Thompson.  I told Mark to tell Ted something for me.  Mark kind of drew back a little bit, and he said "What's that Jerry?"  You tell Ted, "Oh…that's what you were thinking" (speaking of the play of Rodgers).  I just couldn't believe that Aaron would be that good and that young.  But I'm so impressed with him, not only with the way he handled that mess with Brett, but also with his play since then.  He has done everything you could ask of him and then some.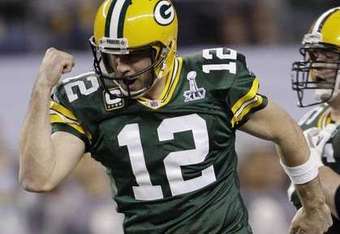 What about the comparisons of Bart Starr and Rodgers?
Kramer: Aaron is very reminiscent of Bart in a lot of different ways.  He's definitely ethically and morally in Bart Starr's camp.  He is fundamentally sound like Bart.  He is grounded in his religion and family like Bart.  I haven't spent a lot of time with him, but he is a very impressive young man.
What about the current offensive line and RG Josh Sitton?
Kramer: Sitton is doing a nice job.  Overall, they all are doing a nice job.  Ted Thompson is doing a nice job of replenishing the the whole team, including the offensive line.  I've been watching the tackles age and then we start to replace them one by one, year by year.  So far, they are doing a nice job, although the lack of a running game hurt them for awhile.  A good running back makes a big difference.  Give me a running game and the offense will really be exciting.  James Starks was exciting to see.  He was an integral part of that playoff run. 
 
What about the power sweep?
Kramer: That play gained seven or eight yards a pop maybe for the first three years that we ran it.  It was a hell of a play and it could break in so many places and in so many ways.  Plus, we had great personnel.  Ringo had great quickness.  Hornung and Taylor…Hornung especially, was a really smart runner.  Jimmy sometimes would just find somebody to run over.  Hornung was probably the smartest runner and also smart in a lot of different ways.  He was a wonderful runner and a great player to be on the field with.  The whole group did its job.  Forrest Gregg did a hell of a job as well.  It was just a great combination and it was fun.  It was great for Fuzzy and I to get out of the hole and get into the daylight.  It was just nice to get the hell away from that violent pit for a minute or two.  Great memories.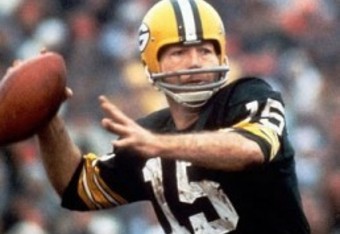 What about coach Lombardi and the way he motivated?
Kramer: Not long ago, I remember reading an article on teens and their desire for approval.  The article said that teens desire approval more than sex and drugs.  I looked at that article at first and I said that this can't be right.  But as I read the article, it basically said that approval was so critical to them.  That it was much more important to them than anything else.  Then I thought to myself, that was what Lombardi used with us.  That is what he said and what he was doing with us.  He was giving us his approval.  Saying that you are alright, saying that you are okay.  And if he said you could, it was almost like he gave you permission.  He helped us to dream, to think big, to become one of the better ballplayers.  It was stunning the impact Lombardi had on me.  It was honest to God, like something was inside my chest…like something was turning…like a flywheel almost.  There was a warmth in there that pretty much stayed with me forever.  I still look back on those days and I have a standard and a certain quality about the things I do and the way I do them.  And I have to maintain that quality and that standard for the team and all the guys I represent every time I go out and do anything.  And for the coach too.  It's still there.  "You don't do things right once in awhile, you do them right all the time."
What about the shun from the Pro Football Hall of Fame?
Kramer: There has been a certain amount of irritation and frustration.  I had Commissioner Goodell say to me once, "Jerry, are you going to Canton next week?"  "No I wasn't," I said.  Goodell said "How come?"  I said, "Commissioner, I am not in the Hall of Fame."  Goodell said, "Are you kidding me?  Are you serious?  What the hell is that all about?"  I replied, "I just don't know Commissioner.  I've not been inducted and although I'd love to go to Canton, I just cant."  Then John Hannah (Hall of Fame G for the New England Patriots) called me once to ask me about going to Canton.  Hannah had been helping out with some alumni matters with me.  I told John that I wouldn't go because I wasn't in the Hall of Fame.  Hannah said, "You're not???"  The same routine again.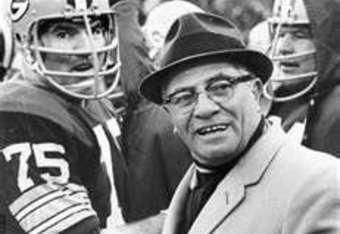 That seems to happen often.  I would be at events and be introduced as a Hall of Fame member, and I just stopped correcting people because it was so awkward.  Then you remember that you were a member of the 50th anniversary team of the NFL, and that you are the only guy on that team that is not in the Hall.  So I was aggravated for awhile,  but then I started thinking about life, and how wonderful football had been to me.  And what a great experience it had been.  And I thought, that I had no complaints, that I had a hell of a ride.  The game has been good to me, and it's still good to me, and it's still giving me presents that I haven't opened yet.
So I kind of came to an accommodation and just came to the conclusion that it is what it is.  I got more comfortable with the process that I wasn't in the Hall and probably won't get in.  So I got over it.  I just started to appreciate the things that have happened to me because of my time with the Packers.  I wouldn't change anything.  The memories with Bart, Max, Paul, Fuzzy, Boyd and all the others that goes on and on.  How could you have a greater experience?  Great bunch of guys.  A wonderful era.  A wonderful time.  So why be pissed about something they didn't give you?  Football gave you hundreds of presents.  So you didn't get one.  Well…that's the way it is.  I've kind of grown okay with it over the years.
It's nice to know that Kramer has that attitude now about the Hall of Fame.  But that doesn't make it right that he isn't in Canton.  Kramer has reached the pinnacle of success with many of his ventures off the field.  He has had great literary success as an author.  In addition to Instant Replay, which he co-authored with Schaap, the two also combined to write other books as well, such as Lombardi, Farewell to Football and Distant Replay. In October 2005, he released Inside the Locker Room, a CD set that includes tapes from Super Bowl II, which includes Coach Lombardi's final locker room address as the coach of the Packers.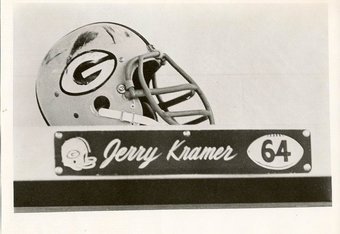 Kramer was also the founder of Gridiron Greats.  The Gridiron Greats Assistance Fund is a non-stock, non-profit corporation that has been established to provide financial assistance and coordination of social services to retired players who are in dire need, due to a variety of reasons including inadequate disability and/or pensions.
Kramer and the others deserve kudos for trying to help out the less fortunate players of his era and before.  The NFL is now a billion dollar business.  The league and the players that now play in it, need to realize the golden age of the NFL started when Kramer and his ilk were on the football field.  Kramer was definitely a champion on the field and his efforts off the field now make him a champion as well.
Kramer retired after the 1968 season.  A player isn't eligible for the Hall of Fame until five years after he's retired.  That means Kramer has been eligible since 1973.  That's 38 years!  Going on 39 now.  Kramer has been a finalist 10 times, but has never received the call from the Hall.  Kramer was voted one of the BEST players in the first 50 years of the NFL in 1969.  Yet he is not in the Hall of Fame…the ONLY player on that 50th anniversary team not in the Hall.
However, I'm getting a sense that the tide might be changing slowly but surely.  Steve Sabol from NFL Films, who saw his father Ed get inducted into the Hall of Fame this past summer, wrote about Kramer in the summer of 2010 as he was pinch hitting for Peter King in his Monday Morning Quarterback column for Sports Illustrated.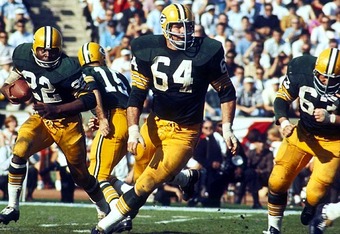 Sabol wrote in a column titled, "Best Player Not In the Hall Of Fame: Jerry Kramer," "He was the lead boulder in the avalanche that was the Packer Power Sweep. In the 1962 Championship game in Yankee Stadium, he kicked three field goals through the bitter wind to provide the winning margin over the Giants, 16-7. In the Ice Bowl, he became the most famous right guard in history with his goal-line block on Jethro Pugh; so celebrated that some people think the deodorant was named for him. He endured 23 operations. He was All-Pro five times (actually 6 times, as Kramer was 2nd team All-Pro in 1968). And finally, when the NFL celebrated its 50th anniversary, the Hall of Fame selected its All-Time Team and Jerry Kramer was the guard. He was a striver, a man of straight ahead will and determination who epitomized the essence of Vince Lombardi's Packers."
King himself wrote about Kramer himself in the MMQB column.  Just this past summer, King wrote, "Want to see Jerry Kramer get one of the Seniors nods? That's the tenor of what I read and hear on Twitter. There are nine Seniors Committee members, and five of them meet every year in late August in Canton to determine who will get the two nominations. The best advice I can give those with the passion for Kramer is to write passionately to the Hall about his candidacy. Your voices will be heard."
Still, with all that, Kramer was not nominated this past summer.
Plus, it's not just people like myself that are calling for Kramer to be rightfully inducted into the Pro Football Hall of Fame.  It's also his peers that played with him and against him.  Pro Football Hall of Fame peers as well.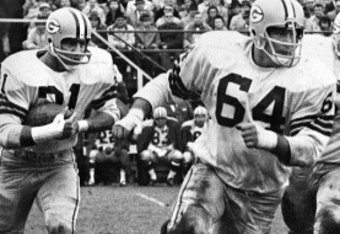 I have seen letters on behalf of Jerry Kramer from folks like Paul Hornung, Bob St.Clair, Raymond Berry, John Mackey, Alan Page, Joe Schmidt and Chuck Bednarik.  All of them promoting Kramer for the Hall of Fame.  All of them MEMBERS of the Hall of Fame too.
Finally, the power sweep was the signature play for Vince Lombardi and his Packers.  Kramer was a key component of its success.  The final drive of the "Ice Bowl" was the signature series of the Lombardi Packers and cemented their legacy.  Kramer again, had a huge role in that.  The Bart Starr quarterback sneak in the "Ice Bowl" was led by the signature block of the Lombardi era.  To many, the greatest block in NFL history.  It was Jerry Kramer that made that block.
It's time to right a wrong and get Jerry Kramer into the Pro Football Hall of Fame.  Kramer has waited far too long for another nomination and his proper induction.  The nomination needs to happen in August 2012, with the induction taking place Super Bowl weekend of 2013!  Then…and only then…will Jerry's NFL journey be truly complete.