This Is the Year the Hoosiers Can Turn Indiana Back into a Basketball State
October 25, 2011
Doug Pensinger/Getty Images
The era of Indiana being a football state could be coming to an end. The Colts are off to an 0-7 start—their worst since 1997—and are not looking like they're coming out of this slump anytime soon, after the franchise's worst defeat, 62-7, to the New Orleans Saints on Sunday night on national television.
Many Colts fans are off the bandwagon for the season and looking for something new.
I've lived in Indiana all of my life and know Indiana has to be the biggest bandwagon state in the nation.
No one cared about the Colts until the early 2000s. After they won the Super Bowl, everyone acted like they had been fans since 1984.
A few years ago, the Colts and Lucas Oil Stadium were chosen to host the Super Bowl in 2012.  Many said the state was now a football state instead of a diehard basketball state.
Nothing against Butler, but no one really cared about them until a couple of years ago, and no one really watches them until March anyway.
In order for this to be a basketball state like it once was, the Indiana Hoosiers need to be on top of the Big Ten and a national powerhouse.
Since Mike Davis took over in the 2000-2001 season, the Hoosiers have a combined record of 189-164, which is absolutely horrible according to Hoosier basketball standards.
Bobby Knight lost a total of 240 games in his 29 seasons of greatness in Bloomington, and the Hoosiers have nearly lost that in the past 11 seasons.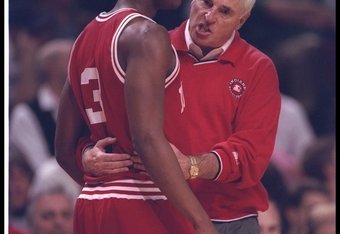 Jonathan Daniel/Getty Images
Not to mention Knight took the Hoosiers to a postseason tournament in every season except one in those 29 years.
The Hoosiers haven't made a tournament in four seasons, and have missed the NCAA Tournament five times in those 11 years since Knight began.
Since that magical tournament run in 2002, Indiana has failed to make it out of the first weekend of the tourney.
This is the year the Hoosiers are supposed to be a lot better, and anticipation of a special season next year is mounting with the No. 1 recruiting class coming in.
This year, the 2010-2011 Indiana Mr. Basketball, Cody Zeller, will be a force to be dealt with.  Many Hoosiers have been counting the days until his arrival.
Guess what? It's here.
Couple that with the 2008-2009 Indiana Mr. Basketball and local Bloomington South High School graduate, Jordan Hulls, and now the Hoosiers have local, in-state talent leading this team.
Next season, the Hoosiers have in-state talent Ron Patterson, Yogi Ferrell, Hanner Perea and Jeremy Hollowell confirmed to arrive on campus along with out-of-stater, C. Peter Jurkin. They may even add local player Gary Harris as well.
One of those local guys will win Mr. Basketball.
For the following two years, the Hoosiers will add two more in-state Mr. Basketball talents in each class, and Indiana will not only be a national powerhouse, but they'll be winning with in-state players.
That's what the Indiana teams used to always comprise of. Local heroes Alan Henderson, Calbert Cheaney, Damon Bailey, Steve Alford, Greg Graham, Jared Jeffries, Scott May—just to name a few—all took their talents to Bloomington. 
Those guys were not only good, but legends in both Indiana basketball and NCAA basketball as a whole. It made it easy for fans to follow, since they've practically watched these kids grow up before their eyes in local high school gyms.
For many of you reading outside of Indiana, basketball wasn't just a sport, it was a religion.
I remember Indiana basketball games were bigger than Colts games. People would always rather watch an IU game over the Colts.
This is now the second coming, and it's going to be bigger than before.
The Hoosiers have something special built by head coach Tom Crean, and many of these teams will look like they used to with local talent.
They will fight, compete and play hard. They can surely raise multiple banners.
You know that feeling of losing something and wishing you had it back, only to find it again and treasuring it more than you ever did before?
That's what will happen.
Many Hoosiers fans have been patiently waiting on this to happen.
Thanks to previous high school talent in this decade, these players can not only be legends in Bloomington and the NCAA ranks, but they can be NBA-caliber players.
Indiana has produced many high school players that are now playing in the NBA: Eric Gordon, Etwan Moore, Rodney Carney, JaJuan Johnson, Jared Jeffries, Josh McRoberts, Jeff Teague, Courtney Lee, Robert Vaden, Gordon Hayward, Mike Conley, Greg Oden, George Hill and Zach Randolph have all played in the NBA this past decade or just got drafted and are in-state talent.
Unfortunately, the this decade's recruiting has failed to bring in this caliber of in-state talent or, even if they came to IU, they weren't coached right.
Tom Crean now has that high level of talent coming to Bloomington over the next four years and will give many Indiana fans something to cheer about.
It's time to win now.
Colts fans are gone. I've seen it. It's not the same around here. The Pacers are locked out and don't look to be playing before New Year's, if at all this season.
All of this is a blessing for the Hoosiers.
A horrible Colts team and no Pacers.
When IU hosts Kentucky on their December 10 matchup at Assembly Hall, the Hoosiers could be 8-0 while the Wildcats could be ranked No. 2 in the nation, if not No. 1. The Colts could very well be 2-10 coming off of a loss the previous week to archrival New England on the eve of playing the Baltimore Ravens.
What game do you think people will be more excited for?
If the Hoosiers win early going into the Big Ten and look good, the state will start to buzz.
I fully expect them to do so.
Buckle up, fans, because we're about to be on a special ride that we've been so dearly missing.