2012 MLB Offseason: General Manager Rankings 1-5
October 18, 2011
J. Meric/Getty Images
Okay, the moment everyone has been waiting for. Who are the best general managers in baseball? Well, if you have been following the series you already know who they are. The question is in what order they will come. There might be a few surprises left in the rankings.
5. Billy Beane — Oakland Athletics
Best Move: When you've been around as long as Beane has, you have to decide whether you are going to look at recent moves or all-time moves. Most people don't want to go back that far, so I will throw out Josh Willingham. Beane traded Corey Brown and Henry Rodriguez to the Nationals for Willingham this past season. Willingham rewarded him with 29 home runs and nearly 100 RBI. He is an impending free agent, but all indications are that he will be back.
Worst Move: Third base has become a black hole for Beane since Eric Chavez proved incapable of staying healthy several years ago. Kevin Kouzmanoff held down the position the last couple of years and could not draw walks or field the position as he had in San Diego. Scott Sizemore took over and now Kouzmanoff is unemployed.
Mitigating Factors: This is the one area keeping Beane in the Top Five. The stadium situation is a joke and attempts to move to San Jose have failed. He doesn't have the lowest payroll in baseball, but the financial situation of the club is easily among the bottom five.
Known For: Moneyball. Moneyball was released in 2003 and Beane has had one significantly good season since. If he does not produce anything next year he will drop out of this group. As it stands, I know at least a few people that will complain about him being on the list now.
4. Chris Antonetti — Cleveland Indians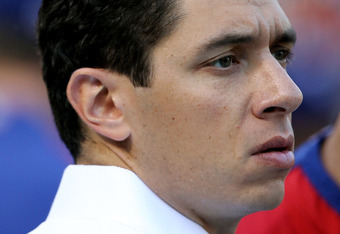 Ronald Martinez/Getty Images
Best Move: Antonetti took two superstar pitchers that were not going to return to Cleveland and got good prospects for them. If you combine the Sabathia and Lee hauls, you'll see. They got Rob Bryson (still in the minors), Michael Brantley, Matt LaPorta and Zack Jackson for Sabathia, and Jason Knapp, Carlos Carrasco, Jason Donald and Lou Marson for Lee. That's eight players when they only would have gotten four with compensation picks. None are stars yet, but they still have a few years yet to go.
Worst Move: The Ubaldo Jimenez deal could still work out since he has two more years on his contract. However, dealing both Alex White and Drew Pomeranz just doesn't feel right for a pitcher of Jimenez's caliber. Jimenez is a tease. He had a great first half in 2010, but otherwise has been the same pitcher throughout. That is, you don't know which pitcher is showing up on that particular day.
Mitigating Factors: Imagine the Indians with a rotation that features both Cliff Lee and C.C. Sabathia. That is the kind of prowess that Antonetti has in player development. Unfortunately, losing those two and key injuries to guys like Travis Hafner and Grady Sizemore have derailed them the past few seasons. Still, they are the team of the future in the AL Central.
Known For: Antonetti has been the head of an organization that has been raided for both player talent and front office talent. That is something to be proud of. He continued what Mark Shapiro built and has made it better. They haven't seen the ultimate success on the field, but you have a feeling they will break through soon.
3. Alex Anthopolous — Toronto Blue Jays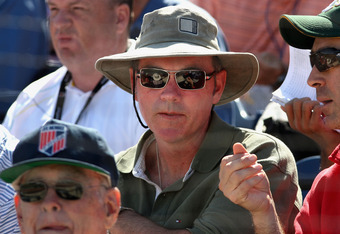 Christian Petersen/Getty Images
Best Move: Anthopolous pulled a rabbit out of a hat when he got the Angels to deal him, Mike Napoli and Juan Rivera for Vernon Wells and $5 million,  per season. If he had kept Napoli he would likely be either first or second on this list. Instead, he dealt him to Texas for Frank Francisco. Francisco is a nice reliever, but catchers with a 1.000+ OPS don't exactly grow on trees.
Worst Move: I'm just not seeing the Colby Rasmus trade. When the dust settled, he dealt Octavio Dotel, Marc Rzepczynski, Zach Stewart and Jason Frasor and had to take on Mark Teahen and two crappy relievers from St. Louis. I just don't have that much faith that Rasmus will become a star.
Mitigating Factors: Anthopolous was left a mess by his predecessor. There were tons of bad contracts and the Roy Halladay situation hanging over his head. He's handled all that ably and has put the Blue Jays back in a position to be a factor. This offseason will be the true test of how he will rank in the future.
Known For: Hoodwinking the Angels into taking on Vernon Wells and his contract. Anthopolous has done a masterful job of cleaning out the trash. Now, it is time to build things back up again.
2. Jon Daniels — Texas Rangers
Best Move: It was an afterthought this offseason, but the move could make Daniels the executive of the year. Getting Mike Napoli from the Jays in exchange for Frank Francisco was a stroke of genius. The Josh Hamilton trade could end up being bigger historically, but you don't get better value than he got for Napoli.
Worst Move: It seemed like a good idea at the time, but Koji Uehera has not worked out as planned. He has another year on his deal, so it could work out next season, but Uehara has been awful since coming to Arlington. Of course, Daniels didn't surrender much, so as bad deals go, it isn't terrible.
Mitigating Factors: The Ryan/Greenberg group inherited a lot of debt, so the Rangers can't go out and throw a bunch of money around. You could say their rotation lacks that certain something championship teams have, but he couldn't afford that certain something. Furthermore, C.J. Wilson will be a free agent, so life will be interesting whether they win or lose this next week and a half.
Known For: He has assembled the best offense anyone has seen in quite awhile. Nelson Cruz is legitimately the fourth or fifth best player in that lineup and he made Reggie Jackson look like a doubles hitter. Give him a little more money to play with and this could be a dynasty in the making.
1.  Andrew Friedman — Tampa Bay Rays
Best Move: It's been awhile, but the Delmon Young and Brendan Harris for Jason Bartlett and Matt Garza trade still looks lopsided. Young had one very good year for the Twins and a great October this year. Garza was one of the keys to two postseason appearances for the Rays in three years. Friedman dealt both players this offseason, but the damage had already been done.
Worst Move: As it turns out, offering Manny Ramirez a couple of million dollars was an inexpensive mistake. As mistakes go, it was relatively minor, but you could argue that money could have gone to keeping either Dan Wheeler or Grant Balfour. Keeping one of those guys could have helped in the playoffs.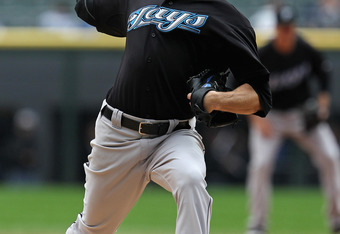 Jonathan Daniel/Getty Images
Mitigating Factors: The Rays have the worst stadium situation in baseball and a revenue situation that could charitably be called abysmal. Some speculate that they will be out of Florida by the middle of the decade. Friedman has dealt with that by going young and still making it to the playoffs three at out the last four years. It is nothing short of a miracle.
Known For: The Rays employed the first rotation in baseball history not to have a single pitcher over the age of 29. They likely will do the same again next season when James Shields is put out on the market. Friedman has created a pipeline of talent that is the envy of the industry. When they needed a lift, they didn't trade for a veteran, they simply called up Desmond Jennings and Matt Moore. There is a lot more where that came from.
Addendum
Are your looking for a particular GM that isn't on this list? Check out my other rankings: 26-30, 21-25, 16-20, 11-15 and 6-10