WWE News: The Miz Overcoming Backstage Hazing Is a Story That Just Needs to Die
July 13, 2011
Ask any pro wrestling aficionado to tell you the legacy of Mike "the Miz" Mizanin in WWE to this point, and you'll eventually get the same story of him overcoming backstage harassment to reach the top of the biggest wrestling promotion in the world.   
The stale story of Miz's early struggles in the WWE, where none of the boys wanted him around due to his notoriety as a reality star and tried to bully him out of the company, has been told countless times through media as well as by the Miz himself. 
It's the same story you can read about from easy-to-impress reporters here.  Or here.  Or even here.  If you're a real glutton for repetitiveness, you even can see Miz cutting promos about his woes here, here, and for the hat trick, here. 
In fact, Miz has rhapsodized, of overcoming backstage hazing to eventually become one of the more improbable WWE Champions in history, so many times he could probably recite it backwards before once again telling it from the start. 
WWE's next three-disc DVD could be a compilation of Miz's "they said I didn't belong..." promos, with the first 10 minutes of the first disc dedicated to Miz's in-ring career. 
Sure, it's certainly admirable, and a testament to his perseverance and dedication to his craft, that Miz was able to withstand  some of the more notorious backstage bullies in the WWE, namely JBL. 
But sooner or later, Miz has to do better than "I had to dress in the hallway because they kicked me out of the locker room" to remind the WWE consumers why they should pay to see him. 
Years ago, Internet pariah Triple H was punished at length for his involvement in the infamous Kliq Curtain Call of 1996.   As a result of the kayfabe-killing stunt, Triple H was literally booked like crap (at one point he competed in a pig slop match) for several months before ultimately recovering and forging a Hall of Fame career.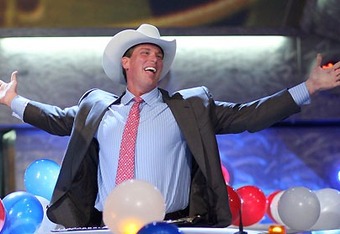 Today, that tidbit of Triple H's legacy is just that...a tidbit.   Triple H has gone on to compete in far too many high-profile matches, feuds, and enjoy multiple strong world title reigns for any trite story of his backstage punishment to carry any weight in the grand scheme of things. 
Yet Miz seems to have lived off of a cavalcade of self-plagiarizing tales of surviving Das WWE's backstage Reich for years now.  At this rate, Vince McMahon will have a tough decision at the end of Miz's career as he won't know whether to induct him into the WWE Hall of Fame or the witness protection program.    
I know Miz wasn't given a chance.  I know he was hazed.  I know John Bradshaw Layfield was a big meanie. 
Bullying campaign or no bullying campaign, hazing and backstage bullying to evaluate one's toughness and/or resilience figures to always be a part of professional wrestling, and one's survival of otherwise petty traditions will never define a Hall of Fame career no matter how severe the hazing may be. 
Miz has been cutting the same promo for years without adding deeper meaning/heat to it with elite wrestling matches to date. 
Yet every time a wrestling reporter slobbers over his ability to survive a JBL shower (or whatever hazing he may have received), such a commonplace tale seems to deceivingly extend the Miz's shelf life as a potential future star while shielding the fact that he has yet to have a career defining match.
Forget all this hazing junk, shouldn't Miz's in-ring career have taken center stage to this point given the fact that he carried the WWE Championship for four months?   
Miz's unimpressive showing in his first WrestleMania main event at WrestleMania 27 against John Cena has made it easier for me to question whether he is a future star with potential to have a series of classic matches to his name, or merely the greatest payer of dues of this era of professional wrestling. 
One cannot question Miz's tireless dedication to WWE, as his willingness to make appearances and help promote the WWE machine has been well-documented. 
But sooner or later, Mike Mizanin is going to need to be more than an animosity survivor in order for his ultimate career to mean anything of substance. 
Follow Big Nasty on Twitter @ThisIsNasty.