Pittsburgh Steelers: Why the Offensive Line Is Set to Be a Strength in 2011
June 27, 2011
Larry French/Getty Images
Not many people—save for the diehard Steelers fans—will know the name Sean Kugler.
Kugler, in my mind, was the Steelers' MVP for the last campaign, that is providing that P represents person rather than player. The former Buffalo Bills' offensive line coach was appointed to the same position with the Steelers ahead of last season.
Kugler wasn't a celebrated addition when the Steelers picked him. Larry Zierlein—the team's previous line coach—had been fired by the Steelers after the team gave up a league leading 50 sacks the year before last. Therefore, most Steelers fans were looking for a big name coach with a big reputation to fix what was a critical problem.
Heavy skepticism surrounded the appointment of a man who coached a line that gave up 46 sacks that year. The Steelers looked past the numbers, however, and analyzed what Kugler managed to do in the face of adversity, as the Bills had one of the worst offensive lines in the league as far as player talent during his time there.
The team haven't looked back since his appointment.
The Steelers managed to make it to the Super Bowl last season with only one of the team's original starters. Kugler had to fight through adversity from the off as the team's best lineman over the past few seasons, Willie Colon, was ruled out for the season before training camp even begun.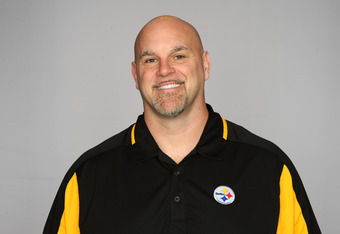 Handout/Getty Images
Colon's torn Achilles came as a huge blow to the team, specifically to the offensive line. The team decided to bring in the then 35-year-old Flozell Adams. Adams was let go by the Dallas Cowboys as the team thought he was too old to continue to play to his potential.
The Steelers moved Adams to the right-hand side, where he flourished. Kugler has to take some of the credit for Adams' dominant displays in the running game and good pass protection, as he adjusted to what was essentially a new position and new team.
This wasn't the only transition the offensive line was to endure, as Maurkice Pouncey forced his way into the team. Pouncey was thought to be competing to get a chance to play right guard but impressed so much that he pushed out the original starter—Justin Hartwig—ahead of his All-Pro season.
Pouncey was a monster in the center position last year and should only get better heading into next season. However, at the time, he was still a rookie who needed to be shown the way. Kugler handled that job while incorporating Adams also to perfection.
This wasn't the end of Kugler's adversity however.
Trai Essex' early season performances made the team eventually turn to second year former college guard Ramon Foster at right guard, while Max Starks found his way to IR after the seventh game of the season.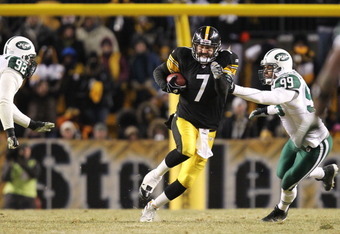 Ronald Martinez/Getty Images
Oh and by the way, this is the line that was blocking for Charlie Batch and Dennis Dixon for the first four games of the season.
Despite this, the line still allowed Rashard Mendenhall to find his way to 1,273 regular season yards, while Ben Roethlisberger excelled on his return. Roethlisberger's season was arguably the best of his career. The franchise quarterback threw for 17 touchdowns and 3,200 yards in only 12 regular season games.
The biggest difference in Roethlisberger's performances opposed to seasons past was his lowly five interceptions. He had a career high 196 consecutive passes without an interception before throwing two against the Jets. There are many reasons for this, but the play of the offensive line in front of him was a big part of it.
He was healthier. With a lighter frame, he was faster and able to escape pressure or even run with the ball. This reduced his tendency to make poor decisions. His release was also altered. 
The quarterback took the time during his suspension to work on his mechanics and speed up his release. He gets the ball out noticeably quicker, which allows his receivers to receive the ball on time and gives defenders less time to get in position to pick it off.
Most significantly, however, the offensive line allowed the team to have a strong rushing game, which took a lot of pressure off of him and balanced the offense and gave him better protection in the passing game.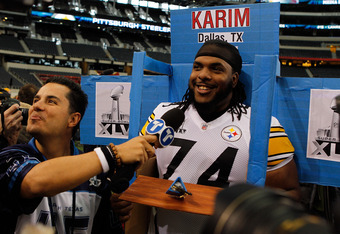 Scott Halleran/Getty Images
Being realistic, no matter how much weight Roethlisberger loses or how quick his release becomes, he will never be Michael Vick. With a patchwork offensive line, Kugler gave Roethlisberger every chance to succeed.
Next season, Kugler won't have to work with a patchwork group. For the first time in his professional coaching career, Kugler should have sufficient level of talent to work with. As a former assistant with the Detroit Lions and in Buffalo, Kugler has never had a player on the level of a Maurkice Pouncey or even the talent that does exist in Pittsburgh.
Max Starks should return to take over the crucial blindside protector role from the hands of Jonathan Scott. Starks may not be elite, but he is a good pass protector with adequate run blocking skills. He is the team's highest paid lineman for good reason.
On his day, he can shut down the best in the game—just ask Jared Allen—but lacks consistency. Hopefully Kugler can bring that to his game, but even if he doesn't, he will be a much better player than Jonathan Scott was this past season.
With Chris Kemoeatu unquestionably entrenched as the team's left guard—despite his tendency for holding and making rash decisions—and Maurkice Pouncey continuing to grow into himself, the left side of the line is in good shape.
The right side is a little less clear, but there will be competition at both positions in all likelihood, which is always a good thing.
Doug Legursky showed a lot last season, while Ramon Foster will be entering his third year, so he will hopefully be maturing as a full-time guard. However, there is also the team's second round pick, Marcus Gilbert, who could potentially see significant time at guard or tackle depending on his ability to translate to the professional level.
Adams looks set to return to the team for one last year, but at 36 years of age, it can't be guaranteed that last season wasn't his last hurrah. I would be surprised if the team don't make a strong push to bring back Colon.
Despite the fact that it may be worthless, the team did place a first round tender on Colon before the lockout ended. This tells me that Colon has fully recovered and should that prove to be true there is no reason the team wouldn't want him back.
Colon could be the starter at either right guard or right tackle depending on what Adams has left in the tank. Either way, he becomes the team's second most talented offensive lineman and would be a huge addition, providing that he doesn't leave through free agency.
Despite the team's tender offer, I feel a lot of teams will shy away from offering Colon huge money because he didn't play at all last season. Colon appears on the onset at least to be very happy in Pittsburgh, as he traveled with the team—wearing a Flozell Adams college jersey—to the Super Bowl.
He even made the effort to create his own media stall.
With a coach like Kugler and the talent that will be available to him next season, I can't see anything but this team turning one of it's biggest weaknesses over the past few years into one of it's strengths.
The offensive line is the final piece to making this offense elite on the field—I'll leave Bruce Arians' play calling alone for now—and if they do manage to reach their potential, then this team will definitely be playoff bound once again next year.
Who knows, maybe they could find themselves in a fourth Super Bowl (I think they still need to find a corner or four to make that happen however).
Serial tweeting about NFL, NBA, NHL, NCAA, Soccer and Rugby   @Cianaf
Are you a big sports fan? Then make sure to check out Chicago Sports Authority, which is the website that hosts The Magazine that I write for.
I also write for Irish Central and Fantasy Football Life.