San Jose Sharks: How Underdog Jason Demers Became an NHL Defenseman
March 22, 2011
Ezra Shaw/Getty Images
Jason Demers was told he was not strong enough to play in the NHL. For two years he was passed over on draft day. In youth hockey, other parents said that the only reason he got playing time was because his father coached the team. Last year he traveled between Northern California and Worcester, Mass., where the Sharks minor league team is located, chasing a childhood dream.
"For sure, I wasn't really…" he mutters solemnly before going silent. He stares at the Sharks logo at the center of the team's dressing room. Sweat trickles down from his curly black hair onto his somber visage. A single drop hangs from his facial hair—which has not been shaved for weeks, but does not constitute a full-grown beard. It swells briefly before dropping into the teal fibers of the carpet.
"I wasn't really pegged as a guy, a frontrunner, to make the team last year out of training camp," he continues after a few wordless seconds. "Once I got sent down the first time I was disappointed because once you get used to being up here you don't want to leave."
His voice trails towards the end of the sentence.
"It's a great life, it's a great lifestyle," he says, his eyes radiating as he looks around the locker room. "It's the best league in the world, great players, great guys up here and you get used to them." Jason's story is similar to many players who are drafted in the later rounds and must make the best of any opportunity they receive in order to remain in the NHL.
The date is June 21, 2008. Jason's father, Darrell, sits at his computer in Dorval, a residential suburb in southwestern Quebec, 17 minutes from Montreal. He is listening to an internet radio broadcast of the 2008 NHL draft. Two years have passed since Jason was draft eligible. He had been to multiple NHL training camps and talked to various teams, but continued to play for his junior hockey team, the Victoriaville Tigres, in the Quebec Major Junior Hockey League (QMJHL), a league that prepares 15 to 20-year-olds for professional hockey. He had celebrated his 20th birthday earlier in the month, on June 9.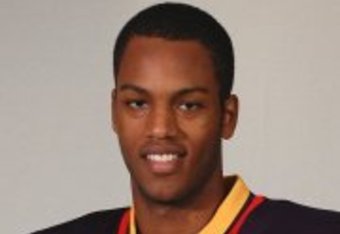 The night before the draft Darrell had talked to Jason's agent. The agent had told him that three teams, the Nashville Predators, New York Rangers and San Jose Sharks were interested in Jason. However, both father and son did not expect Jason to be drafted. Darrell is listening for Drew Paris, a friend of Jason's who grew up in nearby Pointe-Claire, Quebec and was coming off a solid year when he had 22 goals and 33 assists (55 points) in 69 games played.
Five rounds pass and Paris' name has not been called. Then, in the middle of the fifth round, something sparks Darrell's interest. He faintly overhears two team managers discussing a player he believes is his son. Unregulated excitement gets the best of him and Darrell jumps backwards off his chair and lands on the ground. He gets back up into his seat moments later and looks at the computer screen. It reads: defensemen Julien Demers of the Ottawa 67's has been selected by the Sharks with the 146th overall pick.
Julien.
It was another player.
Unrelated to Jason, Julien had played three years for the Ottawa 67's of the Ontario Hockey League (OHL), the same team that developed Jason's teammates Logan Couture and Jamie McGinn. "It was a real high for 15 seconds and then a huge low for about 30 minutes," said Darrell. After another 39 players had their names called, San Jose selected another Demers with the 186th overall pick.
This time it was Jason.
"I didn't really think I was getting drafted," says Jason, who spent two years watching players his age get drafted before him. Since he turned 18, and therefore was draft-eligible, 610 players had been drafted before him.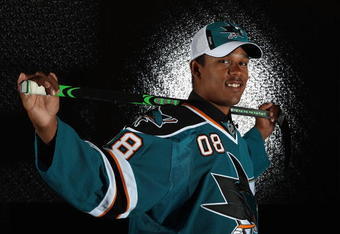 Andre Ringuette/Getty Images
"The pressure is basically off those guys," Mental Game Coach Bill Cole, MS, MA, a local sports psychologist, says of players that are drafted late. However, it can be difficult for them to maintain their success once they make it to the big leagues. Some players reach the top and do not understand what it took to get there. They feel that they are a fraud, that everything that happened was a fluke. It is called the Imposter Syndrome. "[These] people actually believe they are an imposter, that they don't belong there."
"The bottom line," he continues, "[is] it's really inside the person and how they view what's going on [and] the decisions they make about it…that determines where they go." Jason found his motivation from those who told him he was not going to make it in the NHL. "[I was] always getting told I wasn't going to make it," he says. "You always want to be the go-to guy and it was just a goal of mine to prove everybody wrong."
There are many paths for a Canadian player to take to the NHL. At age 15 or 16, adolescents aspiring to be professional hockey players will typically join one of three leagues: the Quebec Major Junior Hockey League (QMJHL), the Ontario Hockey League (OHL) or the Western Hockey League (WHL).
The QMJHL, or "The Q" for short, has produced many NHL superstars, most notably Sidney Crosby of the Pittsburgh Penguins, who was taken first overall in 2005. On draft day, Crosby was called as the "Next One," a nod to Wayne Gretzky's moniker, "The Great One."
Since his youth he was considered a prodigy. At age seven, Crosby gave his first newspaper interview. At age 13, the Nova Scotia Minor Hockey Council refused to allow him to play Midget hockey with 17-year-olds. His parents turned to litigation, but lost their case. In the QMJHL annual draft he was chosen first overall at age 15. That year he earned the nickname Darryl, in reference to Darryl Sittler, the only player to produce 10 points (six goals, four assists), in a single game.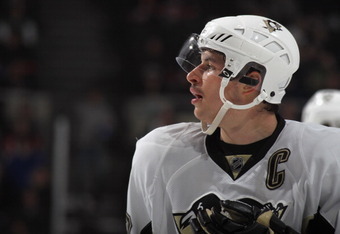 Bruce Bennett/Getty Images
Demers cannot identify with Crosby. From age six until 15, before he left for junior, he played for his father on the West Island hockey team. The club services the Dorval, Pointe-Claire region near Montreal. While playing for West Island, parents speculated that he was receiving ice time only because he was the coach's son. "There's been teams that I've coached that a lot of the parents would complain thinking maybe he wasn't strong enough," says Darrell. This was before The Q. This was before puberty. This was before his first year in school. This happened as soon as he laced his skates. "All his life there was little doubts."
By Darrell's count, his team had 390 wins and 16 losses over nine years of youth hockey. The team was a dynasty. Other teams in the region would bring in players from outside the team boundaries, give them a false mailbox number and suit them up in hopes of beating the midget menaces.
Jason's current teammate, Marc-Edouard Vlasic, grew up in nearby Montreal and played for Lake Shore (a team he claims never tampered with league rules). Vlasic says that Darrel's number is most definitely an exaggeration. "His dad loves to—I'm not sure if that's true," says Vlasic, who is a year older than Jason and in his fifth year with the Sharks. "Every time they played us they lost so I don't think that's accurate. 390-16, there's no way."
Vlasic was a star and Darrell tried to woo the defenseman to join his club after seeing him play. "I always tried to convince his dad to move over to our end because he was probably that missing link we always had." He was unable to convince Vlasic to move and with the increase in skill of the other teams with their imported players he needed to find a competitive advantage. He was not hesitant to go to extreme measures to make sure that his team was the best club in the region.
Darrell had his team get up at 5:00 a.m. to practice before school so that his team could get two-and-a-half hours more ice time than anybody else in the whole province. Many parents were irate. It was early in the morning and their children had school. "I told them, 'It's gonna help your kids concentrate in school,'" said Darrell. "And it did." After the first few years of morning skates, parents and children alike saw the benefits of early practices.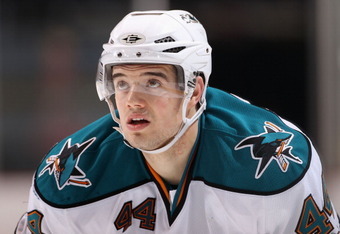 Christian Petersen/Getty Images
Father always carried five defensemen and son was always No. 4. Jason Legault, Alex Biega and Drew Paris started ahead of him. "[My] top four were to die for," says Darrell. "We just dominated games by what we did on the blue line. No goalie wanted to play for my team because we never gave up that many shots."
Two players from the team, Legault and Paris, would join Jason in The Q. Legault was considered a blue-chip prospect. Listed at 6'1", 215 pounds, he had the size to complement his incredible natural ability. He was drafted third overall in the annual QMJHL draft, ahead of current Los Angeles Kings goaltender Jonathan Bernier.
However, after five years with three franchises he was never drafted by an NHL team. He spent a year in the Ligue Nord-Americaine de Hockey, a semipro league known more for its pugnacious enforcers than its talented goal scorers, before hanging up his skates last season. "Sometimes guys get lost, teams overlook guys, and a lot of good players get overlooked and it's sad sometimes," says Jason.
He gets visibly upset talking about Legault. Usually warm and upbeat, he immediately becomes earnest. Expression leaves his face. He becomes quiet. He stares at the Sharks logo in the center of the practice facility locker room for a few seconds before speaking again. "You wish everybody could play at this level," he continues, "but sometimes it's just timing and being at the right place at the right time. Sometimes you're not there and it sucks, but that's the nature of the beast in this league."
Cole has seen this happen before. "There are untold stories of the…first-round pick, [the] guy [that has] been hyped in the media left and right. The expectations are huge. I don't care who you are, that's hard to manage," says Cole. "[People], unfortunately, assume, 'Oh that guy has the world on a string. He's got it made. Now that he's up there he doesn't have too many problems anymore." Instead, these people have a new set of problems. They must learn how to deal with media pressure, with a prominent role on a team, and the popularity that comes with being hyped as a blue-chip prospect.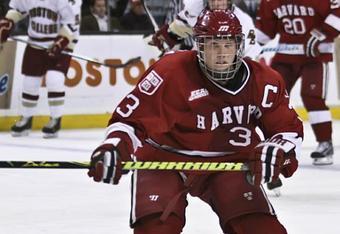 "That's one of those secrets of success that people don't realize."
Paris, the player who Darrell was watching for on the day that Jason was drafted, never got his name called. He spent five years in The Q, playing for five different franchises. Following his final year in junior, Paris signed a minor league contract with the Florida Panthers. He split the remainder of the 2008-09 season between the American Hockey League (hockey's equivalent to Triple-A baseball) and the ECHL (formerly East Coast Hockey League, a tier below the AHL). The next year he signed with the Atlanta Thrashers' ECHL club in Duluth, Georgia and spent the majority of the season there, but also had a two-game stint with the Toronto Marlies, the Toronto Maple Leafs AHL team.
"He's a good power-play defenseman, a lot of skill, good shot," says Jason of his friend. "[He's] a good player [and] he works hard…it's pretty much whenever he finds the right timing." He started this season in Gwinnett, but was dealt to the Elmira Jackals—an ECHL team located on the New York-Pennsylvania boarder that is affiliated with the Anaheim Ducks and Ottawa Senators.
Biega was the only player on the Demers Dynasty to be drafted at age 18. Selected by the Buffalo Sabres in the fifth round (147th overall) in 2006, he is also the only player who chose high school over The Q. He enrolled at Salisbury School, an all-male preparatory academy in Connecticut and led the Crimson Nights to the New England Prep title as team MVP.
After being drafted he joined the Harvard hockey team. As a freshman he was named to the Eastern College Athletic Conference All-Rookie Team and was named team MVP his junior and senior seasons. Last year he graduated with a sociology degree and is currently playing with the Buffalo Sabers AHL team in Portland, Maine. "They're giving him a real shot," says Jason, analyzing his friend's NHL potential. "It's up to him pretty much."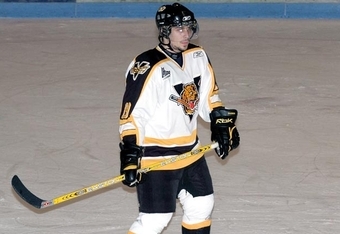 Jason is currently the only defenseman from the Demers Dynasty to make it to the NHL. He spent his rookie season in The Q with the Wildcats, a team located in Moncton, New Brunswick, an 11.5 drive from Dorval. His departure was especially difficult on his family, especially his mother, Guylaine. "When he left at 16, for his mom it was as traumatic as it is today. [His brother, Kevin] his mom, and myself—we're always really, really tight because we don't have a big family ourselves outside of our kids. Our kids are everything."
Moncton was an older team and Jason received modest ice time in his first junior season. The year before the Wildcats had beat Rimouski Oceanic and the "Sidney Crosby Show" that was selling out buildings throughout the league. Jason's exiguous ice time was reduced to zero halfway through the season when he was sidelined with a knee injury. He only was able to play in 25 games, recording only a single assist that season.
In Jason's second year the Wildcats had their eyes set on the Memorial Cup. Awarded to the best team in Canadian junior hockey, the Memorial Cup playoffs pit the best teams from the OHL, WHL and QMJHL against one another. Moncton head coach Ted Nolan wanted his older, more experienced players on the ice and, again, Jason spent most of the season riding the pine. Halfway through the season he requested a trade. "They kept telling me, 'Wait till next year, wait till next year' and I just couldn't wait anymore," says Jason.
Darrell remembers his son calling home in tears, "Dad, listen, I gotta play," he says, recalling the conversation. "I can't spend another year not playing hockey." Nolan, who has also had coaching stints with the New York Islanders and Buffalo Sabres, gave them three options: Jason could either be dealt to a team in Val-d'Or, which was seven hours away from Dorval, St. John's-New Brunswick, a rebuilding team that was 10.5 hours away or Victoriaville, which was two hours from home.
Needless to say, nearby Victoriaville was the right choice for the Demers family.
"Lo and behold [Moncton] kept their promise." The following day Jason was traded for Josh Tordjman, a goaltender who has played in two NHL contests with the Phoenix Coyotes and is currently with the Minnesota Wild AHL team in Houston.
Jason thrived in Victoriaville, where he was given ample ice time. It was in a city known for its bonny hardwood products—furniture, coffins and of course, hockey sticks—that Jason realized his potential as a hockey player. "They let me grow on my own and knew what I was capable of and put confidence in me," says Jason, smiling radiantly. "When you see confidence in you it brings confidence in yourself."
It may seem implausible that an organization would be willing to cooperate with a family on a transaction. However, prep schools in the Midwest and East Coast have improved their hockey programs and the Canadian junior leagues must now compete with prep schools for the corps d'elite of youth hockey. "[With] all the competition with the prep schools now, they don't want to disappoint and get parents real upset," says Darrell. "They try and accommodate you as best they can."
Jason's teammate, Benn Ferriero, who attended Governor Gummer Academy, a prep school in Massachusetts, and joined the Sharks after graduating from Boston College in 2009, says that he felt ready for professional hockey after college. "The biggest difference is length of season," says the pensive 23-year-old forward from Boston, who stops to place his thumb and index finger on his bristly five o'clock shadow before finishing his answer. "It doesn't seem like too much of a difference until you actually go through and only play 40 games and the next year you have to play 80-100 games."
The shorter 40-game college season can be a deterrent for some players. Although Vlasic's youth hockey program had a propensity to send players to prep school after age 15, he chose The Q because of the length of season. The decision, says Vlasic, between junior or college was a no-brainer. "I wanted the quickest way to get to the NHL," says Vlasic, who has only played one minor league game in his career after being drafted 35th overall in 2005. "It worked out for me. It doesn't work out for everybody."
The Sharks offered Jason a two-year, $2.5 million contract this season, giving him reason to believe that he will be an integral part of their team, at least in the short term. He lives with teammates Devin Setoguchi and Torrey Mitchell during the season after Setoguchi offered him a spot in his town house. "It's pretty simple, he's a good kid," says Setoguchi. The men have three shopworn La-Z-Boys that gather Gatorade bottles, used plates and other garbage over the course of the day. "[We] rarely move except to go to the bathroom," says Jason.
He couldn't be happier with his situation. "I love the guys. You get to see a bunch of cities. I love the fans. I don't know I just love hockey," says Jason. "Growing up this is what I wanted to do and I'm glad I pursued this avenue because it's a great life.
"I love everything! I love everything!"