Marcus Mariota, Titans Demolish Jaguars Behind Derrick Henry's Monster Night
December 7, 2018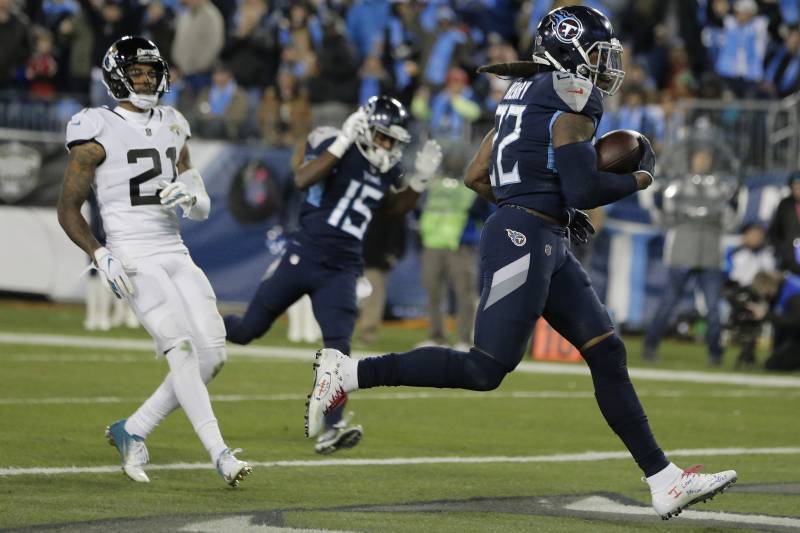 James Kenney/Associated Press
The Tennessee Titans kept their playoff hopes alive with a 30-9 home win over the Jacksonville Jaguars on Thursday night at Nissan Stadium in Nashville.
When these two teams met in Week 3 this season, Marcus Mariota had just 100 passing yards after coming on for Blaine Gabbert. The Hawaiian did not start that game due to an elbow injury but rallied his team to a 9-6 victory. Mariota was a little more productive this time around, throwing for 162 yards.
Derrick Henry was the game's biggest star. He ran for a franchise-record 238 yards and tied a team record with four rushing touchdowns. He also broke off a 99-yard touchdown run in the second quarter, becoming only the second player in NFL history to do so.
Cody Kessler made his second start for the Jaguars after replacing Blake Bortles. He went 25-of-43 passing for 240 yards and a touchdown.
Leonard Fournette also ran for 36 yards on 14 carries after returning from his one-game suspension.
Dreadful Performance Underscores Need for Major Changes in Offseason for Jacksonville
If you are a Jaguars fan and you watched Thursday's game—be it live in Nashville or from the comfort of your own home—then you deserve some form of monetary compensation. This should be the nadir of a dreadful 2018 campaign because it's hard to see how things can get any worse.
By benching Bortles, Jacksonville is clearly looking to go in a different direction at quarterback and evaluate all of its options in the offseason. Based on this defeat, a quarterback change won't go far enough to address the team's issues.
One could sensibly argue many Jaguars players, particularly those on defense, have basically packed it in.
Entering Week 14, Jacksonville ranked fifth in defensive efficiency, according to Football Outsiders, and allowed the third-fewest yards per game (315.6).
The Jaguars defense is still one of the NFL's best, and any frustration from their defensive stars is understandable after the offense consistently dropped the ball all year. Yet laying an egg like this doesn't exactly reflect positively on anybody involved.
One has to start asking questions of the coaching staff as well. Another game like this and head coach Doug Marrone may hit a point of no return.
A few weeks ago, the idea of the Jaguars trading Jalen Ramsey seemed ridiculous. Ramsey shouldn't shoulder much blame for how things have unfolded.
Nothing has really changed in that regard; however, it's easier after Thursday to see why Jacksonville's front office is considering drastic measures in response to the team's sustained slide following a 3-1 start.
Derrick Henry Will Be Tennessee's Wild Card in Late Postseason Push
One big night doesn't suddenly change the narrative for Henry's 2018 season, nor does it mean he'll suddenly be a different player over the remainder of the season.
Having said that, Henry's performance had been improving since the Titans' bye in Week 8. Through the team's first seven games, he was averaging 3.3 yards per carry. Over Tennessee's next five games, he averaged 4.6 yards per carry.
Now comes his Week 14 explosion against Jacksonville. While nobody could've predicted this kind of showing, it's part of a larger trend for Henry.
Be it the right hand injury that continues to prove troublesome or the general framework of the Titans offense, there's a clear ceiling on what Mariota can deliver right now. He's averaging 194.2 passing yards after Thursday, good for fourth-lowest among qualified quarterbacks.
Henry, on the other hand, might be a more natural fit as the offensive bellwether over Tennessee's final three games.
For the most part, the Titans are a league-average team, and that's reflected in their record. They headed into this game sitting 26th in offensive efficiency and 20th in defensive efficiency, per Football Outsiders. 
Tennessee looks a lot different if Henry can rediscover the version of himself that shredded college defenses en route to a Heisman Trophy in 2015.
What's Next?
The 7-6 Titans hit the road in Week 15 for a matchup with the New York Giants. The 4-9 Jaguars have their final home game Dec. 16 against the Washington Redskins, who will likely have Mark Sanchez as their starting quarterback.