Dallas Goedert NFL Draft 2018: Scouting Report for Philadelphia Eagles' Pick
April 28, 2018
LM Otero/Associated Press
POSITIVES
—Tall (6'5") and physical with excellent athleticism for the position.
—Developed route tree that allows him to fit into any scheme.
—All-around athlete who was a top-tier high school basketball player.
—Makes catching look easy with a big radius and the hand strength to make circus grabs.
—Fast and strong enough to line up flexed in the slot, as an H-back or even as an in-line tight end.
—Has the mentality to go bang with linebackers and safeties in the middle of the field; isn't intimidated off of a route.
—Three-down tight end who has experience opening lanes in the run game.
—Former walk-on has built himself into a complete tight end.
NEGATIVES
—Dominated FCS level; injured for Senior Bowl, so questions about level of competition are there.
—Can run tall through his routes.
—Doesn't have great twitch and burst at his route stem.
—Will have to better use his body to shield NFL safeties.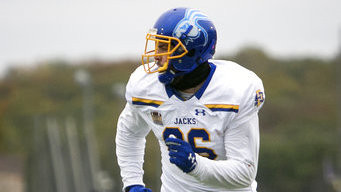 OBJ's Trade to Cleveland Has the Browns Hyped

Le'Veon's Power Move Pays Off After Signing Massive Deal with Jets

WR Metcalf Looks Ready to Destroy NFL Combine or Take Down Thanos

Friends to Foes, Ex-UGA Teammates Meet in Super Bowl

Cooks Gave a Super Gift to This Rams Employee

Mahomes Loves Ketchup as Much as Torching Defenses

Bears Hoping to Ride Club Dub to the Super Bowl

The Worst Fantasy Football Punishments for Last Place

NFL Players Bring Soccer Traditions to the NFL

JuJu Is a Man of the People

Bills Superfan 'Pancho Billa' Continues to Inspire

Happy 26th Birthday to OBJ 🎉

Mahomes Is 'Showtime' Off the Field Too

Thielen's Ride from Underdog to Record-Breaking WR

Shanahan and His Son Carter Are Hyped for Carter V

Browns Winning Off the Field with Community Service

Conner's Journey from Beating Cancer to Starting RB

Does Donovan McNabb Deserve Your 2019 Pro Football Hall of Fame Vote?

B/R Fantasy Expert Matt Camp Gives His Picks for Keep or Release After Week 2

Does Hines Ward Deserve Your 2019 Pro Football Hall of Fame Vote?
OVERALL

Goedert lit up the FCS level and hits every box for athleticism, character and football IQ that NFL teams look for in tight ends. His biggest question mark is the level of competition he faced. He might start a bit slower than his tight end peers in this class, but no one has more potential.
GRADE: 6.95 (Round 2)
PRO PLAYER COMPARISON: Hunter Henry, San Diego Chargers