George Springer, Astros Hold Off Dodgers to Win 1st-Ever World Series Title
November 2, 2017
Alex Gallardo/Associated Press
The Houston Astros waited 55 years for a World Series championship. The wait is over.      
Houston went on the road to earn a 5-1 victory over the Los Angeles Dodgers in Wednesday night's Game 7 at Dodger Stadium, concluding one of the most thrilling Fall Classics in history.
The Astros rocked Dodgers starter Yu Darvish for five runs in 1.2 innings and never looked back. World Series MVP George Springer hit his fifth homer of the series and his fourth in as many games at the top of the second inning, putting a hush over the crowd and running Darvish from the contest.
Springer finished his first World Series with 11 hits in 29 at-bats, including a 2-for-5 performance in Game 7. 
Darvish, the Dodgers' midseason splash thought to stabilize their rotation, did not make it out of the second inning in either of his World Series starts. Houston pelted him for nine runs over 3.1 innings pitched, and he did not strike out a single batter. Darvish entered the series having not given up more than one run in his previous five starts.
Astros starter Lance McCullers Jr. didn't last much longer, going 2.1 innings while allowing three hits. He became the first pitcher in MLB history to hit four batters in a postseason appearance before giving way to the bullpen, which did its job to hold on to the lead the rest of the way.
Charlie Morton was the pitcher of record, giving up one run on two hits in four innings. Morton combined with Brad Peacock, Francisco Liriano and Chris Devenski to close out the game. The Dodgers left 10 runners on base and were 1-for-13 with runners in scoring position.
Los Angeles' offensive woes overshadowed Clayton Kershaw's stellar performance in relief. The left-handed ace came in and threw four innings of scoreless ball, striking out four and giving up just two hits. Thirty-four of Kershaw's 43 pitches went for strikes, and he helped re-energize the crowd and silence the Houston bats.
But the damage was done in the early innings, and the Dodgers bats failed to take care of business in clutch situations. Yasiel Puig, Justin Turner and Cody Bellinger closed out their Fall Classics by going a combined 1-for-9. Bellinger and Puig went 0-for-5 with runners in scoring position.
The big moments instead went to a homegrown Astros team that provided a stark contrast for the high-priced Dodgers. Just four seasons ago, Houston won 51 games to hit a franchise nadir purposefully orchestrated to rebuild from the ground up. From 2011-2013, the Astros never won more than 56 games.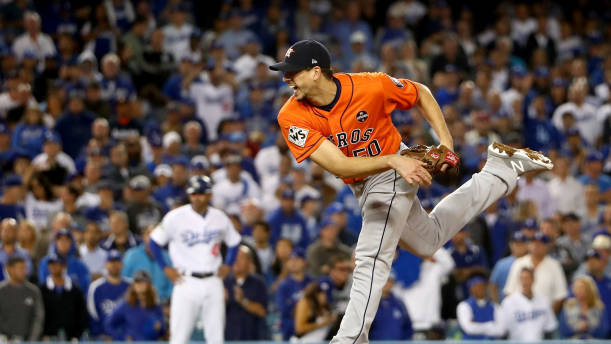 McCollum and the Blazers Snapped Postseason Losing Streak for "Jennifer"

Spencer Is the Real Winner of the Boston Marathon

Stars Invest in Plant-Based Food as Vegetarianism Sweeps NBA

The NBA Got Some Wild Techs This Season

Jarrett Allen Is One of the NBA's Hottest Rim Protectors

Wade's Jersey Swaps Created Epic Moments This Season

NBA Squads Brought the Heat with Bench Reactions This Year

Westbrook Makes History While Honoring Nipsey Hussle

Nation's Top-Ranked H.S. Teams Will Play for a National Title

Is 20-Year-Old Undefeated Ryan Garcia Boxing's Next Superstar?

Devin Booker Makes History with Scoring Tear

29 Years Ago, Jordan Dropped Career-High 69 Points

MLB Players Are Getting Wild Inspiration for Their Cuts

Bosh Is Getting His Jersey Raised to the Rafters in Miami

Carsen Edwards Put on a Show vs. the Defending Champs

Gabe Kalscheur Is Early Breakout Star of March Madness

Barrett, Brazdeikis Lead Canadian Hoops Revolution to March Madness

UM's Ignas Brazdeikis Is the Villain of March Madness

OBJ's Trade to Cleveland Has the Browns Hyped

Steph Returns to Houston for 1st Time Since His Moon Landing Troll
Their labor bore major fruit in this series, with nearly every contributor coming over via draft picks or trades during that rebuild effort. Springer was the Astros' first-round pick in 2011. Carlos Correa came a year later. Alex Bregman in 2015. Jose Altuve made his MLB debut for the club in 2011, emerging from the early-career rubble to become a franchise face. 
Astros management then saw an opportunity this season and pounced, adding Josh Reddick in the offseason and Justin Verlander during the regular season. It was a near-perfect combination of moves that led to the Astros' hoisting their first World Series trophy. 
Originated in 1962 as the Houston Colt .45s, the Astros have spent nearly their entire existence out of playoff contention. They'd made just one postseason appearance since 2005 and won only four playoff series in their existence before the 2017 playoffs. 
Now, after years of Houston's toiling near the bottom of the standings, the process (™Sam Hinkie/Joel Embiid) has finally paid off in the best way possible.