John Cena: Why the WWE Superstar Deserves a Lighter Schedule
June 26, 2012

John Cena—the face of the WWE franchise, one of the most polarizing figures in sports, a workhorse and a fan favorite—needs to do himself a favor and take some time off.
Not too much time, of course.
As the biggest seller of merchandise, the biggest draw and the wrestler who represents the company, Cena can't take on The Undertaker's schedule of wrestling once a year.
Still, if he hopes to stick around for a while, he'll need to lighten his load.
Obviously, with the recent announcement that Cena is throwing his hat into the Raw (or WWE Championship) Money in the Bank ladder match, he has no plans to sit one out—even though it was the perfect opportunity for rest.
The man probably doesn't even want to, but here are three reasons why Cena deserves a few more vacation days.
He's Put in the Time, the Effort and the Dedication
In a 10-year career in the WWE, John Cena has missed about seven months of action. One month was due to filming The Marine, a WWE-produced film. He missed the other six months because of injuries.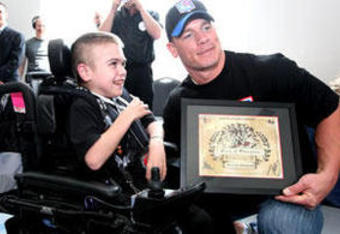 Broken down, he's missed only six percent of the time.
No one can say he hasn't been dedicated. This alone is reason enough to garner a lighter schedule.
In addition to wrestling weekly on television, in house shows and in monthly pay-per-views, Cena has selflessly extended himself to the public, time and time again.
He consistently appears at the Tribute to the Troops shows and is committed to granting 300 wishes for the children of the Make-A-Wish Foundation.
Then there's the movies.
Cena has appeared in three WWE-produced movies. He also has over a half-dozen television appearances under his belt.
A wrestler by day, Cena is a movie star, product endorser, wish granter and WWE brand ambassador by night.
During vacation, he goes to work.
If you follow his Twitter, you'll often see that any chance he gets to relax—usually around 5 a.m.—he's at the gym.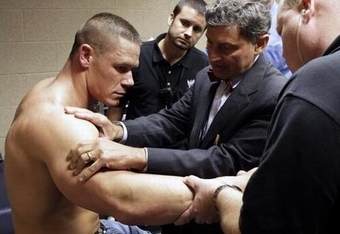 For everything he's done for the company, outside brands and the community, he deserves rest. Otherwise, the next point will happen sooner rather than later.
The WWE Can't Afford to Lose John Cena Prematurely
The WWE Universe was shocked when Edge called it quits.
At first, it was almost unbelievable. There was no way the R-Rated Superstar was hanging up his boots at just 37 with what seemed like another quality half-dozen years left in him. How could this be?
Injuries.
After a career full of out-of-the-ordinary bumps from spectacular Tables, Ladders and Chairs matches, Edge ultimately succumbed to a devastating neck injury.
His career was just 14 years long.
"Stone Cold" Steve Austin traveled a similar road. After 12 years of wrestling, Austin retired due mostly to injuries.
Even worse, Cena has a propensity to wrestle already injured.
For example, in December 2010, he was rumored to have been seriously hurt in a house show (per SEScoops.com). Again, after Extreme Rules, he may have been legitimately injured at the hands of Brock Lesnar (via WWE.com). Each time, he continued on.
This could be the explanation for why he has recently been given such soft matches against John Laurinaitis and David Otunga.
Cena hasn't quite taken the amount of damage Edge and Austin did, but the chances of acquiring a serious injury increase the longer he wrestles in a fatigued state.
He's already had one neck issue, too.
Absence Makes the Heart Grow Fonder
How many of you would enjoy John Cena more if he simply appeared less?
Hundreds of his haters are just plain tired of hearing his name and seeing his face.
Cena is the Tim Tebow of wrestling.
You can be sure he's a great guy and a hard worker, but he's shoved down fans' throats and captures every ounce of spotlight available.
Naturally, this turns several away.
Appearing less will make those who love him long for him even more. It'll make some of those who are sick of his face less inclined to boo.
At the same time, it will give other guys on the roster a bigger chance to shine.
It's a ridiculous notion to think a CM Punk and Daniel Bryan match can't carry a pay-per-view card as the main event. I'd like to see the WWE have some gumption, let Cena skip a PPV and have others headline.
I'd put money on the results being favorable.
Punk, Sheamus, Bryan fans and more will appreciate their guy getting the spotlight. It'd likely make the entire roster happier. It'd also help the company sell a more deeply rooted roster.
By one guy taking a backseat occasionally, many win.