WWE No Way Out 2012 Results: What's Next for David Otunga?
June 18, 2012

David Otunga did not have a good night at No Way Out inside the Izod Center. It began in the YouTube pre-show, when Otunga attempted to knock off the unstoppable Brodus Clay. The Funkasaurus has seemed more human in the past few weeks, which all seemed to begin following the ambush of Big Show on Raw a while back.
To prevent Big Show and Clay from tearing each other apart, Clay was forced to remain off of Raw, but was able to take frustrations out on others. This presented an opportunity for Otunga, the Harvard Law graduate, to knock off Clay in an upset.
Prior to their No Way Out encounter, Otunga attacked Clay following a funky victory over Heath Slater. It gave Clay an apparent knee injury, but the match would still happen. Brodus put on a knee brace and was back to telling the world to call his momma. Otunga, on the other hand, now had a target to attack.
Clay still seemed to rise above it and get close to forcing Otunga into defeat. Instead, Otunga seemed to scurry away on his own. After being knocked to the floor, Otunga composed himself and did not re-enter the ring, getting himself counted out and giving Clay the victory.
Otunga had lost, but on his own terms. From the look on his face, Otunga had a plan up his sleeve. This was far from over between him and the Funkasaurus. Now, it was time for Otunga to root on his boss, Raw and SmackDown general manager John Laurinaitis. The employment of Laurinaitis was on the line in the main event steel cage bout between John Cena and Big Show. If Cena was victorious, Laurinaitis was getting a pink slip. However, if it was Cena who did the losing, it would also be Cena that would be the one losing his job.
As the main event commenced, interference was constant. From Alex Riley to Santino Marella and even Kofi Kingston, there were a few stars working against Big Show. The first superstar to prevent Big Show's victory, however, was Clay. There was no Otunga present to try to chase Clay off or try to help Big Show. As John Laurinaitis was held in the arms of Brodus Clay and Cena won the match, Otunga was nowhere to be found.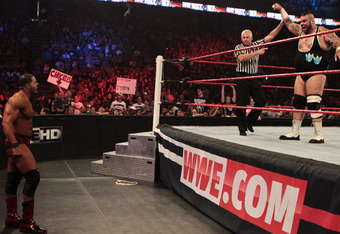 All of this leaves the future of Otunga completely in the air. Laurinaitis is gone right now and his replacement may not be in need of a legal adviser. In fact, if someone like Teddy Long becomes the replacement general manager, it won't be fun to be David Otunga. Otunga seemed poised for relevant feuds with powerful superstars and maybe even a chance at the United States Championship down the line. Now, the road looks very grave for Otunga.
Then again, Otunga has been a key contributor to the successes that Laurinaitis had as a general manager. Could that ultimately be rewarded with him staying on board or, better yet, being promoted? Despite a loss in a match and no longer having his biggest supporter, could David Otunga ultimately be making the best move for himself individually?
Just imagine having a conversation between Mr. McMahon and Otunga prior to the night beginning. Fearing that such a draw like Clay was injured, Otunga could have been convinced to leave willingly, while also staying away from the main event bout. In return, Otunga would be granted amnesty. Sure, the details are a bit lackluster, but the intention is there. David Otunga may have ultimately saved his employment position by letting someone else get fired.