Should the Philadelphia Eagles Preserve LeSean McCoy with a Platoon?
June 13, 2012

Rob Carr/Getty Images
LeSean McCoy has developed into one of the top three running backs in the NFL.The Philadelphia Eagles drafted him in 2009 to be a platoon back for Brian Westbrook. Westbrook was wearing down and the front office knew it. McCoy ended up being more of an immediate replacement than he was a nice compliment to Westbrook.
McCoy does everything that you would want a player to be able to do at the position and does it well. He catches the ball well out of the backfield. He is outstanding in pass protection. He has maybe the quickest feet in the NFL and is nearly impossible to take down in the open field.
The one area of his game for which he gets the least amount of credit is his ability to convert in short-yardage situations. In 29 carries on third and fourth down during the 2011 season, McCoy converted the play to a first down or a touchdown 21 times. That is a successful conversion 72 percent of the time.
When you compare that figure to Maurice Jones-Drew's 54 percent conversion rate on third and fourth downs in 2011, it's a pretty remarkable feat.
This offseason McCoy signed a contract extension that keeps him in an Eagles uniform through the 2017 season. He will become one of the Eagles' most important investments over the next five or six seasons. He has to be protected.
That is where Dion Lewis, Stanley Havili and maybe Bryce Brown come in.
The other running backs and the fullback on the roster are going to be crucial to the longevity of McCoy's career. The Eagles offense is at its best when balanced. That means they need to run the football 25-30 times a game.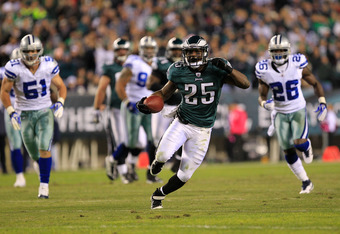 Chris Trotman/Getty Images
Ideally, McCoy should get about 15-20 touches each game. If he gets more than 20, you risk seeing him wear down more at the end of the season. Andy Reid needs his star running back to be fresh for the stretch run in December and for the playoffs in January.
Any amount less than 15 touches a game is just wasteful of his abilities. The Eagles were 1-4 in 2011 when he had less than 15 carries. He has to be a big part of the offense, just not the entire offense.
Dion Lewis and Bryce Brown will be battling for the right to platoon with McCoy. Lewis has the benefit of already playing a full season in the Eagles' offense. He also benefits from being a similar type of back as McCoy.
Lewis has very quick feet, like McCoy. Neither back has great straight-line speed or the power to run linebackers over. What they do is hit their holes hard and they make defenders miss in the open field. If Lewis improves as a receiver and in pass protection he should win the backup running back job and an increase in his number of touches. He had just 24 touches for 99 yards in 2011.
Bryce Brown is also a candidate to platoon with McCoy. Brown was one of the top high school recruits in the nation and the top-rated running back in 2008. He played just one full season in college and had just three carries in 2011.
Michael Heiman/Getty Images
Brown is one of the most physically gifted running backs in the world. He is 220 pounds and he runs a 4.37 40-yard dash. He has the potential to be one of the best backs in the NFL. Right now he is just a player battling for a roster spot.
We don't know what to expect from Brown in 2012. He could team up with McCoy to provide the NFL's best one-two punch at running back. He could also prove to be far too rusty to make much of an impact at this point in his career.
His lack of commitment in college kept him from developing the last three years. He may have been the most talented running back coming out of high school in 2008, but all the other running backs from that class and other classes have been getting coached up the last three seasons.
Stanley Havili figures to be a part of the running game on some level this season. He is a great fit in the West Coast offense as an athletic fullback. He should be a decent option in short-yardage situations and can be a weapon in the passing game as well. He had over 1,700 total yards from scrimmage in college as a fullback.
LeSean McCoy will continue to be one of the best running backs in all of football as long as he stays healthy and fresh throughout the season. The other backs on the Eagles roster will determine how likely that will be.