NBA Rumors: Breaking Down How L.A. Lakers Can Land Deron Williams
June 11, 2012

Jed Jacobsohn/Getty Images
While I still believe the Lakers will not win the Deron Williams sweepstakes, I realize there are thousands of fans wishing for that outcome this summer.
And so it is possible to explore the possibility of bringing the 27-year-old point guard extraordinaire to Staples Center.
After all, where there's a Will, there's a way.
L.A. Times beat writer Mark Medina spoke with D-Will, who was in Los Angeles this past week to promote a new NBA video game.  The Lakers are one of a few teams often mentioned as a destination for the seven-year veteran, although in order to accomplish a deal, the team will have to look at a sign-and-trade scenario.       
"I know they don't have any money to just go out and sign me," Williams told Medina.  "It'll have to be some kind of deal."
Williams has a one-year player option for $17.8 million and in a sign-and-trade with the Lakers, he may be persuaded to take the shorter contract and look to sign an extension after next season.
The Lakers probably would offer power forward Pau Gasol in such a trade, but I'm not so sure the Nets are doing cartwheels over that deal. 
Not only would they be on the hook to Gasol for $38.3 million over the next two years, they also would be acquiring a rapidly aging 32-year-old (on July 6) who looked tired and lost during the postseason, averaging a career-low 12.5 points on 43 percent shooting after a non All-Star regular season in which he scored 17.4 points per game, another career low.
Still, that scenario is the one that would work for the Lakers.  I cannot realistically see the Lakers offering Andrew Bynum to Brooklyn in order to obtain Williams, but my guess is that he is the player the Nets would most covet over Gasol.
If I were Mitch Kupchak, I would at least consider offering Bynum and Ramon Sessions (if he signs his player option for next year) to the Nets in a sign-and-trade for Williams and another piece or possibly a first-round draft choice next year.  Combined, Sessions and Bynum stand to earn a little over $20 million in 2012-13.
"I want to go to a place where I feel like they will have a chance to build and build fast," Williams told Medina from the L.A Times.  "I'm not really in the mood for being part of a rebuilding process. I'm getting older. I'm about to be 28. I want to win. I want to win now. Also, I want to live in a place where I want to live and my kids will enjoy living. That's pretty much it."
Williams neither endorsed the Lakers nor ruled them out completely.  His Utah Jazz team lost three straight playoff series to Los Angeles, so he is not sure he'd feel comfortably wearing the Purple and Gold.
It's no secret the Lakers would love to have Deron Williams and most certainly will inquire about a deal that involves Gasol.  It is also no secret they are shopping Gasol, and it is quite possible the Spaniard could end up going to a team like Houston or Minnesota for such players as Kyle Lowry, Luis Scola or Michael Beaseley.
The Nets surely don't want to see Williams just leave as a free agent to sign with another team because it will leave them high and dry with nothing to show for it.  So that is why a sign-and-trade is likely.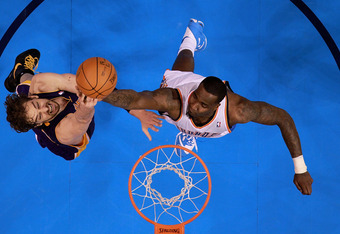 Ronald Martinez/Getty Images
There is a remote possibility the Nets sign Williams to a three- or four-year deal and make him the cornerstone of their franchise as they get set to relocate to a brand new arena in Brooklyn.
Deron Williams may in fact leave Brooklyn and sign a lucrative long-term deal with the Dallas Mavericks.  He is from there and the Mavs have plenty of cap room to sign him and offer contracts or make trades for other superstars or role players.
New York Post writer Tim Bontemps wrote this past week that Williams may be the most powerful player in the NBA.  He also thinks Williams may be leaving Brooklyn for greener pastures, though probably not Los Angeles.
"I want to win," Williams told Bontemps. "That's first and foremost. I want to go where I feel we have the best chance to win. I know we might not win a championship in the first year or two, but hopefully as the chances of building something special and have flexibility and somewhere where I believe they're headed in the right direction."
That sounds like the Lakers.  Maybe Kupchak can convince Billy King of the Nets that Gasol and Lopez together would truly make Brooklyn a playoff contender.
Where there's a Will, there's a way.  It's worth a try—even though I think the Nets will look elsewhere first.  What's important to remember is that Brooklyn wants something for Williams and L.A. has something valuable to offer.
Let's see if they both come to the dance.