Cleveland Browns' Trent Richardson Will Run over AFC North in 2012
June 11, 2012

Al Bello/Getty Images
If the NFL seems like a lot for Cleveland Browns' new running back Trent Richardson, you could never tell by the demeanor on his face.  With the pressure of Cleveland Browns nation on his shoulders, the newest Brown seems to be taking everything in stride. 
Even with the mixed opinions on the Browns' first-round quarterback choice, everyone agrees Richardson is the real deal. 
The third overall selection comes to Cleveland with all of the makings of a future Hall of Famer.  Richardson leaves the University of Alabama with more than 600 total touches.  Over those 600 touches, Richardson combined for 3,860 yards from scrimmage and 42 touchdowns.  
Even more promising for Browns fans is Richardson's stat line from his final season (junior year) at Alabama.  With 283 attempts, Richardson averaged 5.9 yards per carry, totaling 1,679 rushing yards and 21 rushing touchdowns.  Those impressive numbers were enough to get Richardson a third-place standing in the 2011 Heisman Trophy race and voted as a consensus first-team All-American. 
The adulation for Trent Richardson does not end there.  This past week Richardson was named the Alabama Amateur Athlete of the Year by the Alabama Sports Writer Association. 
Production from a running back in college football is not uncommon.  Rarely does that success even translate to a successful rookie season or NFL career.  Richardson is a special running back, though, which does not come around often.  He has continued to show he is tough, durable and able to get yards when other backs would not. 
The way he plays the game should carry over and be contagious to the rest of the Browns offense.  The entire Browns offense should feed off the power and brutal style of running Richardson brings.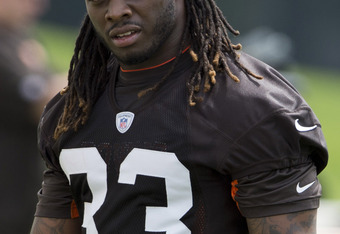 Jason Miller/Getty Images
The most telling stat about Richardson for the Browns are his 35 career collegiate rushing touchdowns.  The Browns offense has shown the inability to finish, only able to accumulate 20 touchdowns combined all of last season.  The Browns' running game was only able to score four of those 20 touchdowns.  The Browns offense was also near the bottom of the league in average rushing yards per game with 95.7.  Richardson is an instantaneous upgrade for the Browns without even taking the field.
One could think Richardson is going to start reading his own press clippings and lay down on his already-achieved immense success and hype, allowing him to even change his running style and stop working hard.  Well, Trent Richardson would beg to differ with that notion.  In a recent interview with Amy K. Nelson at the NFLPA Rookie Weekend, Richardson said, "People tell me that I run angry.  Yeah, I do run angry.  I'm not gonna change up nothin'.  If I change up anything, that wouldn't be me." 
This attitude is what is going to have to drive Richardson to live up to the expectation the Browns franchise and its fans have in store for him.  Richardson is being looked to single-handedly change the Browns offense as we know it.  He is, by definition, the centerpiece of the team's short and long-term offensive plans 
The Browns offense suffered terribly last season when Peyton Hillis was out for his various reasons.  Richardson automatically makes the Browns offense better on talent alone.  Montario Hardesty has been the definition of injury prone and a draft bust since entering the NFL.  Chris Ogbonnaya is nothing more than a practice squad-caliber running back.  Brandon Jackson was injured all of last season and was only signed to be a third-down back.  Richardson will immediately inject a youthful talent into the Browns running back corps that it has desperately lacked.    
Trent Richardson is a playmaker like nothing the Browns have seen.  The 5'9'', nearly 230-pound back is widely regarded as the best running back prospect to come through the NFL draft since Adrian Peterson. 
Richardson is as a compact athlete that is explosive, powerful and balanced.  He is a smart and instinctual runner who is patient and quick.  His patience allow him to wait for blocks to form, while his quickness allows him to cut through the backfield.  Richardson is an overall strong-bodied football player.  His strong core allows him to break arm tackles and get leverage in pass protection. He is three-down back who will allow the Browns' offense to run through and around him.  Richardson will line up all over the field for the Browns and should impress in every facet of the game. 
Browns strength and conditioning coach Kent Johnston described Trent Richardson as: "You know that old term, 'country-boy strong'?  He is country-boy strong… Trent's the type of guy who, if he never touched a weight, he'd be a strong man.  But he has really enhanced that by the work he put in at Alabama."
Opposing defenses will no longer be able to blitz incessantly and disregard the Browns running game.  The presence of Richardson will make opposing defenses respect the Browns' ground attack, which in turn, makes life easier for whichever quarterback may be starting (Colt McCoy or Brandon Weeden).  Richardson's bowling-ball, full-contact running style will make him an immediate focal point for opposing defensive coordinators and their playmakers.    
Some may still believe the Browns should not have given up picks to move up one spot in the NFL draft to select Trent Richardson.  However, Mike Holmgren and Tom Heckert are making a statement with this choice—a statement proclaiming teams will remember playing the Cleveland Browns, a statement saying the Browns are a "punch you in the mouth" offense. 
A statement announcing the Browns are not going to get pushed around in the AFC North anymore. 
Whether you agree or disagree with the Browns' first three selections, one point was made:  The Browns lacked that AFC North mentality.  Richardson, Weeden and Mitchell Schwartz all have the attitude the Browns will need to improve within this division.  Holmgren and Heckert gave the Browns an offensive identity with these picks.
Trent Richardson will do everything in his power to change the earlier fortunes of the Browns offense.  A man with his life experiences (already a father, and his mother is fighting cancer) will not accept failure as an answer.  Besides his physical prowess, Richardson's mental strength and toughness will allow him to overachieve in any situation.  Richardson will not only run over the AFC North defenses this upcoming season, but for many seasons in the future as well.