Pirates Quest for 82 Wins Could Be Helped by the Schedule
June 1, 2012
Justin K. Aller/Getty Images
The specter of Francisco Cabrera, Sid Bream and the 1992 National League Championship Series has been hanging over the Pittsburgh Pirates for 20 seasons. It is almost impossible to talk about the Pirates without bringing up the two decades of futility.
A child born the night Sid Bream scored can almost legally buy a beer. Chances are no Pirate fan under 25-years-old has any recollection of their team having a winning season.
The children of Doug Drabek and Andy Van Slyke made it to the majors before the Pirates put together another winning season.
Mercifully, there is no talks of curses with the Pirates. Their fans do not emulate the Boston and Chicago mentality to blame Bambinos and Billy Goats. The Pirates flop is blamed on bad management, one sided trades and horrible drafts.
Last year looked like it was going to be the year they broke the losing season streak. They were in first place by themselves in July. But they crashed and burned to a 90 loss season.
This year, 50 games into the season, the Pirates find themselves at the .500 mark. If they can play winning ball for the remaining 70% of the season, then all of the reminders of 1992 and the longest futility streak in American sports history would be wiped away.
There are several factors that make this year promising for a winning Pittsburgh season. Their lineup is weak outside of All-Star center fielder Andrew McCutchen, but the pitching is the key. They have a solid pitching staff lead by James McDonald and A. J. Burnett. Meanwhile Joel Hanrahan, Jason Grilli and Brad Lincoln lead a very deep bullpen.
On most nights the Pirates will have a capable starting pitcher and would have a decided advantage over most teams fourth or fifth starters.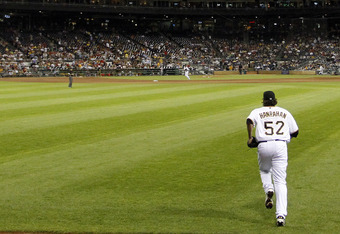 Justin K. Aller/Getty Images
But the biggest factor going Pittsburgh's way would be their schedule, and most specifically the number of games against sub par teams.
In years past, a three game trip to Pittsburgh usually meant at least two wins. But now the Pirates are 16-11 at PNC Park and no longer a pushover.
They have 112 games left and need to go 57-55 the rest of the way to have people stop talking about Francisco Cabrera.
Of those 112 games, they play at home against Houston seven times, the Cubs three times, the Brewers six times, the Padres three times, the Royals three times and the Twins three times.
That's 25 games at home against bad teams (assuming Milwaukee continues their slump). If the Pirates can win 60% of those games, that would be 15 wins right there.
On the road they play in Houston seven times, in Chicago seven times, in Milwaukee seven times and in San Diego three times. That's an additional 24 games against bad teams where they should win more than they lose. Taking 13 out of those 24 games would do the trick.
That would get the Pirates up to 53 wins.
The remaining 63 games on the schedule would be against competitive teams. If they go 29-34 against the rest of the league, that would bring them to 82 wins.
There is nothing outlandish about that scenario. Win six out of 10 at home against bad teams. Play above .500 against bad teams on the road and be five games under .500 against the rest of the league. Do that and young Pirate fans would experience a winning season for the first time.
Will that make Pittsburgh a baseball town first and Steeler town second? Should people start listening to "We Are Family?" No, but a winning season would be a good start.