Vanderbilt Football Coach James Franklin Requires Assistants to Have Hot Wives
May 31, 2012

Grant Halverson/Getty Images
If you want a job coaching under Vanderbilt football's head coach, you better make sure you marry an attractive woman first. 
I am thinking about having a Douche of the Week Award. If I do, it will be named after a man who inspired the idea: Vanderbilt's James Franklin. 
Matt Hinton of CBS Sports reports on the head coach who believes having a hot wife is directly correlated to success on the recruiting trail. 
Franklin went on the radio with Clay Travis on 104.5 The Zone recently and discussed his thoughts on new hires and what he looks for in a potential assistant coach. Franklin, in a relaxed mood near the beach, explained:
"I've been saying it for a long time, I will not hire an assistant coach until I've seen his wife. If she looks the part, and she's a D-1 recruit, then you got a chance to get hired. That's part of the deal.

"There's a very strong correlation between having the confidence, going up and talking to a women and being quick on your feet and having some personality and confidence and being fun and articulate, than it is walking into a high school and recruiting a kid and selling him."
Oh boy.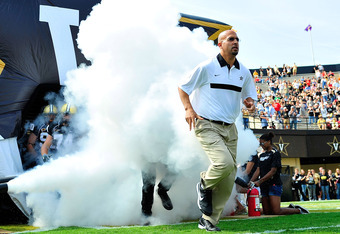 Grant Halverson/Getty Images
Let's be as scientific as we can when discussing one bro who wants all his colleagues' wives to be smoking hot. 
Franklin, in his head, is drawing upon the assumption that a man is more confident if he bags himself a babe in a manner most commonly seen at a bar. This same assumption would have us believe that a man talking a good game is the only way humans begin to date.  
Sorry Mr. Franklin, but that's stupid. 
Any person who has been alive on this planet for more than 10 minutes will realize we come in all shapes and sizes. 
I have seen both handsome and unattractive men with good-looking women. To be sure, some of these males are incredible D-bags while others are likable gentleman.
Oh, and unattractive women, like unattractive men, enjoy charm and confidence as much as the next person.  
The report reminds us of the maxim made in the movie Moneyball that states, "ugly girlfriend means no confidence at the plate." 
That's a rather bro way of describing life and one that comes from the same sport that brought us the wonders of slump busting. 
The fact is, having a hot wife means next to nothing in how a man will perform as an assistant coach. I don't care if James Franklin has a hot wife himself—his comments are downright creepy.
Follow @gabezal