Pittsburgh Steelers: Why Heath Miller's Bigger Role Is Crucial for the Steelers
May 31, 2012

Gregory Shamus/Getty Images
New Pittsburgh Steelers offensive coordinator Todd Haley hinted at it in his introductory press conference.
Now the word is out. Tight end Heath Miller will have a bigger role in the Steelers' offense, according to both the Pittsburgh Post-Gazette and the Pittsburgh Tribune-Review.
The main reason for this is to help keep the grass stains off Ben Roethlisberger's uniform. Roethlisberger has been sacked 289 times over the last six seasons, including playoffs.
Less waiting for Mike Wallace and Antonio Brown to get open and more short, quick passes to Miller will reduce the time pass rushers have to get to Roethlisberger.
There's also an intangible benefit to Miller's expanded role.
The mass exodus of veterans during this offseason took away nearly half of a core that has won two championships since 2005.
Miller is one of 10 members of the 2012 Steelers still remaining from the 2005 team, which won Super Bowl XL.
The 2011 Steelers had 16 players from the '05 team, but that nucleus took a big hit with the departure of Hines Ward, James Farrior, Aaron Smith, Chris Hoke, Bryant McFadden and Max Starks.
Miller now has a greater responsibility to carry the torch.
Roethlisberger, Troy Polamalu, Larry Foote, Ike Taylor, James Harrison and Brett Keisel join Miller as 2005 holdovers who are expected to start in 2012.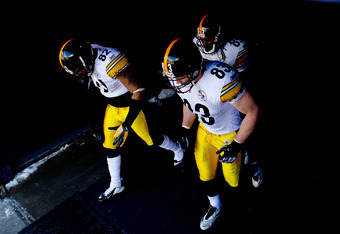 Justin Edmonds/Getty Images
Casey Hampton could start, but the drafting of nose tackle Alameda Ta'amu sets the stage for his ride into the sunset.
Trai Essex and Charlie Batch are the other remaining members of the 2005 team.
Miller won't turn 30 until Oct. 22. That makes him the youngest of the presumptive starters who own both Super Bowl XL and XLIII championship rings. It's about time the Steelers make full use of him.
In his seven seasons, Miller has never been higher than seventh in receptions among NFL tight ends. In 2009, when he made his only Pro Bowl, he was seventh with a career-high 76 catches.
As NFL offenses place an increasing emphasis on tight ends, Miller never really has had an opportunity to rub elbows with the league's elite at the position.
Not that Miller yearns for the spotlight. As he told the Pittsburgh Tribune-Review, he just wants to win Super Bowls.
For the Steelers to win more Super Bowls, Miller might have to deal with a little more notoriety as he catches more balls.
Not only will it help protect Roethlisberger and keep the chains moving, it will help replace the leadership that's been lost.