Derek Holland Meltdown: Is the Addition of Roy Oswalt Going to Be Enough?
May 31, 2012

Rick Yeatts/Getty Images
Last night, Derek Holland—the clean-shaven version—looked very sharp in his first inning of work against the AL West's bottom-dwelling Seattle Mariners.
"Dutch" retired the side—striking out two of three—on just 10 pitches.  
To say that the wheels came off for Holland in the second inning would be a gross understatement...no one cares about the tires when the vehicle has been struck by a nuclear warhead.
All told in that second frame, Holland would surrender eight hits, eight runs and two home runs.  Just for good measure, he walked the last two batters he faced before Ron Washington mercifully replaced him with Yoshinori Tateyama.
As time would tell, Tateyama wouldn't fare any better than Holland.
Tatetyama isn't an intricate part of the Texas Rangers—much less their rotation. All the more reason for concern over Holland's unbelievably atrocious outing.
So bad was Derek Holland last night, it's enough to make you wonder if the recent addition of Roy Oswalt is going to be enough for the Rangers to sustain their early-season success on their way to a possible third straight AL West (and American League) championship.
Here's a look at the current Texas Rangers rotation, and how they've fared over their last three starts.
Derek Holland (1-2, 9.64 ERA, 17 Ks, 5 BBs)
There's no need to get into his eight-run shelling from last night. But it is disturbing to note that in Holland's last start against the Toronto Blue Jays, it seemed like he had put his bad start (against the Houston Astros) behind him.
Guess not.  The knock on Holland is that he is wildly inconsistent; and sadly, he's proving that his inconsistencies are quite consistent.
Matt Harrison (2-0, 2.21 ERA, 14 Ks, 5 BBs)
Much like Holland last night, Harrison had a start earlier in the month where he surrendered eight earned runs to the Toronto Blue Jays. Ever since that fateful night in Toronto, Harrison has gotten better each time out. 
Against the Mariners on Monday—which would prove to be the Rangers' only win in the three-game series—Harrison was outstanding. He went eight innings, walking no one and striking out five.  
Colby Lewis (1-1, 3.32 ERA, 16 Ks, 3 BBs)
Aside from being roughed up on back-to-back starts against Cleveland and Baltimore earlier in the month, Lewis is quietly putting together another solid season.
Lewis was hit around during his last start against the Blue Jays, surrendering four runs on 10 hits, but he didn't allow a walk and was able to skirt serious trouble in the no-decsion.
Yu Darvish (2-1, 4.32 ERA, 15 Ks, 11 BBs)
The only thing keeping Yu Darvish from being an elite-level top-of-the-rotation starter is Yu Darvish. 
Command and consistency spotting his fastball continue to be the bane of his existence. In a season of firsts, Darvish has what might prove to be his biggest test yet as he will pitch against the surging Los Angeles Angels of Anaheim this weekend.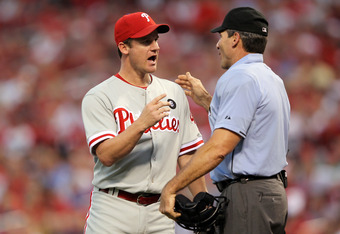 Jamie Squire/Getty Images
Scott Feldman (0-3, 4.61 ERA, 5 Ks, 8 BBs)
Much like with Darvish, Feldman has struggled with command and control issues. Feldman can't minimize the damage like Darvish, though, since his stuff isn't nearly as sharp.
To be honest, Feldman has done an admirable job in the exceedingly difficult role of spot-starter. Once Roy Oswalt is ready, Feldman—barring any other rotation calamities—will be moved back into the role of bullpen long man.
Roy Oswalt (Hasn't pitched since 2011)
No one doubts Oswalt's abilities; for the Mississippi-born right-hander, it's all about the health of his ailing back.  If he's 100 percent and there are no snags during his minor-league stints, the Texas Rangers have a front-line innings-eater that should provide a big boost.
Final Diagnosis
All in all, Derek Holland is just Derek Holland. I'm beginning to doubt if he'll ever mature into a true "ace." However, I have no doubt that he'll bounce back in his next start and pitch more like what he is truly capable of.  
Harrison appears to have ironed out the kinks and Lewis continues to prove why Ron Washington made him the team's opening day starter.  
The best is yet to come for Yu Darvish, no doubt.  He's proven that he isn't reluctant to change things up if that's what it takes from startto start to become a better major league pitcher.  
A couple of forgettable blowout games against the equally forgettable Seattle Mariners is no reason to push the panic button.  The upcoming series with the second-place Angels has become much more interesting though, hasn't it? 
Checkout Baseball Do—A Texas Rangers Blog that's funny, too.