NASCAR Sprint Cup: Has Penske Set AJ Allmendinger Up to Fail?
May 31, 2012

Scott Halleran/Getty Images
AJ Allmendinger's 2012 NASCAR Sprint Cup season started off with such promise.
After winning the Rolex 24 at Daytona Grand Am race, Allmendinger was set to begin the 2012 Sprint Cup campaign in what could only be described as the opportunity of a lifetime.
Allmendinger signed up with the top-tier Penske Racing organization after spending three seasons at the lower-tier Richard Petty Motorsports organization.
He was tabbed to drive the No. 22 Dodge that Kurt Busch took to the 2011 Chase for the Sprint Cup before being let go from the organization at season's end.
But 12 races into the 2012 Sprint Cup season, which include back-to-back 33rd-place efforts for the No. 22 team, Allmendinger's season can be summed up in one word: disappointing.
After being expected to contend for top fives and top 10s early in the season, Allmendinger's results have been uninspired. Through 12 races, Allmendinger has a single top 10: a second-place run which came as the result of a late crash on a restart that never should have happened.
Besides that highlight, Allmendinger's best finish is 15th, which he has earned three times including Auto Club, Texas and Talladega. To boot, Allmendinger has five finishes of 32nd or worse and sits at a putrid 24th in the standings.
Putrid, that is, for a car and driver who were expected to contend for the Chase in 2012.
Although performance is often reflected upon the driver, the disappointment that is the 2012 Sprint Cup season cannot be blamed solely on Allmendinger.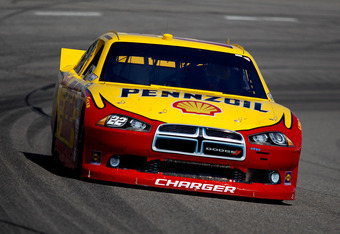 Sean Gardner/Getty Images
Some of it can be attributed to bad luck. Allmendinger has been involved in four crashes, three of which were not of his making, including an unfortunate pit road incident at Daytona that busted the radiator on Allmendinger's car just 15 laps into the season opener.
A good share of the woes for the No. 22, however, can be directly attributed to the team. Through 12 races, Allmendinger has suffered some sort of major mechanical problem in four of them.
At Las Vegas, Allmendinger suffered a fuel pressure problem that relegated him to a 37th-place finish. At Bristol, he was forced to nurse a car with a broken suspension for 350 laps to a 17th-place finish.
At Kansas, the throttle body failed on Allmendinger's No. 22 which resulted in a 32nd-place finish. Then, just this past Sunday night at Charlotte, a broken hub resulted in brake failure that saw Allmendinger finish 33rd.
Sure, bad luck tends to get drivers sometimes. Heck, just a few weeks ago, four-time Cup champ Jeff Gordon found himself in the midst of a slump that saw him finish outside the top 20 four weeks in a row.
But the bad luck Gordon had was different. Blown tires, blown engines and crashes are the things that plagued the No. 24 for so long, and those are the types of things that just sort of happen in NASCAR.
As it were, they all just so happened to be biting one driver.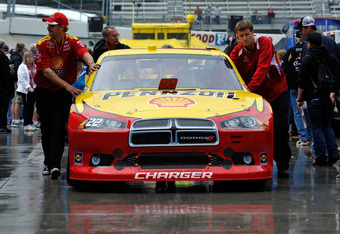 Rainier Ehrhardt/Getty Images
For Allmendinger, the problems that have occurred on his No. 22 car aren't things that just happen. Sure, fuel injection problems have been common this year with the new EFI system, and throttle body problems can sometimes occur as well.
But broken suspensions and broken hubs in the middle of a race?
To make matters worse, three of Allmendinger's four mechanical problems occurred when he had a top five car, including the car he led 54 laps with at Bristol and his pole-winning car at Kansas.
So is this just a new sadistic type of bad luck we're seeing happen to Allmendinger, or is there some ulterior motive behind the walls of the Penske shop?
Penske has no long-term commitment to Allmendinger. The California native has just a one-year deal with the organization which was meant to be a sort of "trial run" to prove himself in good equipment, but now has all the feel of a one-year stopover.
After parting ways with the controversial Kurt Busch, Penske needed a capable driver to fill the seat of the No. 22 in order to keep sponsors Shell and Pennzoil pleased with the car's performance. Allmendinger, after finishing a career-best 15th in the standings, fit the bill.
Meanwhile, Penske has to be weighing his options on a driver to fill the No. 22 Ford in 2013 should Allmendinger not work out.
One way Penske could go is the over-saturated 2013 free-agent market, which consists of perennial Chase contenders Matt Kenseth and Ryan Newman, a former Penske standout, along with franchise drivers Martin Truex Jr. and Joey Logano.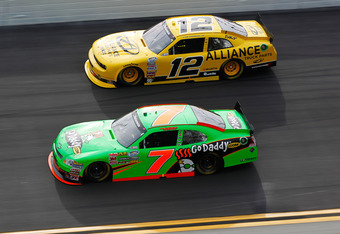 Streeter Lecka/Getty Images
Then there's the more plausible way, which is Penske getting ready for take-two of the Sam Hornish Jr. project. Only this time, the ex-open-wheel star will be improved after a full year of Nationwide experience under his belt.
Hornish sits fourth in the Nationwide Series standings after 11 races with two top fives and five top 10s. And in a season where he's competing directly against Danica Patrick for a NASCAR points championship for the first time, Hornish has the upper hand.
With Patrick heading to the Sprint Cup Series full-time in 2013, maybe what Penske is going for in 2013 is a Hornish-Danica rivalry, a pair of ex-IndyCar stars duking it out on a NASCAR stage.
Hornish could be like the Joker to Danica's Batman or the Green Goblin to Danica's Spiderman. Though the pair of supervillains may not be popular, people know who they are.
Which is exactly what an owner wants out of a driver in an otherwise vanilla field.
Should Allmendinger's performance not pick up before the 2012 season is up, Penske may not have a choice but to "let him go" at season's end, conveniently opening up a ride for his Indy 500 champ.
Or then again, maybe this whole "setting Allmendinger up to fail" conspiracy is nothing more than a bunch of mumbo-jumbo, and nothing really is going on behind the walls at Penske Racing.
Maybe throttle body problems and broken suspensions on dominant cars are just things that happen. Maybe a broken hub locking up the brakes on a car is just something that happens.
Maybe this is all just a bout of unparalleled bad luck that the No. 22 team must overcome together.
Or maybe, just maybe, there's more to this whole chain of strange events than we will ever know.