NBA Lottery 2012: Picking Anthony Davis & Rest of Lottery Mock Draft (Podcast)
May 31, 2012

Ronald Martinez/Getty Images
Now that the ping pong balls have stopped bouncing, let's pick who each of the lottery teams should take in the 2012 NBA Draft.
In this special "lottery edition" of Basketball by Association, Assistant NBA editor Ethan Norof and resident NBA general manager Joel C. Cordes discuss what each team needs and who they will select.
(If the player fails to load, listen to the podcast here:)
Basketball by Association is a brand new podcast series and your court-side seat for all things NBA on Bleacher Report.
It's about as certain as can be that the New Orleans Hornets will take Anthony Davis first.
How disappointed must the Charlotte Bobcats be right now? It's gonna be awhile for the sting to wear off.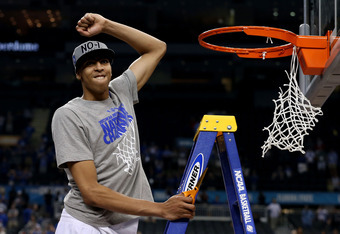 Jeff Gross/Getty Images
Yet it doesn't have to be all doom and gloom: there are actually a lot of helpful options for the league's worst team.
This is a deep draft with a ton of athleticism and upside. However, the rest of the lottery does not have a clear-cut hierarchy, especially in the other top nine spots.
This means that most teams can be comfortable drafting for need, rather than feeling locked into just taking the "best player available."
Most of the lottery rosters do have glaring needs at a specific spot or two. Thus, finding their guy will be narrowed down by position, with more than one choice to consider.
Outside of Anthony Davis, there aren't many "sure-thing" superstars. Yet, there are plenty of players with a reasonable chance. Upside is so much fun and so nerve-wracking at the same time!
On the bright side, it's even more certain that the top half of the draft can provide long-term solutions and career starters.
Let the 2012 NBA Draft prognostication begin now...