How Bringing Back Vinny Del Negro Will Doom Penny-Pinching Clippers
May 30, 2012

Stephen Dunn/Getty Images
Now that we know from the Los Angeles Times that the Los Angeles Clippers will hang on to head coach Vinny Del Negro for at least one more season, we can stop speculating and start opining.
We know what the Clippers think of the decision, at least publicly. General manager Neil Olshey is acting as if Del Negro's status were never in any real doubt, according to Sports Illustrated.

"We think we have the most talented roster in franchise history and Vinny turned that into the best record in franchise history," Olshey said by phone. "Clearly, there was never a question that Vinny was going to come back."
Del Negro did oversee quite a turnaround in his two years with the Clippers. After compiling a lackluster 32-50 record in 2010-11, Del Negro's club went 40-26 this season and reached the Western Conference Semifinals.
Of course, the acquisition of Chris Paul had a lot to do with that too. In fact, some might say Paul's the one truly in this franchise's driver's seat at the end of the day.
He probably couldn't care less who's coaching from the bench.
And if there's one thing you can say about the 45-year-old Del Negro, it's that he won't mess up a good thing. He took Chicago to an 82-82 record in his two seasons coaching the Bulls, a fitting result for a coach who seemingly epitomizes "just good enough."
But it's hard to imagine these Clippers avoiding the fate of a sweep similar to that suffered at the hands of the San Antonio Spurs and their Coach of the Year in Gregg Popovich. It's equally unlikely Del Negro will fair any better against the likes of Scott Brooks or Mike Brown.
He might not even be lucky enough to get the best of Lionel Hollins next time.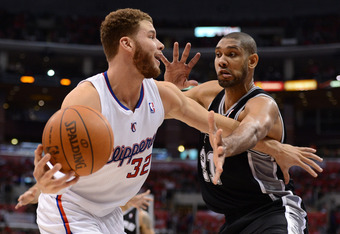 Harry How/Getty Images
The Clippers will never be an elite team without a coach who's up to the job. That's not a knock on Del Negro. The guy is just kicking off what promises to be an excellent career. It would be entirely unfair to judge a coach on such a small, and early, body of work.
At the moment, however, Del Negro has neither the gravitas nor inclination to be the kind of whip-cracker Blake Griffin needs. He's almost a carbon copy of Erik Spoelstra, only without LeBron James and Dwyane Wade to make up for it.
Griffin needs a coach who will hold him accountable. He needs a stodgy guy like Jerry Sloan to remind him he's not Chris Paul—he still has something to prove, and he'll have to work hard to do it.
The Clippers may well be better next year.
If free agency is kind to Los Angeles, Del Negro will have another good—if not better—roster with which to work. If his squad is less unlucky with untimely injuries, we may even see an improved postseason outcome.
Nevertheless, until this team is willing to invest in a more experienced, playoff-tested coach, Donald Sterling will be waiting on Del Negro to grow into those shoes.