San Antonio Spurs: Manu Ginobili Has Been Most Important Player for Spurs
May 30, 2012

Tom Pennington/Getty Images
Manu Ginobili's outright impressive play has gone unnoticed for far too long.
In spite of Tim Duncan's strong play in Game 1 and a Tony Parker show in Game 2, it has been Ginobili's remarkably efficient play that has the San Antonio Spurs up 2-0 over Kevin Durant and the Oklahoma City Thunder.
Ginobili has been the best player for the Spurs in his production per minutes played, his decision making in the half-court set and his ability to put the troops on his back in the fourth quarter.
Through two games, Ginobili has played an average of 30 minutes per game, including just 26 minutes in Game 2. Yet, he has averaged 23 points and 3.5 assists per game while shooting 40 percent from distance, 15-for-25 from the field and a clutch 12-for-13 from the free-throw line.
These numbers are mind-boggling to say the least, as he has averaged just 27 minutes per game all postseason. He has been able to put up two solid performances in the Western Conference Finals in spite of not getting the minutes he is accustomed to.
It is also important to consider just how efficient Ginobili has been in his decision making for his team in the half-court set. Time and time again, it will be Ginobili running the show at the point-guard spot when Parker is on the bench, and it seems to be a recipe for success for this team.
Ginobili is as strong as any player in the league finishing at the basket, and the Thunder defense has to respect that. As a result, he is able to either finish or dish out to open shooters on the perimeter.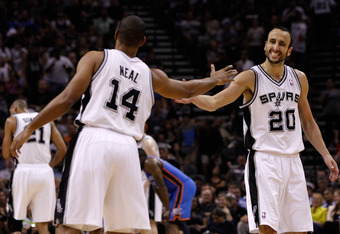 Tom Pennington/Getty Images
Talents like former Towson star Gary Neal, Matt Bonner, Kawhi Leonard and Danny Green are all capable of knocking down jumpers and have had the space to do so with Ginobili driving the basketball. Excluding Green's struggling play this series, the other three shooters have hit at least 44.4 percent of their three-point attempts.
Talk about an impressive figure.
However, more important than any aspect of Ginobili's game has been his ability to close out games for San Antonio. His performances in the fourth quarter of both games have been sensational. His efforts and prowess on the court are intangibles which, more than anything else, cannot and will not go unnoticed.
Ginobili entered the game for Danny Green with 8:13 remaining in Game 1, down 73-71. He went on to score 11 of the team's next 25 points, drawing three crucial fouls in which he hit all five free-throw attempts. 
In Game 2, it was much of the same story. After being irrelevant for the first five minutes of the fourth quarter, Ginobili went off to score 10 of 20 points in the final six and a half minutes to propel the Spurs to victory and a 2-0 series lead.
It was the 3-for-4 performance from the line in the fourth quarter and a clutch three-point shot from 25 feet that sealed the deal for San Antonio.
Parker may have had 34 points and eight assists, and it is certainly a performance we must not discredit, but it was Ginobili's play that broke the game open in the end for the Spurs.
It is his ability to make the most of his minutes, control the pace on offense and close out ballgames with his outright nasty talent that has these Spurs on top of the Thunder. The 2-0 series lead has been done in impressive fashion, and it is Ginobili that this team and fans must praise.
Despite being an older, aging veteran, Ginobili has helped to put an explosively talented Thunder team on the ropes. It has been impressive to say the least.
Job well done, Ginobili.