Breaking Down Plans for Ramon Sessions and Role Players on L.A. Lakers Roster
May 30, 2012

Jeff Gross/Getty Images
When the Lakers' season ended, it was all too clear that major changes on the team need to be made.
Magic Johnson called for the team to be blown up after they were swept by the Dallas Mavericks last year, but this year, it's for real. Everyone on the team, with the exception of Kobe Bryant, is on the trade block, especially the Lakers' role players, since they weren't playing much of a role in the post-season at all. 
Ramon Sessions is the first big role player to look at.
Sessions was acquired from the Cleveland Cavaliers, and at first, all seemed well with him. Then, in the playoffs, he seemed to completely fade away, like a little kid playing with his older cousins. His averages remained fairly the same, but the difference was his ability to create shots for his teammates.
He was no longer finding them where they were open, and Kobe once again found himself working really hard to get his shots. This can't happen.
Ramon Sessions will likely remain a Laker, because he's young and showed up big in the last game against the Thunder, but he needs some serious grooming. When Sessions was picked up, GM Mitch Kupchak said, via Baxter Holmes of The Los Angeles Times, "In terms of the draft picks, I don't think we could've found a Ramon Sessions if he were available in the 20s this year in the draft." After looking closely at the draft, I tend to agree.
So what will the Lakers do with the rest of their role players? 
Devin Ebanks, Matt Barnes, Darius Morris and Troy Murphy are all free agents this season. The Lakers could toy with re-signing Ebanks and Barnes, but Murphy is definitely out. The Lakers brought him in for his size and spot up shooting ability. They were lucky if he scored at all.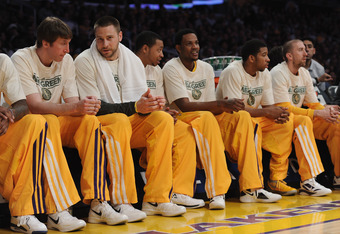 Harry How/Getty Images
Barnes started playing well alongside Sessions, but when Sessions disappeared, so did Barnes. He was playing for $1.9 million last year and is worth a bit under that, if the Lakers see him fitting into their new plan at all.
Ebanks was making under $1 million and is definitely worth that to the Lakers. He's young and is still improving but gave Kobe some much-needed rest and did a decent job holding the fort down. He averaged four points in 14 minutes, which is not great, but he's also not taking up too much salary space. 
Darius Morris is young and cheap. The Lakers should keep him for a year and see what they can get out of him on offense. He may be the spark they need.
Steve Blake has got to go.
They can find a point guard who can do what he can who is probably cheaper and better. The problem is that he's set to get $4 million a year for the next two years.
Mitch Kupchak is a trade wizard and can probably make this problem go away, but it will take some kind of sorcery after the way he played last season. Blake wasn't horrible, but he certainly wasn't productive. Don't get lost in his three-pointer in Game 3 against Denver.
If you thought Ebanks's four points in 14 minutes was bad, try 6.3 in 25.5 minutes. That's Steve Blake.
Josh McRoberts is in the Steve Blake boat of "ship 'em out." They both played with the same amount of intensity and desire but lacked the actual skills to make a true difference. McRoberts will be playing out the last year of his contract at just over $3.1 million. He's tradable to a team who needs a veteran big man, but that isn't the Lakers.
Jordan Hill has earned a place on the Lakers' roster next season. He's young and needs grooming, but he's hungry and athletic. There's no need to trade this guy away.
Andrew Goudelock didn't get the playing time he deserved this season.
It's still not clear how Coach Brown expected him to get experience if he wasn't allowed to play. Goudelock has a team option this year at $762,195. There's no reason the Lakers shouldn't pick up this option. He's got a ton of promise and deserves a real chance.