2012 NFL Rookie Predictions: 5 Teams That Will Wish They Had a Draft Re-Do
May 29, 2012

Streeter Lecka/Getty Images
While several teams appear to have aced this year's NFL draft—the Philadelphia Eagles, Cincinnati Bengals, Indianapolis Colts and New England Patriots come to mind—there are even more destined to experience drafter's remorse for their picks.
Though time will ultimately author the final report card, here are five teams most likely to wish for a draft re-do.
You guessed it—another writer who disagrees with the selection of Bruce Irvin. And it's not because Irvin will be a bad pro but because of better options available at the time. The Seahawks, clearly addressing the need for a pass-rusher, failed to target Whitney Mercilus and Melvin Ingram—both superior pass-rushers and NFL prospects. 
Mercilus, who led the NCAA in sacks (16) and forced fumbles (nine) in 2011, absolutely terrorizes quarterbacks, and Ingram is perhaps the most versatile defender in this year's draft. 
Poor Jags. It's hard to be optimistic when a struggling franchise has such a poor draft. When it's all said and done, they may wish to re-do every single selection—aside from Andre Branch in the second round. 
Yes, Justin Blackmon provides an immediate upgrade at the receiver position, but Michael Floyd will be the better pro. He's bigger, faster and has the skill set to transform Blaine Gabbert into a serviceable starter. 
To make matters worse, the Jaguars then used a third-round pick on a punter and failed to upgrade the offensive line. The future is not looking much brighter in Jacksonville. 
Overall, solid draft for a team with few needs. A.J. Jenkins and LaMichael James are dynamic playmakers and Cam Johnson is a late-round steal, but the 49ers will regret waiting until the fourth round to select a guard and then reaching for an injury-prone Joe Looney. 
The 49ers should have drafted Bobby Massie, Brandon Washington and Lucas Nix. All have higher ceilings and could contribute right away.  
Then again, I had my doubts about the 49ers draft class in 2011.
It was a roller-coaster draft for the Titans with ups, downs and more downs.
Kendall Wright is perfect for the slot, a reliable target for Jake Locker and a lethal weapon on special teams. After Wright, though, the Titans make a series of questionable decisions while ignoring their anemic rushing attack. Zach Brown, Coty Sensabaugh and Taylor Thompson are sensational athletes but lack the on-field production to match. 
The Titans should have drafted Ben Jones and Robert Turbin. Jones could have been their future center and anchor on the line, and Turbin is an effective downhill runner and ideal complement to Chris Johnson.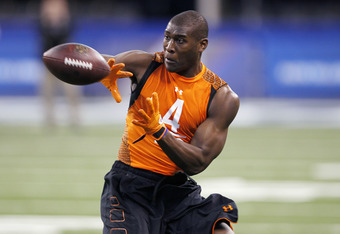 Joe Robbins/Getty Images
When your best pick is a center, your entire draft screams mediocrity.
For reasons unbeknownst to me, the Falcons drafted a raw Lamar Holmes in the third round despite prominent options—Massie and Tony Bergstrom—at tackle still on the board and reached for fullback Bradie Ewing in the fifth. While Ewing is a punishing runner who fits the offensive scheme, he would have likely been available in the later rounds.