2013 Atlanta Falcons: Projecting the Future Compensatory Pick Scenario
May 28, 2012

Kevin C. Cox/Getty Images
Those who have been watching the Falcons this offseason have been wondering why the Falcons haven't made the huge splash in free agency that they could have with Arthur Blank's money and the creativity of Thomas Dimitroff under the cap.
Instead, the Falcons opted to sign middle linebacker Lofa Tatupu and guard Vince Manuwai. Both players have been out of football for a year and were released by their previous teams. Atlanta also traded a seventh-round pick for former Pro Bowl cornerback Asante Samuel.
In making these moves as well as re-signing their own players, the Falcons have effectively played the compensatory formula and should be receiving a pick or more in the 2013 NFL draft. For reference, the players who were signed did not qualify, as they were either re-signings or released by their previous teams. 
Trades also do not affect the compensatory formula, as the opposing team has already been compensated for its loss by the team who received the player. 
However, the Falcons have lost four players who could possibly qualify: linebacker Curtis Lofton, wide receiver/return specialist Eric Weems, cornerback Kelvin Hayden and safety James Sanders. These players have signed the following contracts:
LB Curtis Lofton: Five years, $27.5 million
WR/RS Eric Weems: Three years, $4.2 million
CB Kelvin Hayden: One year, $890,000
S James Sanders: One year, $915,000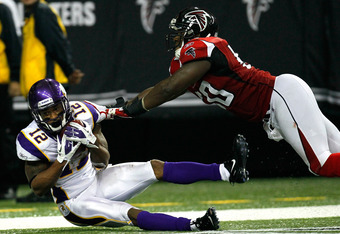 Kevin C. Cox/Getty Images
Based on these contracts and using the ranges from last year's contracts, the Falcons could end up with as many as two compensatory picks to combine with the full slate of seven picks they will have for the first time since 2010. 
Curtis Lofton's contract is the largest of the group, and while it is a good-sized deal, it won't fetch the largest compensatory selection of a third-round pick unless he starts all 16 games and is elected as either an All-Pro or a Pro Bowler. Projected compensatory pick: fourth round.
Eric Weems is a top-caliber return man and all-around special teams ace. Weems has been to the Pro Bowl twice, and should he make it again the Falcons could receive a sixth-round pick. Projected compensatory pick: seventh round.
Kelvin Hayden was brought in as someone to compete for the nickel role and could even end up starting in the defense for the Bears. However, even if Hayden starts all 16 games, he won't qualify because he signed a veteran-minimum contract. Projected compensatory pick: none.
James Sanders was brought in on a veteran-minimum contract, and while he is a guy who can come in and start all 16 games, the more realistic projection for the Cardinals is for him to be the third safety and end up on special teams as an ace gunner. Projected compensatory pick: none.