2012 NBA Mock Draft: Can't-Miss Talents Teams Musn't Pass Up
May 25, 2012

Patrick McDermott/Getty Images
While the NBA's best teams battle through the end of the postseason, the league's other 25 teams turn their focus toward the NBA Draft in the hopes of adding one of these can't-miss studs. 
With the NBA draft lottery upcoming on May 30, the sports world has little time left to wonder who will have the rights to Anthony Davis and the arms that go on forever (or any other player in the draft, for that matter).
One thing is certain, however: This year's draft class will make its mark on the league next year and for years to come. The field is loaded with stars whose time has come to fulfill their dream and make it to the NBA. 
So, where will this year's draft picks be making their names known in the NBA? Let's take a look in this form of the mock draft.
1. Charlotte Bobcats (7-45): Anthony Davis, PF, Kentucky
Davis is the definition of a can't-miss star and will immediately become one of the league's most feared defensive players when he enters the league. He's a can't miss player. 
His size will make him a quick fit in the league on both sides of the ball. His mental awareness will allow him to feed off his teammates and build chemistry. His positive, hard working mindset will set him apart from his peers.
The Bobcats lack everything that Davis brings: Playmaking ability, defensive presence, NBA talent, you name it. Look no further than their record to see how bad MJ's current team is. 
Could a move like this turn the Bobcats around in one year? Absolutely not. I would be shocked if they weren't in the bottom five after next season, even with Davis.
But you can't ignore adding a player that has been the consensus No. 1 overall pick since the college basketball season began. Adding Davis is an absolute must. 
2. Washington Wizards (12-43): Michael Kidd-Gilchrist, SF, Kentucky
Kidd-Gilchrist wasn't even the best player on his collegiate team, but there's still no doubt he's the second best player in the country. An aggressive play-maker and an absolutely relentless defender, he'll have no trouble adjusting to the NBA game. 
3. New Orleans Hornets (14-40): Thomas Robinson, PF, Kansas
Thomas Robinson is a game changer. 
We saw what he could do with a complete team last season at Kansas, where he combined with Jeff Withey to shut down many elite teams and come just one win away from a national championship. 
The Jayhawk stud waited a few seasons to break out, but did so in jaw-dropping fashion in 2011-12. The Hornets lacked intensity and firepower last year without Chris Paul, which is exactly what Robinson brings to the table. He's a shoe-in as any guy you can build a frontcourt around and is only getting better.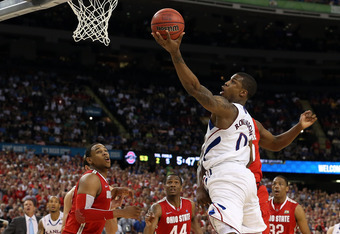 Jeff Gross/Getty Images
Robinson is a consensus No. 1 pick most seasons. Instead, he falls to three behind two Kentucky studs and seems to fall into a much better situation. 
4. Cleveland Cavaliers (17-35): Bradley Beal, SG, Florida
Beal will join Kyrie Irving for a Cleveland backcourt that is freakishly young and even more freakishly talented. Both can shoot the lights out and have shockingly complete games for their size. 
In three years this will be the much shorter, slightly less successful version of Durant/Westbrook. 
5. Portland Trail Blazers (via 19-37 New Jersey Nets): Cody Zeller, C, Indiana
Zeller showed no trouble evolving into the college game last season as a freshman, despite many thinking he would struggle. He won't have the same ease transitioning to the NBA, but he fills a hole in Portland that's been there since they drafted Greg Oden. 
6. Sacramento Kings (19-36): Jared Sullinger, PF, Ohio State
It's hard to find a player who dominated the game for the last two years more than Ohio State big man Jared Sullinger, who found himself the focal point of a very good team filled with NBA talent. By joining Sullinger with DeMarcus Cousins, the Kings add a grind-it-out post man who can attack the glass.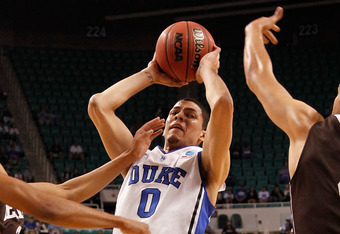 Mike Ehrmann/Getty Images
7. Toronto Raptors (20-35): Harrison Barnes, SF, North Carolina
Many expected Harrison Barnes to be adding an NBA Rookie of the Year trophy to his collection after this season. Instead, he came out as one of the most dangerous scorers in this year's draft and lands at a team that desperately needs just that. Barnes can play almost every position on the floor and is one more step in helping the Raptors get back on the map.
8. Detroit Pistons (21-33): Perry Jones III, PF, Baylor
If I went back in time last year and told you that the Baylor Bears asserted themselves as a national championship contender in 2011-12, you'd assume it was with Perry Jones III leading the squad. It wasn't. 
He never got his game going in Baylor, but his skillset is hard to find in the NBA, it's and even harder to find coming out of college. He'll get his chance as a top-10 pick, and he'll hope that he's needed more than he was in Waco, Texas.
9. Utah Jazz (via 21-32 Golden State Warriors): Kendall Marshall, PG, North Carolina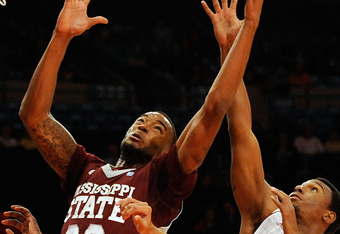 Patrick McDermott/Getty Images
As Kendall Marshall's wrist went in the 2012 NCAA tournament, so did the Tar Heels' title hopes. He's one of the most valuable players in this draft class, and Utah will be looking for a point guard. The Jazz already have a decent amount of talent, so Marshall's passing ability will help make his teammates even better. 
10. New Orleans Hornets (via 25-31 Minnesota Timberwolves): John Henson, PF, North Carolina
It doesn't look like Chris Kaman is sticking around much longer, which means the already-weak Hornets will be even weaker down low. Henson is a shot blocking machine. You can draw a lot of comparisons between him and presumed No. 1 pick Davis, which is not even close to a bad thing.
11. Portland Trail Blazers (26-49): Damian Lillard, PG, Weber State
Lillard comes in, if you follow college basketball, as the most highly-touted player that you may have never heard of. He may even go higher than the aforementioned Marshall, but he falls below because his full game as a point guard needs completion. 
Portland comes out a much, much stronger team with their two early picks here.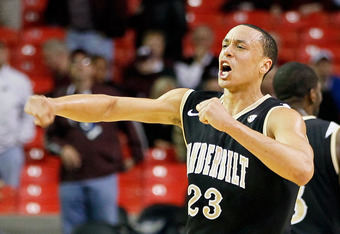 Kevin C. Cox/Getty Images
12. Milwaukee Bucks (26-28): Andre Drummond, C, UConn
Drummond wasn't as dominant of a player as many expected last season, but he still showcased a strong game. He needs to add some motivation and toughness to his game, which he'll learn in team-first Milwaukee.
13. Utah Jazz (28-27): Terrence Jones, PF, Kentucky
Jones had a great sophomore campaign, despite being overshadowed by his freshman teammates. He worked hard with John Calipari to mature his NBA game, and will benefit from it with less development time in the league. 
14. Phoenix Suns (28-26): Austin Rivers, SG, Duke
Austin Rivers is a can't-miss star who will become one of the NBA's most dangerous scorers. 
Rivers was about as hyped as they come when he entered the league last year behind the name of his dad, NBA champion head coach Doc Rivers. His game showed to be slightly under-developed, but he still came up clutch in the biggest of situations.
His shooting touch is lethal and almost limitless, and he has a unique ability to create his own deep shot with a smooth crossover. Such a skill is coveted in the NBA and usually sets stars apart in the game's closing moments.
Maybe he would've benefited from staying another year in Coach K's system, but you can't knock a kid for cashing in on what will be the beginning to a great NBA career. Whether he becomes a starter in his first year, or just a role player, Rivers will mature and develop both physically and mentally to become a star in this league. 
When Steve Nash skips out on Phoenix this offseason, which is pretty much inevitable, they will need to add scoring. Rivers can do just that. He may struggle if he's given too much responsibility right off the bat; but given time, he will be great.
15. Houston Rockets (from 28-27 New York Knicks): Tyler Zeller, C, North Carolina
Zeller may never hear the end of it from his younger brother, Cody, after being drafted after him, but Tyler still finds himself in a solid situation. The Rockets have a lot of young talent and need stability at center, which is proving to become the league's most dry position talent-wise. 
16. Philadelphia 76ers (29-25): Arnett Moultrie, PF, Mississippi State
The Sixers boast a slew of scoring talent in their backcourt with Evan Turner, Andre Iguodala and Jrue Holiday, among others. Adding Moultrie, a can't-miss player, to come off the bench with his exciting play could put Philadelphia over the top.
Moultrie wreaked havoc in the SEC on both sides of the floor, averaging 16 points and 10 rebounds during the 2011-12 campaign with Mississippi State. His Bulldogs struggled down the stretch of the season, but it was not by any fault of Moultrie's. 
The 76ers brought in Elton Brand in 2008 to add a dominant presence on the glass, but he disappointed after putting up lackluster numbers compared to his once-regular 20 points per game efforts. He's now on the back end of his career and needs replacing, which is where Moultrie comes in.
He possesses an attacking scoring touch unique to Brand's and is a stat machine. He'll have no trouble gelling into an unselfish Sixers squad that needs baskets down low. 
17. Denver Nuggets (29-25): Royce White, SF, Iowa State
Royce White didn't catch the eye of as many basketball fans as most of his company on this list, but he caught the eye of enough draft scouts to make this an easy pick. White is a selfless player who has a complete game, and he always plays with intensity. He should help the Nuggets to extend the quality of their bench.
18. New Jersey Nets (via 29-25 Houston Rockets): Quincy Miller, PF, Baylor
The New Jersey Nets need a lot, but none more than a young post presence. Miller's size and speed stood out at Baylor, where he showcased the ability to score, rebound and defend. Boy, could the Nets use all three of those.
19. Boston Celtics (30-24): Doron Lamb, SG, Kentucky
The C's have been drastically thin at the guard position throughout this year, which was only amplified by Avery Bradley's loss this postseason. They never shoot deep balls unless Ray Allen is on the court, and they could use a player just like Doron Lamb of Kentucky.
Lamb showcased a lot of talent in his two years with Calipari, but none more than his ability to shoot. He proved to be the Wildcats' most dangerous catch-and-shoot threat in his sophomore season. 
With Rondo quickly entering himself in the conversation as a top point guard in the NBA, Lamb will have no trouble getting great shots in Boston. The Celtics may be aging and losing their touch, but with Rondo, they're still a dangerous team.
Lamb takes that up a notch. It also doesn't hurt that he played for one of the best college basketball teams of all-time. 
20. Dallas Mavericks (31-24): Meyers Leonard, C, Illinois
The Mavericks just weren't the same in 2011-12 without Tyson Chandler dominating the paint and altering just about every shot inside eight feet. Leonard may not have the same effect on offense as Chandler, but in time he could improve the Maverick's lack of post defense. 
21. Memphis Grizzlies (30-23): Tony Wroten Jr., PG, Washington
Wroten is yet another strong point guard prospect from this class. Despite Mike Conley, Jr. looking like a solid point guard this season —and one of Memphis' best players —he can't take the position on by himself. 
22. Atlanta Hawks (32-23): Dion Waiters, SG, Syracuse
Dion Waiters is one of the most electrifying players to come out of this class, and he comes from a potent system in Syracuse. The Hawks are only getting better, and adding an energetic guard with a scoring touch will pay dividends.
23. Orlando Magic (32-23): Moe Harkless, SF, St. John's
It seems like the Magic are finally ready to trade Dwight Howard, so the chances of Orlando staying at this pick aren't known at this time. Assuming today's Magic will be the same Magic on draft day, Harkless would fit the bill to help give them more shot blocking and rebounding.
24. Boston Celtics (via 33-22 Los Angeles Clippers): Festus Ezeli, C, Vanderbilt
Festus Ezeli took a while to get going in his senior season, but it was hard to find a center who played better once he did. He possesses a scoring touch off the glass and has become a strong offensive rebounder. His game isn't quite there yet, but he showed all of the makings to be a solid NBA big man. 
25. Indiana Pacers (33-21): John Jenkins, SG, Vanderbilt
The Pacers are a very pesky team, which showed in their series against the Heat. But pesky can only win you so many games, then talent needs to take over.
That's where John Jenkins comes in. He's shined in the SEC over his career, and he has one of the prettiest shooting touches in basketball. There's no doubt here that Jenkins is a can't miss prospect. 
Jenkins transitioned from a three-point specialist in his freshman year to a more all-around stud in his next two seasons with Vanderbilt.
It took a while for opponents to figure Jenkins out, as he shot an absurd 48.3 percent from three-point range in his freshman year. Despite becoming the center of attention for the other team after this breakout performance, he continued to knock down shots with hands, bodies, you name it, in his face.
His plus-40 career percentage from deep is similar to what he'll shoot in the NBA.
26. Cleveland Cavaliers (via 38-14 San Antonio Spurs): Marquis Teague, PG, Kentucky
Kyrie Irving has already been given the daunting task of replacing LeBron James in Cleveland. All Marquis Teague will have to do is carry his load, something he did perfectly at Kentucky.
27. Golden State Warriors (via 38-14 San Antonio Spurs): Jeffrey Taylor, SF, Vanderbilt
Jeffrey Taylor was a stud at Vanderbilt, and the Warriors will welcome his length, deep shooting and energy coming off the bench. In time, Taylor could be one of their best players. 
28. Miami Heat (39-14): Fab Melo, C, Syracuse
Look no further than Game 1 of the Eastern Conference Finals if you want to see what the Heat's biggest need is. Sure, having LeBron James and Dwyane Wade makes your problems look a lot smaller, but Pat Riley would be sleeping a little better if he had Fab Melo to bring off the bench. 
29. Oklahoma City Thunder (40-14): B.J. Young, PG, Arkansas
Freshman B.J. Young exploded in the second half of the college basketball season, showcasing ridiculous scoring ability and doing most of it all by himself. Imagine if Derek Fisher was faster and could score (and had five less rings), and that's what this Thunder team will be with Young in a few years. 
30. Chicago Bulls (43-13): C.J. McCollum, SG, Lehigh
C.J. McCollum showed Chicago exactly why they need him when they took down Duke in the NCAA Tournament. The man can score at will, and the Bulls will need that if they are to be without Derrick Rose for half the season. 
One thing is certain, however: This year's draft class will make its mark on the league next year and for years to come.