No More Room for "Knowshow": Denver Broncos Should Cut Moreno
May 25, 2012

Doug Pensinger/Getty Images
The Denver Broncos need to dump Knowshon Moreno, the last bad acquisition of the Josh McDaniels' era in Denver.
McDaniels set the Broncos back at least five seasons. New Executive VP of Football Operations, John Elway, has in two short offseasons completely undone the havoc McDaniels wreaked on the Broncos personnel.
Almost.
The final vestige of the forgettable McDaniels' era is his 12th overall draft pick in the 2009 draft, Knowshon Moreno. A reach at No. 12 overall, Moreno has continued to disappoint during his three seasons in the NFL. If you go after a running back so high in the NFL draft, he needs to be an impact player. He needs to be a game-changing tailback that produces. Moreno has never really taken off in Denver, and it is now time to show him the door.
Moreno's best season in his NFL career was his first season. He showed a lot of promise in his rookie campaign, when he rushed for 947 yards with seven rushing touchdowns. He also picked up another 213 yards receiving and two more TDs. However, Moreno never broke the century mark rushing in a single game in 2009.
His rookie season, the best of his career, was marked with inconsistency from week to week. He never was the dominant back that the Broncos nation hoped he would be. Hopeful for improvement in 2010, the Broncos faithful held their tongue and waited.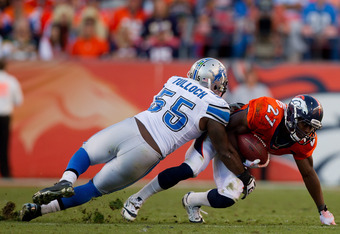 Justin Edmonds/Getty Images
In 2010, things regressed instead of improving. Moreno missed three games in 2010 and again fell short of the 1,000 yard rushing mark. He rushed for 779 yards on 182 attempts, improving his average yards per rush to 4.3 yards, but his touchdown totals declined to five in the run game. His receiving totals soared to 372 yards, and he added three more touchdowns.
In 2010, Moreno finally broke the century barrier twice against the Kansas City Chiefs when he rushed for 106 yards and had 50 yards receiving. In their second meeting that season, Moreno had 161 yards rushing, a career best.
Despite his decrease in stats, Broncos fans continued to watch and wait for Moreno to consistently disprove their doubts that he would ever mature into the type of back that they needed—someone who could carry the load week in and week out.
In midseason of 2010, the McDaniels' era had finally come to an abrupt halt and the team was looking to go in another direction. That offseason team owner, Pat Bowlen hired hall-of-fame quarterback, and fan favorite, John Elway to oversee football operations and be another voice of reason in personnel decisions. He hired John Fox, a run-first coach with a knack for the kind of defense that had been neglected for years and years during both McDaniels' and his predecessor, Mike Shanahan's regimes in Denver.
The Johns (Elway and Fox) added a marquee free agent signing during their whirlwind offseason last year when they landed veteran running back Willis McGahee, who was pushing 30 and had seen his production slowly decline in his later years in the league.
The plan was to use McGahee in third-and-short situations to pick up first downs, something that Moreno never really excelled in. However, in 2011 McGahee had a career renaissance with 1,199 yards rushing averaging 4.8 yards per carry, more than Moreno in each of his three seasons as a Bronco.
McGahee seized the starting role from Moreno, who landed on injured reserve halfway through the season, a few games before losing the starting job. Last season was Moreno's lowest point in his career. He rushed for just 179 yards in seven games, had just one touchdown (not rushing but receiving) and then this offseason was charged with a DUI, to which he has pleaded not guilty.
During his entire lackluster career, Moreno has been getting first-round draft choice money, under the old collective bargaining agreement. He has never really had a first-round-type season and he has been dogged with injuries.
The writing is on the wall now, after Elway drafted Ronnie Hillman, a speedy, receiving back out of San Diego State that looks to be the guy to steal Moreno's job. With Hillman's arrival, Moreno is now expendable. The Broncos have a younger, cheaper running back who can do at minimum as good as Moreno, and with any luck, will exceed the Broncos expectations and become the perfect complement for the aging McGahee.
Hillman is also Elway's guy. Elway always wanted Hillman, and losing Moreno would further distance himself and the team from the failed project that was Josh McDaniels. I see Moreno competing at camp this season, but ultimately being released when the active roster is trimmed to 53 players before the start of the season.
Finally, the Broncos and their fans will move past one of the worst periods in Broncos' history.