Arsenal Transfer Scenario: 5 EPL Players the Gunners Should Target
May 25, 2012

Clive Mason/Getty Images
Arsenal should target Premier League players in this summer transfer window. Of all of the signings Arsene Wenger made last season, it was EPL pair Mikel Arteta and Yossi Benayoun who had the most positive impact.
The duo contributed leadership, commitment and smart play to an often chaotic looking Gunners side. Wenger should take note and select Premier League-ready players to boost the ranks and ensure Arsenal are legitimate trophy contenders next season.
Peter Odemwingie, Striker, West Bromwich Albion
Nigerian striker Peter Odemwingie has proved himself over two seasons in England's top flight. Odemwingie has been prolific in front of the goal for West Bromwich Albion.
A natural finisher, Odemwingie is quick and decisive in the box. His greatest strength is his mobility, utilised via intelligent movement.
Odemwingie is a classy and composed goalscorer who has the technique to fit into Arsenal's style of play. The Gunners bid £4 million for the 30-year-old last summer according to the Daily Mail. However, The Sun reports that Odemwingie still has hopes of again playing in the UEFA Champions League and could still be open to a move.
Nigel de Jong, Defensive midfielder, Manchester City
Nigel de Jong would be the ideal summer signing for this Arsenal team. The combative Dutchman is precisely the kind of disciplined defensive shield Arsenal's current midfield lacks.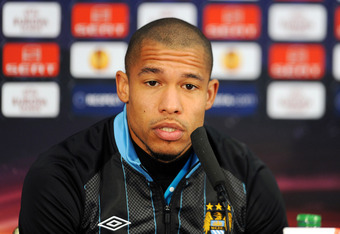 Clint Hughes/Getty Images
De Jong's robust style often belies his assured technique on the ball. He would have no trouble fitting in with the Gunners' intricate passing game.
With de Jong staying in front of the back four and breaking up play, Arsenal's much-maligned defense would immediately improve. De Jong has been mentioned by the Daily Mirror as part of a possible summer clear-out by City. Arsenal should monitor the situation closely.
Moussa Dembele, Attacking midfielder, Fulham
Belgian schemer Moussa Dembele has the touch, creativity and eye for goal that was largely missing from Arsenal's midfield trio for much of the season. The Cottagers ace is a natural link player between the midfield and forward lines.
Dembele is an intelligent playmaker who can supplement the strikers and provide plenty of assists. Blessed with a powerful shot, the former AZ Alkmaar man can also chip in with some goals of his own.
The Gunners have been linked with a move for Dembele, according to Premiershiptalk.com, and Wenger ought to seriously consider securing his signature.
Micah Richards, Defender, Manchester City
Clive Rose/Getty Images
Micah Richards steadily fell out of favour at Manchester City in favour of the more technically assured Pablo Zabaleta. Yet Richards would be a stellar acquisition for the Gunners.
The youngster is a pacy and physically imposing defender who operates primarily at right back. Arsenal could have a need for quality reinforcements at the position, given Bacary Sagna's second serious injury of the season.
Richards also offers the ability to transition to central defender, a position he occupied at the start of his career. His athleticism and strength would be major assets anywhere across the Gunners' back line.
Gylfi Sigurdsson, Winger, Swansea City
Young Icelandic star Gylfi Sigurdsson is the kind of cerebral player with a knack for finding the net that Arsenal need in the wide areas. The 22-year-old 1899 Hoffenheim star has shone on loan for Swansea City this season.
Sigurdsson is less of a natural winger and more the kind of wide midfielder Wenger likes to use on the perimeter. Sigurdsson is well-versed in the English game having spent time at both Reading and Crewe Alexandra.
He is a hard-working player whose best attribute is his off-the-ball movement. Sigurdsson makes plenty of clever runs and rarely misses when put through on goal.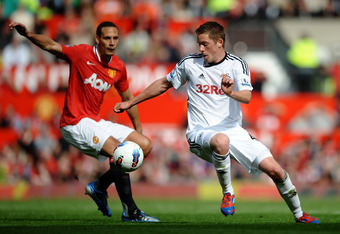 Laurence Griffiths/Getty Images
Arsenal have lacked this kind of vital midfield outlet since the days of Freddie Ljungberg and have the players who would consistently find Sigurdsson. The Daily Mirror has suggested that Wenger has some interest, and Sigurdsson is a young talent who could certainly make the step up to the top four.
Conclusion
The Premier League is often a tough environment for overseas players. The pace of the game and the physical approach adopted by many teams can create an unnerving culture shock for some.
If Arsenal are only one or two players away from challenging for major honours, it only makes sense to sign those who require no adaptation period.