Indy 500 2012: First Alternative Fuel Race Is Huge Step for Motorsports
May 23, 2012

Andy Lyons/Getty Images
The Indianapolis 500 returns this weekend with a somber mood hanging overhead. The memory of the late Dan Wheldon, last year's Indy 500 winner, will reign supreme and rightfully so—he was one of the best drivers of the last decade.
But Wheldon's absence won't be the only difference in this year's race. According to a press release on Market Watch, the IndyCar series will be using an alternative fuel this entire season for the first time ever:
Brent Schutte, Market Strategist for Harris Private Bank, writes about the promising future of natural gas vehicles to cut costs for American families and racing teams.

"Indy car drivers have embraced versions of alternative fuels and this season will mark the first year that cars will be burning E85 (ethanol) fuel," said Schutte. "The sights and sounds of race cars burning fuel to speed across the track in America's Heartland got us thinking about another American story, namely the increased natural gas and crude oil production that is occurring in many parts of the U.S."
Schutte's report goes on to talk about traditional gasoline prices and their impact on the American family, and while that is important, the thing to take away here is IndyCar's jump to alternative fuel.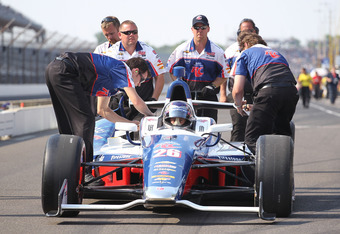 Andy Lyons/Getty Images
Motorsports, as a whole, use a ton of gas each year to run their races, and it costs them a good chunk of change to do so. Exploring alternate options has long been talked about, but this move could be the start of something much bigger across more than just the open-car circuit.
If successful, alternative fuel options open a number of doors to NASCAR and MotoGP as well.
The E85 (ethanol) fuel is very common in midwestern America and in fuel-flex vehicles. Like all forms of gas it isn't without negatives, but it offers something different, and it cannot hurt much more to give it a try.
The alternative fuel will be something to keep an eye on throughout the year.