The One Thing That the 2012 Toronto Blue Jays Are Missing
May 22, 2012

Rick Stewart/Getty Images
As a Blue Jays fan, I enjoy going to see the Blue Jays play.  The Rogers Centre is a good ballpark, but I always felt like it was missing something.  I never really knew what it was until I recently took a road trip to Philadelphia, Pittsburgh and Cleveland in one weekend. 
Then, one thing stood out to me that is missing from Toronto Blue Jays games. 
The three teams that I visited all have statues honoring great players who have played for them in the past.  There is a statue outside of the Rogers Centre, but it's of eight generic fans who are not even wearing Blue Jays apparel.  It's also a little odd-looking.
When looking at the history of the Blue Jays, there is one image that stands out more than others that needs to be celebrated: that picture of Joe Carter jumping as the ball goes over the wall.  This home run, which won the 1993 World Series, is so meaningful to Blue Jay fans that there needs to be a statue honoring Joe Carter. 
That image of him running the bases jumping up and down successfully encompasses the history of the two World Series wins in Toronto.   I would like to see the words, "Touch 'em all, Joe. You'll never hit a bigger home run in your life!" engraved on the statue to also honor the late Tom Cheek. 
Currently, the Blue Jays are selling 51.6 percent of tickets to their home games, and I think this will draw fans once again.  People will stand and take pictures in front of that statue. It will be something fans will talk about and are proud of, and it will build excitement and make the Rogers Centre a location to enjoy once again. 
This is only the second time in World Series history that a World Series had been decided with a walk-off home run (first done in 1960 when Bill Mazeroski did it for the Pittsburgh Pirates).  There are great statues in Pittsburgh honoring Honus Wagner, Willie Stargell and Roberto Clemente, with the one to Mazeroski on the way.  Toronto needs to honor its World Series-winning hit as well.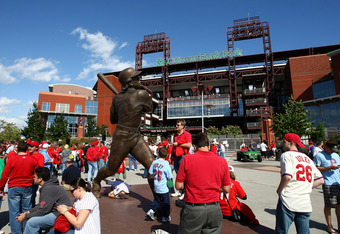 Chris McGrath/Getty Images
Currently, 21 teams have statues honoring greats that have played for them.  Five teams do not have any statues, and Toronto is one of four teams that have a statue of something that goes with baseball but is not one of their former players. 
I have walked up to Citizen's Bank Park and felt the excitement as I walked past statues honoring Mike Schmidt, Steve Carlton and Richie Ashburn.  I have also seen the Pittsburgh Pirates and their great statues. 
I will never forget Joe Carter hitting the walk-off home run to win the World Series for the Blue Jays in the bottom of the ninth.  The words uttered by radio announcer Tom Cheek will always be ingrained in my memory. 
Joe Carter is still doing TV commercials in Toronto, and what image is being played as he begins the commercial? His historic home run. Those marketing that product see that home run as something that Joe Carter is recognized and known by.  
That home run defines the history of the Toronto Blue Jays.  That one image is the single greatest most recognizable moment, and it needs to be in front of the Rogers Centre for all to remember.