Paul Stastny: Avalanche Mainstay or Trade Bait?
May 22, 2012

Bruce Bennett/Getty Images
Paul Stastny certainly has many ties to the city of Denver and the franchise for whom he plays.  His father is Peter Stastny, a Hall of Famer for the Quebec Nordiques and the mentor to a young Joe Sakic.  Paul played his collegiate hockey right here in Denver for the University of Denver Pioneers and helped them capture an NCAA Championship in 2005.
The second-round pick of the Avalanche turned pro after two years at DU and went straight to the NHL without a stint in the AHL.
Stastny had a great rookie year, scoring an Avalanche rookie record 78 points in 82 games and broke the NHL's all-time rookie-scoring streak with 20 games, surpassing future Hall of Famer Teemu Selanne's previous mark of 17 games. 
He finished second in the voting for the Calder Trophy to Evgeni Malkin, who can be argued is the best player in the world today.
His second NHL season was also a success, as he got 71 points in 66 games and was named to his first NHL All-Star Game (although he was unable to play due to an appendectomy).
After that season, Stastny was rewarded with a substantial five-year contract extension that would pay him $6.6 million per season through 2014, and it was looking as if he would be the heir-apparent top-line center for the Avs after the retirement of Joe Sakic—much like Sakic had taken over for Paul's father, Peter, back in Quebec.
However, after back-to-back underwhelming seasons of 57 and 53 points, respectively, Stastny's stardom has taken a backseat to up-and-comers Matt Duchene, Ryan O'Reilly and Gabriel Landeskog.  In fact, many people feel that Stastny is overpaid and should be shipped out of town to make room for the Duchenes and O'Reillys.
A longtime alternate captain, there were also talks that Stastny could even receive the captain's "C" after Sakic's retirement, and then again after Foote's, but he was passed up both times because he had not yet taken the next step in his career development.
Comparisons have been made between Stastny and former Avs defensemen John-Michael Liles who, like Stastny, was seen to be overpaid and was even a healthy scratch at times during his sizable Avalanche contract—before redeeming himself during his final year in Colorado.  Liles was the subject of trade rumors for several years until he was finally traded last summer to Toronto.
The difference between where Liles was at the time he was traded and where Stastny is now is that Liles was entering the final year of his contract and Stastny still has two more years left on his deal.  If teams are wary that Stastny won't be worth the $6.6 million hit, it'll be more likely he'll be traded when there's only one year (or less if it's at the trade deadline) that they'd have to pay him for.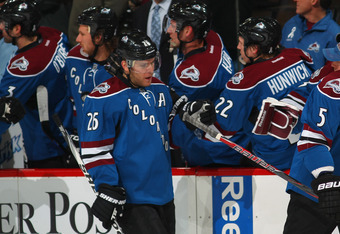 Doug Pensinger/Getty Images
If he blows up this season and plays really well, he could be traded this deadline if O'Reilly proves that last year was no fluke and he's ready to be a top-line NHL center.
I'm not saying Paul Stastny is the next Peter Forsberg or Peter Stastny, but right now, he's a solid No. 2 NHL center and the Avs would be unwise to kick him to the curb unless they are certain their depth down the middle is set.
O'Reilly is still hovering between a No. 2 and No. 3 center, and to be honest, having him as a No. 3 wouldn't be a bad thing.
Pittsburgh has Jordan Staal as their No. 3, a guy who'd definitely be a top-line center on most teams.  Plus, Joey Hishon hasn't played in over a year, so his future is unfortunately still very cloudy.
Stastny was an All-Star just two season ago and put in 79 points in 81 games three years ago, and there is no reason why he can't get back to that kind of production.  Top-line NHL centers don't grow on trees, and Stastny is certainly an asset.
I think his style of play has also contributed to his falling out of favor with fans.  He's not a flashy player like Duchene, nor is he an unstoppable power forward like Landeskog is developing into.  In fact, on many nights Stastny is seemingly invisible.  When he's invisible on the scoresheet, this is obviously bad, but when he can fly under the radar and put up two to three points a game, he can be a very underrated but effective player.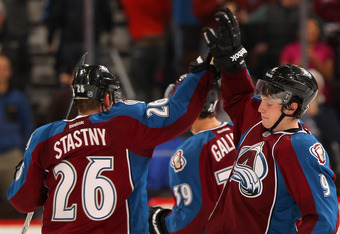 Doug Pensinger/Getty Images
Right now, the Avs are looking good in goal, on defense and at center.  The focus this offseason will surely be on solidifying the wings, especially on the top lines.  If Stastny is dumped, it could open up question marks at center.  The defensive pipeline looks pretty good right now with Stefan Elliott, Tyson Barrie and Duncan Siemens, which is another reason why JML was expendable, but it's not like the Avs have several top-line NHL centers waiting in the wings.
If Duchene breaks out into the perennial All-Star he's capable of being, O'Reilly proves he's a top-line NHL center, Hishon's health improves and prospect Michael Sgarbossa proves he's NHL-ready, then look for Stastny to be shipped.
Of course, if the Avs receive a solid offer for Stastny this offseason, they should certainly listen.  It's no secret that Tomas Vanek is looking for a change of scenery, and Darcy Regier is a fan of Stastny, so maybe we'll see a straight-up Stastny-for-Vanek trade.  Bryan Burke in Toronto has also had his eye on Stastny for quite some time.