Rutgers Football: Does This Year's Schedule Equate to a Big East Title?
May 23, 2012

Andy Lyons/Getty Images
Questions abound this season for the 2012 Scarlet Knights. Having seen their coach of 11 years jump to the NFL and take several assistants with him, Rutgers also lost nine starters (five on offense, three on defense and their place kicker) from the surprising squad of 2011. First-year coach Kyle Flood will look to improve upon last season's 9-4 mark, when the Knights were awarded a postseason bowl bid despite an offense that was 65th overall in points scored.
Defense carried the team last year, but this season the Knights return numerous starters at the skilled positions on offense, including quarterback, tailback, wide receiver and tight end. That said, the battle between Chas Dodd and Gary Nova for the starting QB job may prove to be the most divisive force in the locker room.
The 12-game schedule begins on the road September 1, and winds up at home against a Big East rival on November 29.
TULANE, September 1: The Green Wave finished 2-11 last season, with a dismal offense that finished 71st in passing and 86th in rushing. However, starting quarterback Ryan Griffin (2502 yards passing and 13 touchdowns last season) returns for Tulane, as does last year's leading rusher, Orleans Darkwa (924 yards and 13 touchdowns). This season, defensive tackle Calvin Thomas committed to Tulane which may help shore up the defensive line, while linebacker Royce LaFrance and safety Jordan Batiste join the incoming defensive class.
HOWARD, September 8: A member of the Mid-Eastern Athletic Conference, the Howard Bison is currently in the midst of an investigation regarding possible rules violations. University spokesperson Kerry-Ann Hamilton indicated that"Most teams will compete as scheduled," but the university has "temporarily withheld a number of student-athletes from competition." Last season, the team posted a 5-6 record, but key players may not be eligible to play this season, making it difficult to assess if the Bison can improve a points-per-game average of 17.6 on offense and 25.2 on defense.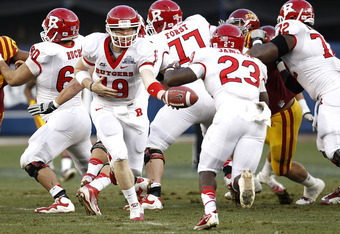 Jeff Zelevansky/Getty Images
SOUTH FLORIDA, September 13: The Bulls and Scarlet Knights will square off at Raymond James Stadium on ESPN in this Thursday night Big East showdown. With a 5-7 record last season, South Florida lost leading rusher Darrell Scott to the NFL (signed as an undrafted free agent to the Dallas Cowboys). Quarterback B.J. Daniels returns this season, who last year posted a rating of 126.7 and over 2,600 yards passing, as does his favorite target, wide receiver Sterling Griffin (43 receptions, 530 yards and 3 touchdowns last season). In all, USF returns 18 starters, and the odds are that they will post a winning record this year.
ARKANSAS, September 22: While the game is noteworthy as the backdrop of the quarterback Tom Savage transfer saga, the Razorbacks may well represent the most difficult opponent on this year's schedule. At 11-2 last season, Arkansas returns starting quarterback Tyler Wilson (277-for-438, 3,638 yards and 24 touchdowns, with a QB rating of 148.4), and has an influx of new talent with receivers D'Arthur Cowan, Keon Hatcher and Demetrius Wilson looking to catch Wilson's passes. Rutgers may benefit from being overlooked here, as they face the Razorbacks after Arkansas plays Alabama on September 15, and right before they travel to College Station to play Texas A&M on September 29.
CONNECTICUT, October 6: Another Big East matchup sees the Huskies (5-7 last season) come to Piscataway this year, with quarterback Johnny McEntee leading an anemic offense that was 84th in passing yards, 97th in rushing yards and 82nd overall in points scored in 2011. Running back Lyle McCombs (1,151 yards, 7 TDs) is a solid option on offense, but someone will need to step up as the No.1 receiver now that Kashif Moore has gone to the NFL (signed as a free agent with the Bengals). The Huskies are hopeful that new recruits Jazzmar Clax, Jon Hicks and Mikal Myers can help to firm up the interior of the defense, which ranked 50th in points allowed last season.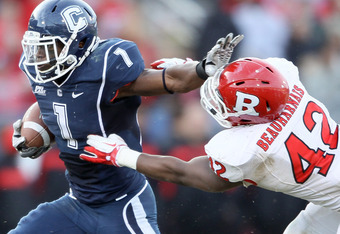 Elsa/Getty Images
SYRACUSE, October 13: The fact that free safety Phillip Thomas was last season's leading tackler for the Orange is indicative of the type of campaign Syracuse had last year, with a 5-7 record overall and 1-6 in the Big East. Talented quarterback Ryan Nassib is back for his final season, and coach Doug Marrone is looking to get all the mileage he can before his QB heads to the NFL. "He's a very competitive person," said Marrone of his star quarterback. "We have to make sure we have the right people in place around him for us to be successful."
TEMPLE, October 20: Temple returns to the Big East this year, after posting a 9-4 record in 2011 and a victory in the Gildan New Mexico Bowl. The loss of starting quarterback Chester Stewart may well set the Owls back this year, unless Chris Coyer (30-for-50 for 463 yards and six touchdowns) can fill the role. Defense and the running game were Temple's strong suits last year, which was head coach Steve Addazio's first with the Owls. However, having lost four of their five starting offensive linemen, several defensive starters and leading rusher Bernard Pierce (1,481 yards and 27 TDs), the Owls may have difficulty reaching a bowl this year.
KENT STATE, October 27: A mediocre defense and an offense that was near the bottom in passing yards, rushing yards and points scored, achieving last season's 5-7 mark (the third year in a row with that record) was something of a surprise. Starting quarterback Spencer Keith (1,682 yards, 11 touchdowns) returns to lead the Golden Flashes on offense, but he will have competition from junior college transfer David Fisher. Returning veterans on defense include standouts Roosevelt Nix, Luke Batton and C.J. Malauulu, while freshmen DT Chris Fairchild and CB Adam Maxie will look to get starting roles.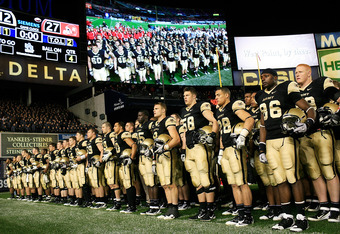 Patrick McDermott/Getty Images
ARMY, November 10: With an incredible running attack that amassed 4,158 yards in 2011, the Black Knights finished first in the nation in rushing, averaging an amazing 346 yards per game last season. However, coupled with a passing offense ranked 120th overall (averaging only 50 yards per game), it is easy to see why Rich Ellerson's team finished 3-9 last season. This spring the focus was on the maturing defensive line, which may help the Black Knights cut down last season's average of surrendering 28 points per game. "I'm encouraged by where the group up front on defense is," said Ellerson during recent spring practices. "It's a much more physically mature group." Senior QB Trent Steelman may be more well known for his legs (645 yards, 12 TDs) than his arm, but the odds of him leading the Black Knights to a winning season are a long shot at best.
CINCINNATI, November 17: The Bearcats were 10-3 last season, which may explain why they had four players chosen in April's NFL Draft. Returning defensive end Walter Stewart will anchor the line, one of just seven starters to come back in 2012. The offense was even more hard hit, returning only four starters for head coach Butch Jones' team. While depleted, the Bearcats always play Rutgers tough, and this year's contest will be at Cincinnati. The quarterback question looms large for the Bearcats however, as junior Munchie Legaux will try to fill the enormous cleats of departed Zach Collaros.
PITTSBURGH, November 24: New coach Paul Chryst could have his team in contention for the Big East title by late November, assuming things break right for the Panthers. Injuries will be a concern, but so will a schedule that includes Virginia Tech and Notre Dame. The Panthers averaged nearly 23 points per game last year behind the strong arm of Tino Sunseri (2,616 yards, 10 TDs), while running back Ray Graham (958 yards, nine TDs) will attempt to bounce back from last season's injuries. On defense, the Panthers will suffer from the loss of Brandon Lindsey, Chas Alecxih and Myles Caragein, but standout lineman Aaron Donald returns along with veterans Todd Thomas, Ejuan Price and Khaynin Mosley-Smith.
LOUISVILLE, November 29: While they were just 7-6 last season, the Cardinals may represent the final hurdle the Scarlet Knights must clear to take the Big East title in 2012. QB Teddy Bridgewater will lead the Cardinals' offense—if he can stay upright in the pocket. Bridgewater was sacked 33 times last year, but still managed to achieve a QB rating of 132.4. The burden for keeping Bridgewater's talented arm safe will fall to center Mario Benavides and line mates John Miller, Jake Smith and Alex Kupper. Both teams will have a short week to prepare for this ESPN game, which is played on a Thursday night.
While a winning season and a bowl berth seem to be a foregone conclusion, this year's favorable schedule may well be the deciding factor in the Scarlet Knights' bid to grasp their first-ever conference title. Should that happen, critics will be sure to point to one more glaring reason why it occurred: West Virginia no longer stands in their way.