Eli Manning and Peyton Manning: In the End, History Says That Big Brother Wins
May 4, 2012

Andy Lyons/Getty Images
There can be little argument that Peyton Manning, should he retire tomorrow, would be a first-ballot inductee into the Pro Football Hall of Fame. His skill and prowess at the quarterback position are legendary, and he has a Super Bowl victory on his resumé. Yet, in a season where he was winning a second world championship while Peyton never set foot on the field, most fans would still say that Eli Manning has not eclipsed the accomplishments of his older brother.
While the gap between the Manning boys has been narrowed, the odds do not favor younger brothers in any of the four major professional sports. Sure, there are some examples where the athletic younger brother outshines the older, but when it comes to the so-called franchise players, the difference makers, the Hall of Fame players, older brothers far outpace their younger siblings.
If Eli Manning is a hockey fan, he can draw inspiration from the three most famous younger-brother exceptions in hockey, where Mark Messier (older brother Paul), Billy Smith (older brother Gord) and Denis Potvin (older brother Jean) all out-shined their elder siblings. However, the fact is that with the exception of those three, older brothers rule in hockey.
Two giants of the NHL, Wayne Gretzky (younger brothers Brent and Keith) and Gordie Howe (younger brother Vic) easily prove the point, but so do legendary players like Larry Robinson (younger brother Moe), Bobby Hull (younger brother Dennis), Phil Esposito (younger brother Tony), Bryan Trottier (younger brother Rocky), Scott Stevens (younger brother Mike) and Frank Mahovlich (younger brother Peter).
Pavel Bure certainly has bragging rights over kid brother Valeri Bure, Marcel Dionne over his younger brother Gilbert, Eric Lindros has bested little brother Bret, while Olympic and Stanley Cup Champion Neal Broten easily out-performed the younger Aaron Broten.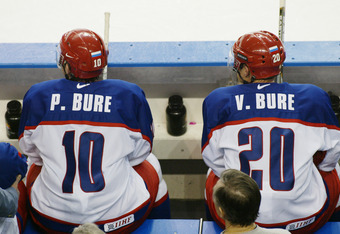 Jed Jacobsohn/Getty Images
Recent history is no better. Just ask big brother Scott Niedermayer who has had the better career—he, or younger brother Rob Niedermayer. It's not even close.
The NBA offers examples like Bill Melchionni (younger brother Gary), Dominique Wilkins (younger brother Gerald) and George Gervin (younger brother Derrick), so it's best to look to yet another sport.
No one would dispute that in Major League Baseball, Hank Aaron was superior to younger brother Tommie, or that Joe DiMaggio's career far exceeded those of either younger brothers Vince or Dom. Even the success of recent Hall of Fame players such as Phil Niekro (kid brother, Joe) and Cal Ripkin (little brother, Billy) further bears out the older brother phenomenon.
One can look hard through baseball history to come up with scant examples where younger brothers were superior in their families, like Heine Manush, George Brett, Honus Wagner, Greg Maddux, Gaylord Perry and Robin Yount, but the ammunition soon runs out for younger brothers.
Far and away, older brothers Zack Wheat, Graig Nettles, Barry Larkin, Dick Sisler, Lindy McDaniel and Eddie Murray can easily dismiss the careers of their younger baseball siblings Mack Wheat, Jim Nettles, Steve Larkin Dave Sisler and Rich Murray.
Surely the NFL holds the hope of kid brothers across the land whose fragile egos have been stomped by the other major sports?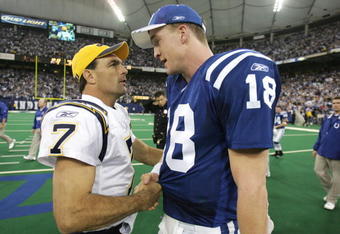 Robert Laberge/Getty Images
Sorry, but no.
In many ways, the NFL offers the soundest examples of younger brothers wilting in the bright light of their trail-blazing brothers. Examples are easy to find, beginning with Dick Anderson (kid brother, Bobby), Keith Fahnhorst (little brother Jim) and Trey Junkin (younger brother Mike).
Still not convinced? How about these older brothers: Charlie Krueger, Bubba Smith, Darryl Talley and John Taylor? Would anyone argue that the careers of Rolf Krueger, Tody Smith, John Talley or Keith Taylor were better or in any way comparable?
While neither Peyton nor Eli won the Heisman Trophy, some feel that the Award can sometimes derail a pro career. Maybe so, but don't tell that to Ty Detmer or Doug Flutie, whose careers were much more successful than Koy Detmer and Darren Flutie. Meanwhile, Keith Griffin and Ray Griffin must both be shaking their heads. Their older brother, Archie Griffin, went out and captured two Heisman Trophy awards, thereby besting each of them.
When we look to the Hall of Fame, it gets worse. Everyone knows the names of inductees Terry Bradshaw, Harold "Red" Grange, John Hannah, Mike Haynes, Frank "Bruiser" Kinard, Larry Little George McAfee, Merlin Olsen, Steve Owen, Walter Payton, Gene Upshaw and Steve Van Buren. But is anyone able to name their less successful brothers (Craig Bradshaw, Garland Grange, Charley Hannah, Reggie Haynes, George Kinard, David Little, Wes McAfee, Phil Olsen, Bill Owen, Eddie Payton, Marvin Upshaw or Ebert Van Buren)?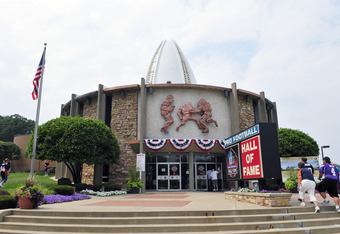 Jason Miller/Getty Images
Eli Manning can take heart, however, because Lee Roy Selmon and Dave Wilcox offer two—the only two—examples of a younger brother being elected into the Hall of Fame where the older brother was excluded.
Even within the Giants organization itself, Eli Manning would have a difficult time finding former Big Blue alumni to give him much hope. Which would Giants fans rather have playing for their team, Mark Bavaro or younger brother, David? Would fans want older brother Brad Benson or his kid brother, Troy? What about Pete Gogolak over the younger Charlie? Don't forget how Matt Hasselbeck had a far superior career than his younger brother, former Giant, Tim Hasslebeck. Does the name George Martin sound more familiar than younger brother Doug? How about a certain running back named Joe Morris who had a younger brother named Jamie?
Despite the trend of sports history, a second Super Bowl victory probably has Eli feeling pretty good about stepping out from his brother's shadow. But should he ever let it get to his head, Peyton can always remind Eli that Jim Thorpe had a younger brother named Jack.