Undrafted Free Agents 2012: Rutgers' Martinek, Stapleton and Wynn Sign
May 1, 2012

Andrew Burton/Getty Images
One sign that Big East football has weakened became evident this past weekend, when only 12 players from the conference were drafted by NFL teams. The losses of Miami, Virginia Tech and Boston College have appreciably weakened the Big East, and the impending departures of West Virginia, Pittsburgh and Syracuse will dramatically change the face of a once viable football conference.
Only one player from Rutgers was actually drafted this year, a notable change from what had come to be a growing trend of NFL-caliber talent from the University.
Despite eclipsing the school record set by former first-round draft choice Kenny Britt as well as the Big East single-season reception record set by current NFL superstar Larry Fitzgerald, Rutgers wideout Mohamed Sanu wasn't drafted until the third round (83rd overall) of this year's event. But once "Mr. Irrelevant" Chandler Harnish had been taken with the final seventh-round pick, the 2012 NFL Draft was over, and Sanu remained the only Scarlet Knight chosen this year.
Thus began the draft after the draft.
Almost immediately, the cell phones of unchosen draft-eligible college players began ringing with offers to sign free-agent contracts and come for tryouts at pro football training camps.
Three Scarlet Knights have already signed in the past few days: running back Joe Martinek, along with offensive linemen Desmond Stapleton and Desmond Wynn.
Supplementing the needs they sought to fill in the draft—especially the loss of running back Brandon Jacobs—the New York Giants quickly signed Martinek, whom they termed "a gritty, hard-nosed football player."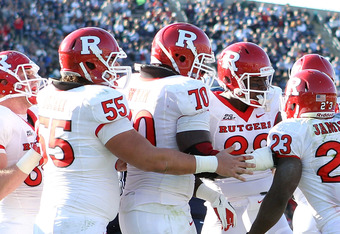 Elsa/Getty Images
Hailing from Hopatcong, N.J., Martinek is the state's all-time leading high school rusher (7,589 yards). Should he make the Giants squad, it will mean that he will have played every home high school, college and pro football game of his career within the geographic confines of the Garden State.
Stapleton, who had recently said publicly that he was, "just hoping to get into a camp," will join the Pittsburgh Steelers. Ironically, Stapleton's older brother Darnell also played for the Steelers before an injury shortened his career.
Wynn will join his former college coach, Greg Schiano, as the Tampa Bay Buccaneers moved to quickly sign no less than 14 college free agents following the NFL draft. Standing 6'6", Wynn was a standout at Rutgers, anchoring the offensive line at both guard and tackle.
Other remaining undrafted free agents from this year's Rutgers squad are defensive ends Manny Abreu and Justin Francis, safety David Rowe and offensive lineman Art Forst.