Florida Panthers Turnaround: GM Dale Tallon's Blueprint Is Working
May 21, 2012

Bruce Bennett/Getty Images
Last year at this time the hockey world expected, and received, the ultimate team makeover from Panthers' general manager, Dale Tallon.  Between the late-season dismantling and the off-season shopping and trading spree, the team which opened the 2011-12 season bore little resemblance to the prior year's squad.
Trades during the season brought in more experience, partly to compensate for the devastating injury toll this year.  There was a point during which seven starting forwards were on IR. At playoff time the team which represented itself well against the New Jersey Devils had very few personnel left from the team which missed the playoffs the prior year, for the tenth consecutive time.
Herein is where the problem lies. Tallon now has a surplus of talent, with several high draft choices just about ready to make it to the big club. Cap room and roster space is needed. This doesn't fare well for some free agent veterans. During late season and the playoffs, coach Kevin Dineen welcomed the competitiveness on the team for playing time but now important decisions will be necessary.
The keys to this year's success revolved around Tallon's acquisitions. Kris Versteeg and Tomas Fleischmann had career years. Brian Campbell played all 82 games and was responsible for bringing an anemic power play from dead last to number seven in the NHL. Third year man Jason Garrison emerged as an offensive threat while partnered with Campbell. As a UFA, he will be looking for a big payday.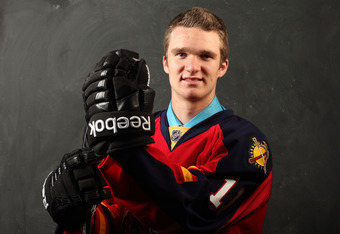 Nick Laham/Getty Images
The biggest surprise was, perhaps, the comeback year for goalie Jose Theodore. In-season deals made Panthers of experienced vets like John Madden, Mikael Samuelsson and Marco Sturm and role players such as faceoff specialist Jarred Smithson, shootout specialist Wojtek Wolski and enforcer Krys Barch. While Samuelsson proved invaluable for his experience and offensive skills, the others had mixed success.

The roster is already bloated and with prospects like sharpshooter Jonathan Huberdeau who had a banner year in juniors and goalie Jacob Markstrom who toiled primarily in the AHL and is about ready for the NHL, Tallon and his designated negotiator, Assistant GM Mike Santos will have some tough decisions to make.
The priorities are RFA's Kris Versteeg and Jason Garrison while at the same time leaving cap space for Huberdeau, Markstrom and possibly Quinton Howden who had another solid year in the WHL.  Emerging defenseman Dmitry Kulikov is also a valuable RFA and the Cats' brain trust would likely want to tie him up long term. This means that a Samuelsson re-signing, while important, may not be achievable and he might find a deal elsewhere before Tallon can act.
UFA's Madden, Sturm, Barch and Scott Clemmensen are as good as gone due to the need for cap space. Backup goalie Clemmensen played well and would like to stay but with Markstrom in the wings this may be impossible. At most, he would get a short term deal and at age 35, he would likely seek a longer contract.
In Tallon's postseason wrap-up he told the media (via panthers.nhl.com), "I'm excited about our future. We're probably ahead of schedule…The blueprint is still there."  The blueprint, of course, has been the judicious use of the draft, free agency and key trades to blend both youth and experience into a winning team. With a stockpile of draft picks, Tallon was able to make trades during last season without relinquishing any key talent.
Good times have returned to Florida. The dressing room attitude is positive and the fans have come back to Bank Atlantic Center in large numbers. Hockey had even returned to the front of the sports pages, albeit briefly.
Long-time Panther Stephen Weiss probably summed up the feelings of the team best, the day of their final meetings and locker cleanout.  While their season ended bittersweet, Weiss shared what most of the team's followers were thinking. Via Alain Poupart of panthers.nhl.com:

"We've got some bright years ahead. We've got some kids coming up that are pretty darn good players. It'll be a fun summer training and [we'll] try to do it all over again next year."
Alan Greenberg is a Contributor for Bleacher Report. Unless otherwise noted, all quotes were obtained first-hand.