Washington Nationals Can Win NL East with 6-Man Starting Rotation
May 22, 2012

Stephen Strasburg (biceps tightness) is fine. Adam Kilgore of the Washington Post reports that he will make his next scheduled start.
This was just a false alarm, but as a precaution, the Washington Nationals ought to adopt a six-man starting rotation for the remainder of 2012. With it, they can finish atop the National League East.
Spacing out each individual's appearances reduces the likelihood of serious injury for all rotation members.
Also, it would allow the franchise's prized 23-year-old—who will be shut down upon reaching an unspecified innings limit—to pitch in meaningful games through September.
And he would be more effective, too. Baseball-reference.com provides this comparison of his career numbers on regular, four days' rest versus his success when given five-plus days to recover.
Obviously, the current starting five—Ross Detwiler, Gio Gonzalez, Edwin Jackson, Jordan Zimmermann and Strasburg—would be included in the expanded group. They have contributed greatly on a pitching staff that surrendered an MLB-low 138 runs through its first 42 contests.
Chien-Ming Wang would round it out.
The 32-year-old is completing his rehab from a badly strained hamstring.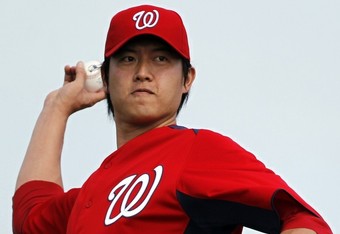 His stats in five outings against minor-league competition were typical of the Taiwanese right-hander: 3-0, 3.52 ERA, 30.2 IP, 18 SO, 6 BB, 2 HR allowed, 1.27 WHIP.
Wang didn't miss many bats, but he consistently attacked the strike zone and induced harmless contact.
He has always had a reputation for working efficiently and providing length to spare the bullpen. I do not doubt that he still possesses such ability.
The take-away is that Wang—a former 19-game winner with the New York Yankees—would give the Nationals opportunities to win.
But are his services worth the trouble of altering everybody's routines?
A recent trial of the six-man rotation takes us to the Windy City. Ozzie Guillen experimented with it in 2011 as manager of the Chicago White Sox.
With half a dozen starting pitchers on the active roster between May 11 and June 25, the team went 24-17 (.586).
Now that's worth noting. Consider the club's overall record of 79-83.
Washington needs every possible advantage to compete with the first-place Atlanta Braves and the surging Miami Marlins in the NL East.
A sixth starter would help the Nationals in both an immediate and future capacity.